Upcoming training: Current event news articles listed below training section. 
| | |
| --- | --- |
| Aug 12-14, 2019 | Introduction to Internal Affairs Investigations IA-101 Peoria, AZ. (Phoenix Area) |
| Sept 4-6, 2019 | Introduction to Internal Affairs Investigations Course # IA-101  (Hamilton Township, OH) Cincinnati Area |
| Sept 4-6, 2019 | Introduction to Law Enforcement Inspections and Auditing Course – LEIA-101 (Portland, OR - Sept) |
| Sept 10-12, 2019 | Introduction to Law Enforcement Inspections and Auditing Course – LEIA-101 (Palm Beach, FL - Sept) |
| Sept 23-25, 2019 | Law Enforcement Inspections and Auditing Training Conference, Phoenix, AZ |
| Oct 1-3, 2019 | Introduction to Law Enforcement Inspections and Auditing Course – LEIA-101 Oklahoma City |
| Oct 7-10, 2019 | Professional Standards Investigations Certificate Course # IA-201, Peoria, AZ |
| Oct 9-11, 2019 | Introduction to Law Enforcement Inspections and Auditing Course – LEIA-101 Hamilton Township (Cincinnati Ohio Area) |
| Oct 16-18, 2019 | Introduction to Law Enforcement Inspections and Auditing Course – LEIA-101, Phoenix, AZ. |
| Oct 21-24, 2019 | Law Enforcement Inspections and Auditing Certificate (LEIAC)™ Course # Course – LEIA-201 Palm Beach, Florida |
| Nov 5-8, 2019 | Professional Standards Investigations Certificate Course # IA-201Chesapeake, Virginia (Norfolk Area) |
| Nov 5-8, 2019 | Law Enforcement Inspections and Auditing Certificate (LEIAC)™ Course # LEIA-201, Phoenix, Arizona |
July 17: Police misconduct investigator forced out after accessing cops' investigative records
Chicago Tribune: A city employee who investigated misconduct allegations against Chicago police was forced to resign for improperly accessing investigative records on cops she knew and for falsely reporting that a co-worker planned a mass shooting at work, a report by the city's inspector general revealed Tuesday.
July 17: L.A. County to Pay $53 Million to Settle Lawsuit Over Invasive Group Strip Searches of Female Inmates
KTLA: News Video: Los Angeles County will pay $53 million to settle a lawsuit that alleged tens of thousands of women were given invasive group strip searches at a jail, according to court filings Tuesday.
The class-action lawsuit was filed in 2010 on behalf of former inmates who said they were placed in groups of up to 50 and ordered to expose their genitals while deputies shouted degrading comments.
July 16: Will LA County Supes Give Inspector General Subpoena Power To Probe The Problem Of Gangsters With Badges?
Los Angeles Supervisors Janice Hahn and Mark Ridley-Thomas have co-authored a motion that, should it pass at the board meeting this coming Tuesday (which it likely will), appears nearly ready to grant subpoena power to the Office of the Inspector General so that the OIG can effectively investigate the deputy gangs that appear to still be running rife through the Los Angeles Sheriff's Department, if recent filings of deputy gang-related civil rights lawsuits, and recent settlements of other deputy gang-related civil rights lawsuits are any indication of the matter.
July 16: Eric Garner's Death Will Not Lead to Federal Charges for N.Y.P.D. Officer
Five years after Mr. Garner's dying words, "I can't breathe," became a rallying cry, Attorney General William P. Barr ordered the case be dropped.
July 16: Coral Springs police detective sentenced to probation for kicking handcuffed suspect in head
Detective Sandy Gomez also ordered to complete anger management course
July 16:  Local law enforcement agencies looking to private DNA labs to help solve cold cases
WBNS: Article list the privacy policies for some popular DNA home testing kits:
A comparison of averted and completed school attacks from the police foundation averted school violence database
Police Foundation: In this report, 51 completed and 51 averted incidents of school violence, drawn from the ASV database, were analyzed to help further our understanding of averted and completed school attacks. The report also seeks to provide important lessons about how school violence can be prevented.
July 15: 27 keys to retiring from police work 'undefeated'
Police One: To retire undefeated, you must work hard to survive physically, legally and emotionally – losing any one of these battles can lead to devastating consequences for officers.
July 15: Mayor's approach to Seattle police reforms could prolong court oversight, council members say
Seattle Time: Three Seattle City Council members plan to send a sharply worded letter to Mayor Jenny Durkan on Monday, rebuking what they describe as a recalcitrant strategy toward addressing police accountability flaws.
The highly unusual letter calls on Durkan to ask the powerful Seattle Police Officers Guild (SPOG) to reopen its contract with the city in order to fix deficiencies that prompted U.S. District Judge James Robart to find the city partly out of compliance with federally mandated reforms.
Durkan has hesitated to take that step, opting to form a five-member team of outside police consultants to help craft a response to the judge. Reform advocates fear that the mayor's approach is aimed at convincing the judge that no changes are needed in the collective bargaining agreement (CBA). In their letter, the council members said Durkan's actions could invite prolonged court oversight.
July 15: National Best Practices for Implementing and Sustaining a Cold Case Investigation Unit
 Since 2005, the National Institute of Justice (NIJ) has assisted state and local law enforcement agencies across the nation ininvestigating cold cases through NIJ's Solving Cold Cases with DNA program. In 2015, NIJ assembled a group of subject matter experts from the cold case investigation community to review the state of cold case investigations and cold case units in the United States. One identified concern was the lack of agencies addressing the growing needs of unresolved cases. As a result, the Cold Case Investigation Working Group and NIJ collaborated to create this guide in an effort to assist law enforcement agencies in creating a mechanism for addressing the cold cases in their jurisdictions
 July 15: From Crime Mapping to Crime Forecasting: The Evolution of Place-Based Policing
 NIJ: The past decade, in particular, has seen advances in analytical capabilities within the criminal justice community, making it possible to add more geographic and social dimensions to statistical analyses to forecast where crimes are likely to occur.
July 15: Arizona DPS Trooper Is Accused Of Forgery, Fraud, Theft
 AP: The officer allegedly defrauded off-duty law enforcement employment vendors. There were discrepancies with Aguila's record keeping relating to his on-duty time sheets and patrol vehicle mileage usage. DPS also says Aguila allegedly used his assigned patrol vehicle for personal use, hid unauthorized fuel purchases and illegally used the Arizona Criminal Justice Information System
July 15: Audio Shows Top Chicago Officer Being Chased by Indiana Police Waved, Traveled at 114 MPH
 WEAR TV: The officer involved, identified as Commander Ed Wodnicki, has been reassigned as an investigation into what happened is underway, a spokesman for the Chicago Police Department confirmed
July 15: Former Jackson County Sheriff's Deputy accused of planting drugs has bail set at $169,500
 AUDIT: NEW JERSEY POLICE AGENCIES NEED UNIFORM POLICIES FOR RAPE KITS
 'Come on baby, cry for me:' Deputy saved 12-day-old's life after pulling driver over for speeding
Broward County FL. sheriff's deputy fired after video shows him repeatedly punching handcuffed teen
 Newsweek: Broward County, Florida, Sheriff Gregory Tony confirmed that his department had terminated the employment of deputy Kevin Fanti. The deputy had been caught on surveillance video delivering body and head blows to a 19-year-old waiting in line to be booked into a Fort Lauderdale jail.
Video from the June 25 incident shows the teen, identified by the sheriff's department as Kyle Paul, kick paperwork toward the deputy, who then picks up the documents and slams them against Paul's chest.
July 15: Police body camera footage shows fatal shooting of Hannah Williams in Anaheim
ABC: A call from a 17-year old southern California girl's father after she was fatally shot by police served as a heartbreaking postscript to body camera video showing the teen's final moments, during which she was shot after appearing to aim a gun at a responding officer.
July 15: Ex-Tennessee police chief charged with official misconduct
Lack of internal controls.  Lt. Dan
AP: According to the Tennessee Bureau of Investigation, 44-year-old former Tellico Plains Police Chief James Russell Parks Jr. was indicted on one count of official misconduct Tuesday by a Monroe County grand jury and was booked into the county jail Thursday on a $6,000 bond.
TBI says it began investigating about $840 missing from the police department's drug enforcement fund in February. TBI says Parks resigned when the allegation surfaced that he was involved in a sexual relationship with the informant paid from the fund.
 July 15: SAN LUIS OBISPO – Man returns gun California police chief left in bathroom
 Follow up on story we posted last week.  Lt. Dan
SMDP.com: A man has turned in a gun that a California police chief left behind in a restroom.
San Luis Obispo police say 30-year-old Skeeter Carlos Mangan of Los Osos admitted Thursday he took the gun that Chief Deanna Cantrell left in an El Pollo Loco restaurant the day before.
July 15: Former Manning South Carolina police chief admits he took $80,000 in seized money
CHARLESTON, S.C. - A former police chief in South Carolina has pleaded guilty to stealing more than $80,000 seized during a traffic stop.  Former Manning Police Chief Gary Shaffer will be sentenced at a later date after pleading guilty Thursday to theft of government funds and lying to a federal agent.
July 15: LA Sheriffs Dept. sex crimes detective admits to assaulting girl, 15, in case he investigated
 Fox News: Neil Kimball, 46, pleaded guilty in Ventura County to a lewd act with a child and unlawful sexual intercourse, prosecutors said Wednesday. As part of the plea agreement, Kimball, of Agoura, Calif., faces a three-year sentence in prison. He also has to register as a sex offender.
The detective investigated dozens of child molestation cases as a member of the Los Angeles County Sheriff Department's sex crimes unit, The Los Angeles Times reported. Kimball was assigned to the unit in 2013. He had 20 years on the job with the sheriff's office.
A colleague was working Kimball's cases when he learned of the rape accusation in October, the paper reported. Kimball was on medical leave at the time. The sheriff's office said Friday that Kimball will be fired immediately, according to the paper. His pay was suspended in March.
July 12: Eugene police auditor's report shows increase in public complaints, concern for new officers
The Eugene Police Auditor's Office saw a 20% increase in complaints about police department employees last year, most of which were generated by the public.
And Eugene Police Auditor Mark Gissiner expressed concern that more complaints may be coming, because of the amount of newly hired officers with less than five years of experience, in the Eugene Police Auditor's 2018 report, released last week ahead of the July 11 Eugene Police Commission meeting when the report is to be presented.
"We continue to receive a large number of complaints related to lack of police response and response times," Gissiner's report reads. "Chief (Chris) Skinner has prioritized staffing, and it is our hope that these types of complaints will decrease.
"However, having a disproportionate number of police officers with less than five years of experience may result in an increase in judgment-related complaints. Proper, extensive training will help minimize those types of complaints, and we will continue to reach out to EPD training staff to ensure recruit employees are getting the best training possible."
July 11: Vegas Police Release Report on Lessons From 2017 Massacre
US News:  Las Vegas police have released a report about what the department learned from the deadliest mass shooting in modern U.S. history.  Among 93 recommendations in a newly released department "after-action review" are requirements to plan ahead with neighboring police, fire, hospital and coroner officials; to let responding officers remove reflective vests so they're less of a target to a shooter; and to ensure more paramedics and trauma kits are available at large-scale events.
Link to report, Also posted in LEIAG library: https://www.lvmpd.com/en-us/Documents/1_October_AAR_Final_06062019.pdf
Jul 11: FBI investigating tattooed deputy gangs in Los Angeles County Sheriff's Department
LA Times: The federal probe follows allegations of beatings and harassment by members of the Banditos, a group of deputies assigned to the Sheriff's East L.A. station who brand themselves with matching tattoos of a skeleton outfitted in a sombrero, bandolier and pistol. The clique's members are accused by other deputies of using gang-like tactics to recruit young Latino deputies into their fold and retaliating against those who rebuff them.
July 11:  1 trooper loses job after NC Highway Patrol investigates ticket padding complaints
News Video: Specifically, ABC11 has learned that troopers may have "misrepresented citations" by adding additional penalties after the driver had already been issued a ticket. The driver, thus, wouldn't find out about those additional citations until traffic court or after missing payment deadlines.
July 11: No police misconduct found in arrest of black patient walking with IV stand outside hospital, Illinois city says
Chicago Tribune: In his report for the city of Freeport, Hazel Crest Police Chief Mitchell R. Davis III said he found no evidence that race played any role in the security officer's decision to stop 24-year-old Shaquille Dukes — who was still wearing his hospital gown — and two other black men as Dukes alleged at the time in a video of the incident that he posted on Facebook.
July 11: Colorado grows annual cannabis sales to $1 billion as other states struggle to gain a market foothold
CNBC: Companies also have made more than $6.5 billion in sales over the last five years, with April and May of this year the highest-grossing months since legalization.  Per-person sales are also highest in Colorado, with people buying, on average, $280 worth of cannabis per year compared to $220 and $130 for Washington and Oregon, respectively, the second and third states to legalize weed, according to Scott Willis, head of research at Grizzle, a New York-based investment research company.
Much of the legal marijuana market revenue, which accounts for about 3% of the state's $30 billion budget, goes toward education, health care, literacy services and drug prevention programs.
July 11: Police chief loses weapon in California restaurant restroom
Bummer. LT. Dan
SAN LUIS OBISPO, Calif. (AP) — The chief of a California police department says she left her gun in a restroom and it was immediately stolen and now officials are looking for a man seen in restaurant surveillance video leaving shortly after the weapon vanished.
San Luis Obispo Chief Deanna Cantrell revealed her mistake in a video on the department's Facebook page, saying her actions were "irresponsible and dangerous" and that she's glad a child didn't find the weapon.
July 11: Texas Judge Convicted of Bribery and Obstruction
DOJ: Delgado is currently a justice in the Thirteenth Court of Appeals for the State of Texas.  He was previously the presiding judge for the 93rd District Court for the State of Texas, which has jurisdiction over Texas criminal and civil cases located within Hidalgo County.  As a district judge, Delgado conspired with an attorney from January 2008 to November 2016 to accept bribes in exchange for favorable judicial consideration on criminal cases pending in his courtroom.
As part of an investigation conducted by the FBI, Delgado also accepted bribes on three separate occasions in exchange for agreeing to release three of the attorney's clients on bond in cases pending before his court.  The first two bribes totaled approximately $520 in cash and the third bribe, which occurred in January 2018, totaled approximately $5,500 in cash.  After Delgado learned of the FBI's investigation, he also attempted to obstruct justice by contacting the attorney and providing a false story about the payments.
July 11: OIG Report: Baltimore Police marine unit misspent $30k on boat salvage
Baltimore Sun:  The Baltimore Police Department's marine unit wasted more than $30,000 in 2016 to salvage a damaged boat in the Inner Harbor, putting officers' safety and city property at risk when a no-cost state program was available, the city's Office of the Inspector General found.  The investigation began after an officer reported his concerns to the office after being rebuffed when trying to inform his superiors.
Link to report: https://oig.baltimorecity.gov/sites/default/files/OIG%20Public%20Synopsis%2019-0027-I%20.pdf
LA's Sheriff Rehired A Deputy Who Is Now Being Called Unfit To Wear A Badge And Gun
LAist: L.A. County's Office of Inspector General said in a report Tuesday that evidence it reviewed "clearly establishes" Sheriff's Deputy Carl Mandoyan is unfit to wear a badge and gun, pointing to the fact that he engaged in domestic violence against a girlfriend and lied about it to the department's internal affairs investigators. The report is the first independent review of Sheriff Alex Villanueva's decision to rehire Mandoyan, who served as a key aide to Villanueva during his campaign for office last year.
Link to LA OIG Report: https://oig.lacounty.gov/Portals/OIG/Reports/TruthandReconciliation.pdf?ver=2019-07-09-085916-457
July 10: California lawmakers approve police shootings only when 'necessary' to defend against threat
Fox 11: The legislation was prompted by public anger over fatal shootings by police, including the killing of unarmed vandalism suspect Stephon Clark in Sacramento last year.  Supporters say that it will impose some of the nation's most sweeping rules when combined with a related measure on officer training.
July 9: Police efficiency and effectiveness 2018
July 9: West Yorkshire Police - Crime Data Integrity inspection 2018
If you are interested in how it is done in Ireland here are a couple of interesting reports for you audit geeks out there.  Also posted in LEIAG library.  It is always good to review other agencies work and to get some great ideas and often confirmation as to what you are doing.  If you are interested in more reports such as these regarding police and fire go to https://www.justiceinspectorates.gov.uk/hmicfrs/ .  Thanks to Ryan Schwank, Manager of the Denver Sheriff Dept Assessment Inspections Unit for this information.  Lt. Dan
The Police (Northern Ireland) act requires that Her Majesty's Inspectorate of Constabulary and Fire & Rescue Services (HMICFRS) inspect and report to the Department of Justice (Northern Ireland) on the efficiency and effectiveness of the Police Service of Northern Ireland (called PSNI or the service) each year.
July 9: Misconduct by a DEA Group Supervisor for Actions Related to a Confidential Source
Great area for inspections.  What are your agencies policies and are you conducting any type of line or staff inspections in this area?  Lt. Dan
DOJ-OIG: INVESTIGATIVE SUMMARY Findings of Misconduct by a DEA Group Supervisor for Actions Related to a Confidential Source Including Approving Payments to the Source without Proper Justification and Engaging in an Improper Personal Relationship; and by a DEA Assistant Special Agent in Charge for Failing to Properly Supervise the Group Supervisor

July 9: New Oklahoma City Police Chief announced
OKLAHOMA CITY (KOKH) — Oklahoma City Manager Craig Freeman announced Wade Gourley as the new Oklahoma City Police Chief this
July 9: Major Steve Outlaw sworn in as TPD's interim police chief
WTXL ABC 27: TALLAHASSEE, Fla. — The City of Tallahassee officially has a new police chief. This, after former police chief Michael DeLeo worked his last day on ...
July 9: Ireland Prisons inspections report website
If you are interested in how it is done in Ireland regarding jails / corrections go to https://www.justiceinspectorates.gov.uk/hmiprisons/ .  Thanks to Ryan Schwank, Manager of the Denver Sheriff Dept Assessment Inspections Unit for this information. Lt. Dan
Ireland Prisons Inspections generated new and unprecedented levels of accountability and transparency in the scrutiny of prisons in England and Wales in 2018–19, according to HM Chief Inspector Peter Clarke.
July 8: Dashcam shows SC gun battle that wounded trooper, suspect
PoliceOne: When a pursuit stopped at a dead end, the suspect got out of his vehicle and opened fire
July 8: Sheriff trying to rid East L.A. station of rogue deputy group
EAST LOS ANGELES (KABC) New Video-- Los Angeles County Sheriff Alex Villanueva says measures are underway at the East Los Angeles sheriff's station to rebuild the leadership team and address rogue activity by a deputy clique called "Los Banditos."
Between 34 and 38 deputies have transferred out or retired and the sheriff has appointed a new captain who is implementing a program to hold supervisors accountable for behavior that is out of policy.
July 8: Inadequate Governance of the VA Police Program at Medical Facilities
Report for review and ideas for your engagements.  Also listed in LEIAG library.  Lt. Dan
The OIG received hotline complaints and other information related to the accountability and performance of VA police officers at medical facilities that included concerns about the sufficiency of police officer staffing and inappropriate conduct while performing police duties. The OIG conducted this audit to determine whether the VA security and law enforcement program (police program) has an effective governance structure to provide reasonable assurance that the program is meeting its objectives.
Link to OIG report: https://www.va.gov/oig/pubs/VAOIG-17-01007-01.pdf
July 7: Seattle police video shows shooting of armed woman in Chinatown
Police One: The shooting happened Wednesday night as officers responded to 911 calls reporting a woman shooting a gun
July 7: 2 dozen Dallas officers disciplined over offensive posts
KTSP: Dallas police officials say more than two-dozen officers face disciplinary measures after they were found to have posted bigoted or other offensive material to social media in violation of the department's code of conduct, including mocking protesters who were pepper-sprayed..
July 6: The public has no way to track police misconduct in California. Here's how to fix it
SacBee: California Assemblyman Jordan Cunningham has proposed a bill that, along with an amendment to the SB 1421 police transparency law, would go a long way to better holding rogue law enforcement officers accountable for sexual misconduct.
Multiple instances of abuse or murder by the same officer are nearly impossible to follow with the systems available today. There does not exist a comprehensive database tracking police violence across California, much less the United States. The general public does not know in how many shootings, beatings or assaults an officer has previously been involved.
California must begin collating information on officer misconduct from across the state into a central database accessible to the public, so we can better understand the nature of police violence in our state and prevent bad cops from moving freely between cities, their violent pasts hidden from residents.
July 6: Online survey reveals dozens of allegations of St. Paul police misconduct
If your department has an on line process for complaints/allegations there should be a policy in place to document the review and disposition of those allegations, to mitigate issues such as in this case.  Lt. Dan.
StarTribune: St. Paul online responses aren't fully investigated or shared with civilian panel. Those reports were among at least 66 allegations of St. Paul police officer misconduct through the department's online survey since it launched in 2017, according to a Star Tribune analysis of survey responses obtained through a public-records request.
July 5: New Hampton (Iowa) police overtime probed in state audit
The Courier: NEW HAMPTON — New Hampton's former police chief carried over vacation time for an employee after the officer wasn't able to use the time, according to a state audit released Wednesday.  The audit also found the former chief kept track of compensatory time off the books in a system outside the officers' union agreement, and destroyed records related to the time when he left the department.
Link to State Auditor's report / can also be found in members only LEAIG library: https://www.auditor.iowa.gov/reports/file/58326/embed
July 5: 'Literally, our sheriff locked the doors': Sacramento County grand jury calls for new oversight
Sacbee.com: The jury investigated citizen complaints of Sacramento County Sheriff Scott Jones and analyzed whether Jones illegally denied former Inspector General Rick Braziel access to the department's buildings, records and personnel last year. Jury members also analyzed whether the county Board of Supervisors was sufficiently monitoring the department.
The grand jury determined Jones did not break the law when he locked Braziel out of the Sheriff's Department last year. Members of the grand jury wrote that the county would need new authority to prevent a sheriff from obstructing a similar investigation in the future.
July 5: Off-Duty LAPD Detective Charged With 75 Counts After Allegedly Filming in Restroom at Angel Stadium
KTLA: News Video: Ryan Caplette faces 37 counts of peeping with intent to invade privacy, 37 counts of secretly recording in the restroom and one count of loitering, according to the Anaheim Police Department. The charges were filed by the Anaheim City Attorney's Office.
July 5: Lawrence police detective: Chief and lieutenant lied about working overtime on drug investigations, according to court documents
Interesting allegations.  Lt. Dan
July 4: Portland's police chief calls for an anti-mask law following violent protests
(CNN)The police chief of Portland, Oregon, is calling for legislation banning masks worn by demonstrators after violent street clashes between rival protesters last weekend left eight people injured.
"In other states, you'll see that it's illegal to wear a mask during the commission of a crime," Police Bureau Chief Danielle Outlaw told reporters Wednesday, according to CNN affiliate KOIN. "I understand and we wholeheartedly support individuals' first amendment right to free speech, but we cannot allow ... people to use the guise of free speech to commit crimes."
July 4: Starbucks apologizes after police officers asked to leave shop because of customer complaint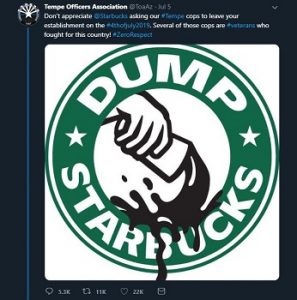 Fox News: Starbucks apologized to the Tempe, Ariz., police department after some of its officers were asked to leave from one of its shops on the Fourth of July following complaints from a customer who said they didn't feel safe with cops present.
July 4: Police release bodycam video of OIS at Ark. car dealership
Police One: A police investigation cleared two officers who fatally shot a man who was allegedly trying to steal a pickup truck
July 4: Audit finds $239,000 in misspending at Webster City Area Chamber of Commerce
KCCI: WEBSTER CITY, Iowa — A new state audit reveals hundreds of thousands of dollars in improper spending in Webster City.
Link to State Auditor's report / can also be found in members only LEAIG library: https://www.auditor.iowa.gov/reports/file/58323/embed
July 4: One Killed in Deputies' Rolling Gunbattle With Shooters in Armored Cadillac Escalade
NBC: News Video Coverage: Deputies say an assault-style rifle was fired from a window of the SUV during the chase
July 4: Florida deputies seen pepper-spraying and slamming teen in video are charged
CBS: News Video: It all began in April after authorities were called because of a fight in the parking lot of a McDonald's in Tamarac, where multiple students were gathered. In a viral cellphone video that captured the arrest, Rolle is seen trying to pick up a cell phone from another individual who was being arrested. Deputies then pepper-sprayed him, threw him to the concrete pavement and punched him.
Rolle was taken into custody, but his charges were later dropped. The arrest left Rolle with a fractured nose and head injuries and a video of his violent arrest taken on a cell phone drew outrage once it was shared throughout social media. It was only on Wednesday that charges were brought against the three law enforcement officials though.
July 3: Watchdog says Ferguson behind on police, court changes
Houston Chronicle: Independent monitor Natashia Tidwell, a Boston attorney, told U.S. District Judge Catherine Perry that the city is behind on many of its goals for the year, the St. Louis Post-Dispatch reported. Instead of pushing those benchmarks to next year, Tidwell said "more needs to be done."
July 3: Video shows State Trooper punching detainee
PROVIDENCE (WJAR) – Video showing a veteran Rhode Island state trooper using force against a suspect in a holding cell has been released from a federal court seal.
The video was taken in 2014 and shows Trooper Jamie Donnelly-Taylor walking suspect Lionel Monsanto into a cell at the Lincoln state police barracks. Donnelly-Taylor is then seen throwing more than a half dozen punches at Monsanto, who falls to the floor.
July 3: LAPD pioneered predicting crime with data. Many police don't think it works
Recommended reading:  LT. Dan
LA Time: But the widely hailed tool the LAPD helped create has come under fire in the last 18 months, with numerous departments dumping the software because it did not help them reduce crime and essentially provided information already being gathered by officers patrolling the streets. In March, the LAPD's own internal audit concluded there were insufficient data to determine if the PredPol software — developed by a UCLA professor in conjunction with the LAPD — helped to reduce crime. LAPD Inspector General Mark Smith said there also were problems with a component of the program used to pinpoint the locations of some property crimes.
Link to internal audit, also posted in LEIAG document library: https://docs.wixstatic.com/ugd/b2dd23_21f6fe20f1b84c179abf440d4c049219.pdf
July 3: Autopsy finds missing Eagle County (Colorado) deputy killed himself
Denver Post: Searchers found the body of 26-year-old Tayler Esslinger in his truck on June 28 in Garfield County. A Colorado National Guard helicopter crew had spotted his vehicle.
July 3: Retired NYPD detective gets 4 to 12 years for running brothel
The retired NYPD detective who headed a multimillion-dollar prostitution and gambling ring with a cohort of other cops was sentenced Tuesday to four to 12 years in prison.
July 3: Phoenix police chief Jeri Williams lays out plan to address police concerns
KTAR: PHOENIX — Phoenix Police Chief Jeri Williams on Tuesday released a five-point plan on how her department can improve in wake of recent heavy criticism brought on by the now-viral incident that showed officers aiming guns and hurling profanities at a black family.
Williams laid out the plan to the Phoenix City Council two weeks after listening to police concerns during a community meeting dominated by frustrated citizens.
Communicate clear expectations to employees
Modernize technology & processes
Assess best practices
Improve training
Survey committee feedback
July 2:  Orange County (FL) Sheriff's Office sergeant arrested on grand theft charges
WESH 2 News: The specific circumstances surrounding Friedman's arrest were not immediately available.
July 2: Sheriff's office loses accreditation after Parkland shooting
Meanwhile, former Sheriff Scott Israel announced he's running for his old job
FORT LAUDERDALE, Fla. (AP) — Video: Florida's largest sheriff's office has lost its law enforcement accreditation after criticism over its handling of fatal shootings at a high school and airport.
The Commission for Florida Law Enforcement Accreditation voted 13-0 last week not to renew the Broward Sheriff's Office's accreditation. Commission members include law enforcement and other local officials from across Florida.
July 1: Border Patrol Chief: Sexist Facebook posts 'inappropriate'
AP: Group members posted graphic doctored images of U.S. Senator Alexandria Ocasio-Cortez, a Nw York Democrat. Other posts refer to Ocasio-Cortez and Rep. Veronica Escobar, of Texas, in sexually explicit ways. One member encouraged agents to throw burritos at them during a facility tour Monday.
July 1: Supreme Court Affirms Police Can Order Blood Drawn From Unconscious DUI Suspects
Time: Video: The Supreme Court has ruled that police may, without a warrant, order blood drawn from an unconscious person suspected of driving under the influence of alcohol.
The Fourth Amendment generally requires police to obtain a warrant for a blood draw. But in a 5-4 vote on Thursday, the court upheld a Wisconsin law that says people driving on a public road have impliedly consented to having their blood drawn if police suspect them of driving under the influence. It also said that "exigent circumstances" permit police to obtain a blood sample without a warrant.
July 1: NOPD releases body cam video from shootout with robbery suspects
WWL reports police had been called to the pharmacy after two men barged into the store on Prytania Street around 6 a.m. June 18.
The footage shows the two suspects, 26-year-old Richard Sansbury and 28-year-old Alan Parson opening fire after getting cornered inside the store. Police exchanged gunfire with the two as they make a break for the parking lot.
July 1: Video shows suspect dragging deputy while fleeing traffic stop, sheriff says
Categories: WFORTV:  Authorities say 38-year-old Rocky Rudolph Jr. faces attempted murder charges for dragging a sheriff deputy about 100 yards with his SUV during a traffic stop. Video courtesy: Seminole County Sheriff's Office.
July 1: Destroyed Files and Long Delays: California Police Slow to Release Misconduct Records
KTLA: Six months after Senate Bill 1421 went into effect, some of the state's largest law enforcement agencies haven't provided a single record.  Some law enforcement organizations are charging high fees for records, destroying documents and even ignoring court orders to produce the files.
July 1: Civilian Board Wins Back Muscle To Probe Police Misconduct
Law 360: A recent ruling that restored the investigative muscle of a board in Newark, New Jersey, to dig into police misconduct claims but limited the reach of any findings should still rekindle a powerful, civilian voice for police accountability at a time when such reform efforts are being challenged, supporters say.
July 1: How Police Chiefs and Sheriffs Are Finding Meaning and Purpose In the Next Stage of Their Careers
PERF: This book more broadly, is a career guide for the policing profession. This book is largely about providing advice to police executives who are within sight of a full retirement or partial retirement, but it's also about a new way of thinking about a career in policing.
June 29: Massachusetts police officer charged with raping underage homeless teen for months
ABC News: A member of a homeless task force in Massachusetts was arraigned on rape charges Thursday after an investigation concluded he sexually assaulted a 16-year-old homeless girl multiple times over the course of several months. Lowell police officer Kevin Garneau, 49, of Pelham, New Hampshire, was indicted by a grand jury Wednesday on two counts of rape, according to the Middlesex County District Attorney's Office.
June 29: Attorney general declares public safety 'emergency' in rural Alaska, announces $10M in aid
Noting that Alaska has the highest per capita crime rate in the country, the U.S. Department of Justice announced Friday that $6 million in emergency funds would go toward mobile detention facilities as well as hiring, equipping and training rural police officers. Another $4.5 million would be used to hire and train 20 new officers in Alaska's Native villages by the end of July.
June 28: Investigator: Riverside's internal auditor had conflict of interest when he audited his life partner
Remember to ensure your audit team does not have ANY conflicts of interest, no manner how minimal they may appear (underlined below).  See below. Lt. Dan
The auditor, Vincent Price, had been in a romantic relationship with Wright for the past 15 years. Wright, who moved on from Riverside in 2013 and will step down as head of the Los Angeles Department of Water and Power in October, was only in charge for two months out of the three years covered by Price's audit. During that time, Wright used the Southern California Public Power Authority to authorize almost $1.8 million of spending instead of directly asking the Riverside City Council, the investigation report concluded.
June 28: Los Angeles County sheriff's deputy describes attack by Banditos clique
 Check out the news video.  Lt. Dan
LOS ANGELES (KABC) News Video -- Deputy gangs are facing renewed scrutiny at the Los Angeles County Sheriff's Department as the district attorney weighs potential criminal charges against members of the Banditos, a gang or clique that operates out of the East Los Angeles patrol station.
'I wanted to give her comfort': Deputy recounts dramatic night he rescued newborn baby girl left in plastic bag
Positive story for the week.  Lt. Dan
A Georgia family and local sheriff's deputy are opening up about the "emotional" moment they rescued an unidentified baby girl who was abandoned in a plastic shopping bag.
June 28: Pike County sheriff indicted on 16 charges after allegations he stole money from drug busts
The Sheriff kept cash from cases in a safe that only he had access.  Always a red flag, lack of internal controls!  Lt. Dan
WBNS:  Video : Pike County (Ohio) Sheriff Charles Reader has been indicted on 16 charges after he was accused of stealing money from drug busts to support his gambling addiction.
The anonymous complaint filed against Reader alleges he kept cash from cases in a safe that only he had access.
June 28: Hawaii power couple convicted in plot to frame a relative
A jury has found a former Honolulu prosecutor and her now-retired police chief husband guilty in a plot to frame a relative to silence him from revealing fraud that financed their lavish lifestyle, a case that shook the top levels of law enforcement. The verdict came Thursday in what has been described as Hawaii's biggest corruption case.
June 28: Findings of Misconduct by a Senior DEA Official for Violating Ethics Regulations
DEA Standards of Conduct, and the Federal Acquisition Regulation, and for Lack of Candor; by a Member of the DEA Senior Executive Service for Aiding and Abetting the Senior DEA Official's Misconduct; and by a JMD Senior IT Manager for Violating DOJ Contractor Security Policy
DOJ-OIG: Investigative Summary:
June 28: Findings of misconduct by and FBI Agent in Charge for using the office for private gain and dereliction of supervisory responsility
DOJ-OIG: Investigative Summary
June 28: Video of Irondale Alabama police officer singing with goat goes viral
WTVM: On the lighter side: Irondale Police Department posted a fun video one of their officers made after helping wrangle some goats. The post reads: "What do you do when you respond to a call about loose goats? You make a video!
June 28: Texas police officer charged with murder in shooting of alleged truck thief
Fox News: The 13-year department veteran allegedly opened fire on Moreno as he was pulling out a shopping center parking lot, police said. Surveillance video appears to show Dunn firing into the driver's side of the vehicle as it made a turn around his police SUV.
June 28: Findings of Misconduct by a United States Marshal for Making an Inappropriate Comment about Shooting a Judge and for Lack of Candor
DOJ-OIG: Investigative Summary:
June 28: Calif. approves audit of license plate reader use by law enforcement
IAPP: A California legislative committee approved a sweeping inquiry into law enforcement's use of license plate readers, Courthouse News Service reports. The Electronic Frontier Foundation and American Civil Liberties Union initiated the audit request after investigations uncovered security flaws with law enforcement cameras. Democratic State Sen. Scott Wiener said the audit is not intended to ban the technology but to investigate reports that license plate data is being given to U.S. Immigration and Customs Enforcement officials. In a public records request, the ACLU found ICE has access to license plate data maintained by Vigilant Solutions. The audit will focus on five agencies in Los Angeles, Sacramento and Fresno and is expected to be completed within seven months.
June 28: Investigative Summary: Findings of Misconduct by an Assistant U.S. Attorney for Possessing, Transporting, and Consuming Marijuana Edibles; Falsely Denying Controlled Substance Use on a Security Form; and Lack of Candor
DOJ-OIG: Investigative Summary:
June 28: Findings of Misconduct by an FBI Deputy Assistant Director for Unauthorized Contacts with the Media, Disclosing Law Enforcement and Other Sensitive Information to the Media, and Accepting a Gift from the Media
DOJ-OIG: Investigative Summary:
June 28: Investigative Summary: Findings of Misconduct by an FBI Attorney for Shoplifting at the United States Marine Corps Base Quantico Exchange
DOJ-OIG: Investigative Summary:
June 27: Major Police Body Camera Manufacturer Rejects Facial Recognition Software
NPR: The largest manufacturer of police body cameras is rejecting the possibility of selling facial recognition technology – at least, for now.
Axon, formerly known as Taser International, has worked with more than 18,000 law enforcement agencies worldwide, selling a suite of products that include body cameras and software. It says 48 of 79 major city law enforcement agencies in North America are Axon customers.
On Thursday, the company announced that it is heeding the recommendation of an independent ethics board which it created last year after acquiring two artificial intelligence companies.
In a 42-page report, the ethics panel found that face recognition technology is not advanced enough for law enforcement to depend on — corroborating the worries of critics.
Link to First Report of the Axon AI & Policing Technology Ethics Board https://static1.squarespace.com/static/58a33e881b631bc60d4f8b31/t/5d13d7e1990c4f00014c0aeb/1561581540954/Axon_Ethics_Board_First_Report.pdfhttps:/www.policingproject.org/axon
June 26: Report recommends improvements in how NYPD handles complaints of biased policing
NEW YORK (1010 WINS) -- The NYPD's inspector general is out with a report recommending improvements in how the department handles complaints of biased policing.
According to the report, 2,500 such complaints were filed between 2014 and last year, but none were substantiated and none were investigated by the department's civilian complaint review board.
Link to Report: https://www1.nyc.gov/assets/doi/reports/pdf/2019/Jun/19BiasRpt_62619.pdf
June 26: 2 more Broward sheriff's deputies fired over inaction during Parkland shooting
CBS: Broward County Sheriff Gregory Tony said two additional deputies have been fired as a result of an internal affairs investigation into the agency's response to the shooting at Marjory Stoneman Douglas High School in Parkland that killed 17 people in February 2018. Tony said during a news conference Wednesday morning that deputies Edward Eason and Josh Stambaugh were fired Tuesday for their inaction.
June 25: Seattle's use of outside advisory panel condemned by police-reform advocates
Seattle Times: Seattle Mayor Jenny Durkan has quietly assembled an outside panel of former law-enforcement leaders and a current police-union lawyer to help the city respond to a federal judge's order to devise methods to fix flaws surrounding police accountability.
The action drew swift condemnation from police-reform advocates who contend it undercuts longstanding local efforts
June 25: Audit: lack of oversight for APD's body camera program
AUSTIN (KXAN) Video— An audit of Austin Police Department body camera practices found there wasn't enough oversight watching for mistakes made while ingesting and keeping track of video.
City auditors found that APD supervisors had not been inspecting the footage to detect and correct issues.
That goes against APD policy, which states that "supervisors should perform inspections" of officers in their chain-of-command.
June 25: Louisville police officer indicted in private security scheme faces new misconduct charges
One of the six Louisville Metro Police officers indicted in May and accused of working private security jobs while clocked in for patrol shifts is facing new charges of official misconduct.
Officer Cortez Ernest, 31, was charged last week with two counts of first-degree official misconduct after he allegedly used the state's "E-warrant system" in July 2018 to check if a friend had an outstanding warrant for a domestic violence incident.
June 25: To Find More 'Good Cops,' a Few Big Cities Change Their Hiring Process
Governing: They're putting more emphasis on applicants' emotional intelligence and interpersonal skills.
June 24: Ten Philadelphia Police Recruits Resign After Allegedly Planning To Cheat On Exam, Officials Say
PHILADELPHIA (CBS) Video— Another scandal is hitting the Philadelphia Police Department. What was supposed to be a simple, open-book exam led to 10 police recruits resigning from the academy.
June 24: Former L.A. sheriff's deputy sentenced to prison for lying to FBI about 2011 beating
MSN: A former deputy with Los Angeles County Sheriff's Department was sentenced Monday to one year in federal prison after lying to the FBI about the 2011 beating of a handcuffed visitor to the Men's Central Jail.
June 24: Stamford ex-cops arraigned for extra-duty scam
STAMFORD — Four former Stamford police officers facing felony larceny charges for allegedly bilking nearly $188,000 from the department's extra-duty program had their cases placed on a special docket for the most serious crimes in the Stamford-Norwalk Judicial District during a morning arraignment at the Stamford courthouse Monday.
June 23: Homeland Security Employees Aren't Disciplined Consistently for Misconduct
DHS, OIG: Lengthy survey by watchdog faults vague definitions, poor record-keeping for the lack of standard consequences across agencies within the department.
Link to report: https://www.oig.dhs.gov/sites/default/files/assets/2019-06/OIG-19-48-Jun19.pdf
June 21: Jury Awards $585K to Minneapolis Cop Over License Lookups
US News: A federal jury has awarded $585,000 to a police officer who alleged that 58 fellow officers from the Minneapolis Police Department broke a federal privacy law by searching for her driver's license data without a lawful purpose. Former St. Paul officer Anne Rasmusson sued several communities in 2012 after she requested an audit of searches for her driver's license data and learned that officers had looked up her photo and other data over 500 times. Her case spurred other lawsuits, and she won settlements of more than $1 million.
June 20: NYPD, under pressure after delay, posts cop misconduct data online
New York Daily News: The NYPD this week posted on its website more than two years worth of police misconduct data — but not before a City Councilman made a second ...
June 20: Video: Philadelphia Pulls 72 Cops Off the Street Over Allegations of Racist and Anti-Muslim Social Media ...
TIME: (PHILADELPHIA) — Police Commissioner Richard Ross says 72 Philadelphia police officers have been placed on administrative duty amid an initial ...
June 20: Federal audit finds gaps in Alaska 'critical incident' reporting
Alaska Public Media News: Auditors selected 303 claims for review, and found more than two thirds of them were not correctly reported as critical incidents, according to the OIG.
Link to Audit report: https://oig.hhs.gov/oas/reports/region9/91702006.pdf
June 20: What Happens When Evidence-Based Policymaking Meets the Real World
Governing: One size does not fit all. Sometimes that's because different jurisdictions simply have different needs and different demographics. But often, the problem is that the programs themselves aren't replicated consistently when they're exported from one place to another.
June 19: Detective stops press conference to tackle man
VIDEO CNN: A police detective in Australia stopped speaking mid-sentence at a press conference to tackle a man to the ground. Source:
June 19: Prosecutor refuses to work with St. Louis cops over alleged racist social media posts
NY Post: Nearly two dozen St. Louis police officers have been added to a list of officers banned from bringing cases to the city circuit attorney's office — after a national research project accused them of making racist and anti-Muslim social media posts.
June 19: Police misconduct in NJ: State to track bad cops after report, but loopholes remain
Asbury Park PRess: But the state AG Grewal stopped short of issuing a command for every county prosecutor in the state, though he previously implemented such sweeping changes as recommended by Network reporting on police accountability: random drug testing for all police officers and an internal affairs reform.
June 19: L.A. County to pay $7-million settlement in fatal shooting involving tattooed deputy group
MSN: The settlement, approved by county supervisors Tuesday, is the largest deal in recent memory tied to a case featuring evidence about inked clubs of deputies.  But his admission about his tattoo during a deposition — and a photo of it that emerged in the lawsuit — became a central focus of the case as attorneys for Taylor's family argued the killing was part of a pattern of excessive force by inked deputy gangs.
June 18: Former Fairview Township Police officer loses appeal of federal conviction for stealing drug money
Fox 43: YORK COUNTY — A former Fairview Township Police officer serving time in federal prison for stealing cash while on duty had his felony theft convictions upheld by a federal appeals court this week.
June 18: Police Officer Admits he stole drugs from evidence locker
The Peterborough examiner: A Kawartha Lakes Police officer (Canada) has pleaded guilty to one count of breach of trust and admitted he stole drugs from the police force's evidence room in 2018, which compromised eight ongoing investigations.
June 19: Phoenix police chief promises change amid civil rights claim
PHOENIX (AP) — Police Chief Jeri Williams promised change in her department after being booed by some of hundreds of people gathered Tuesday night to discuss a videotaped police encounter that has caused a national outcry.
June 18: Cops are expected to run toward danger. Here's the toll that takes
CNN/ Video: However, this kind of service comes at a cost. Cops see unspeakable horrors -- the worst things that human beings can do to each other-- and yet must strive to lead semi-normal lives.
June 17: Former Causeway cop gets 4 years in prison for stealing guns, cash and drugs
DA Montgomery County: He was accused of stealing $6,300 in cash, cocaine, and two guns from the evidence room he supervised three years ago.
NIJ: Police-Initiated Diversion for Youth to Prevent Future Delinquent Behavior
June 17: CELLEBRITE SAYS IT CAN UNLOCK ANY IPHONE FOR COPS
Wired: On Friday afternoon, the Israeli forensics firm and law enforcement contractor Cellebrite publicly announced a new version of its product known as a Universal Forensic Extraction Device or UFED, one that it's calling UFED Premium. In marketing that update, it says that the tool can now unlock any iOS device cops can lay their hands on, including those running iOS 12.3, released just a month ago. Cellebrite claims UFED Premium can extract files from many recent Android phones as well, including the Samsung Galaxy S9.
June 17: Lansing police chief: 'That is not the conduct...we want from our Lansing police officers'
New Video: Lansing State Journal: LANSING - A day after a Lansing police officer was videotaped punching a teenage girl seated in the back of a patrol car, the department's top official told protesters it's not the behavior he expects from his officers.
June 17: Family files $10M claim accusing Phoenix Police of violating their rights
Video: PHOENIX (AP) -- A $10 million legal claim was filed against the city of Phoenix that says police officers committed civil rights violations by pointing guns and profanely yelling commands at the father and pregnant mother of two young daughters because one of the children, unbeknownst to the parents, had shoplifted a doll at a store.
June 17: 'A mental health crisis': 3 NYPD officers die by suicide in 10 days
USA Today: The deaths in New York are part of a national problem. Last year, for the third straight year, cops who died by suicide outnumbered line-of-duty deaths.
June 17: Local police increasingly clash with federal law enforcement on body cameras
Axios: Local police are increasing their use of body cameras, which often puts them at odds with the federal agents they work with — who "never wear body cameras," the Washington Post reports.
The big picture: A 2018 Justice Department survey found that 47% general-purpose law enforcement agencies had acquired body cameras by 2016. 80% of the largest local police departments, which employ 500 or more full-time sworn officers, had acquired body cameras by that time.
What's happening: Local police departments tell the Post the DOJ "has helped fund and train local police departments in body-camera use while ignoring federal use." When local officers work with federal agents on joint task forces, they are prohibited from wearing body cameras.