Law Enforcement Inspections and Auditing Certificate (LEIAC)™ Course # LEIA-201 (St Petersburg, FL) 32 Hours Arizona POST Continuing Education Credit
Law Enforcement Inspections and Auditing Certificate (LEIAC)™ Course # LEIA-201 (St Petersburg, FL) 32 Hours Arizona POST Continuing Education Credit


October 24, 2023 - October 27, 2023




8:00 am - 5:00 pm
October 24-27, 2023 – St. Petersburg, Florida
Hosted by City of St Petersburg, Florida / Presented by LD Consulting / Co-Sponsored by IA Pro
This course has been determined to qualify for 32 hrs. of AZPOST continuing training credit.
Course Description:
Take the skills developed in the LEIA-101 class and demonstrate proficiency and professionalism in the certificate course and earn your Law Enforcement Inspections and Auditing Certificate (LEIAC)™.  The LEIAC™ designation will distinguish you from your peers and enhance credibility with co-workers and management.  Those completing the course will earn the Law Enforcement Inspections and Auditing Certificate (LEIAC)™.
LEIA-201 Course objectives:
Participants will individually demonstrate their ability to: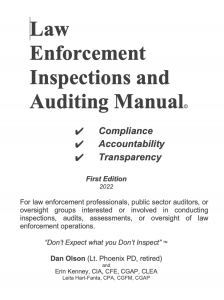 Develop line and staff inspection methodology and implementation
Complete an audit report to include the following;
Complete audit research / risk assessment / audit plan
Complete audit program
Complete fieldwork and work papers
Present report and findings/recommendations
This class is for Law Enforcement Professionals (sworn and non-sworn)
* Who have successfully completed LEIA 101 within three years prior to the LEIA-201 course.
* Responsible for business related-controls, compliance, and quality assurance activities.
* Interested in obtaining the Law Enforcement Inspections and Auditing Certificate (LEIAC)™.
The LEIAC designation is awarded upon the successful completion of this course.
The course includes a flash drive containing class material including templates and reports.  All participants must bring a laptop with an a/c power cord and PowerPoint, Word, and Excel programs.  The laptop must have Internet WiFi capability.
Classroom location: St. Petersburg PD, 1301 1st Avenue North, St. Petersburg, Florida 33705
Hotels: Tru by Hilton St Petersburg Downtown Central Ave 1650 Central Ave, St Petersburg, FL 33712
(727)550-2200 (Check THE GOVT RATE)
Courtyard by Marriott St Petersburg/Downtown 300 4th St N, St Petersburg, FL 33701
QUESTIONS / CONCERNS: Call:    Dan Olson
Phone: (602) 510-8481 Email: dan@ldconsultingllc.com    Web Site: LDConsultingllc.com         
 COST: REGISTRATION:  $699.00
DISCOUNTS: Early Registration $25.00 discount if PAID by Sept. 24th, 2023.  Additional $25.00 off IAPro agencies or LEIAG members.  Register online at: https://www.ldconsultingllc.com/schedule
32 hours CPE credit certificate provided.
TO ADD the Law Enforcement Inspections and Auditing Manual to your order see the reverse side of the flyer!
The manual is NOT required for the course but is an excellent resource.
Class starts at 0800 hours on Tuesday 10/24/2023 and concludes on Friday 10/27/2023 at 1700 hours.
Address:
1301 1st Avenue North
,
St Petersburg
,
Florida
,
33705
,
United States