Upcoming training: Current event news articles listed below training section. 
Schedule
Dec 9: Mesa Police officer acquitted for OIS:
CBS: MESA — Police in Mesa, Arizona released disturbing body camera video on Thursday hours after a former officer was acquitted of a murder charge in the fatal shooting of an unarmed man.
The verdict cleared Philip Brailsford, 27, of criminal liability in the 2016 death of Daniel Shaver, of Granbury, Texas. He was also found not guilty of reckless manslaughter, reports CBS Phoenix affiliate KPHO-TV.
Dec 9: Pentagon Announces First-Ever Audit Of The Department Of Defense
NPR: "The Defense Department is starting the first agency-wide financial audit in its history," the Pentagon's news service says, announcing that it's undertaking an immense task that has been sought, promised and delayed for years.
Of the tally that is starting this week, chief Pentagon spokesperson Dana W. White said, "It demonstrates our commitment to fiscal responsibility and maximizing the value of every taxpayer dollar that is entrusted to us."
Dec 9: Arizona law enforcement doesn't reflect state's diversity
AZ Big Media: Despite national calls for more diverse law enforcement agencies, very few, if any, Arizona police departments reflect the demographics of the communities they serve – though diversity is not always their top priority.
Experts in Arizona and across the country say that while agencies should strive to mirror their jurisdictions, it is more important to focus on building a police force of well-trained, capable officers – regardless of race, ethnicity or gender – who can build strong relationships with their communities.
Dec 9: Audit Shows Forfeited Drug Money Not Getting to State
US News: An audit of Connecticut's Criminal Justice Division shows more than $520,000 in money seized by police in drug and money laundering cases did not make it into state coffers during 2015 and 2016.
The audit for 2015 and 2016 found that more than $108,000 that was supposed to be turned over from local and state police departments to the prosecutors' office was more than a year overdue. And more than $28,000 should have been received over a decade ago.
Dec 8: Sex. Lies. Abuse. How these L.A. deputies landed on a secret 2014 list of problem officers
LA Times: The Los Angeles County Sheriff's Department keeps a secret list of about 300 deputies with histories of dishonesty and similar misconduct that could undermine their credibility when testifying in court. Even prosecutors and many high-ranking sheriff's officials can't see this so-called Brady list.
When Sheriff Jim McDonnell attempted to give the list to the Los Angeles County district attorney's office, the deputies' union sued him. Lower courts ruled that the list is confidential, and the California Supreme Court has announced it will decide the issue.
The Times reviewed a version of the list from 2014 and obtained government and court documents that detail the accusations against the deputies.
Dec 7: Former North Charleston, South Carolina, Police Officer Michael Slager Sentenced to 20 Years in Prison for Federal Civil Rights Offense
DOJ: Former North Charleston, South Carolina, Police Department (NCPD) Officer Michael Slager, 36, was sentenced to 20 years in prison today for his commission of a federal civil rights offense during his fatal shooting of Walter Scott, Jr. on April 4, 2015. This sentence resulted from the Court's determinations that Slager's actions in shooting Mr. Scott constituted second-degree murder, and his subsequent conduct constituted obstruction of justice as defined by federal sentencing guidelines.
Dec 7: Deputy Attorney General Rod Rosenstein Selects Corey Ellis as Director of Asset Forfeiture Accountability
DOJ: Deputy Attorney General Rod Rosenstein today announced that Corey Ellis, First Assistant U.S. Attorney of the Western District of North Carolina, will serve as the Director of Asset Forfeiture Accountability within the Office of the Deputy Attorney General. Pursuant to Attorney General Jeff Sessions's Oct. 16 memorandum, Ellis will coordinate the Department's Asset Forfeiture Program, including reviewing complaints and ensuring compliance with the law.
Dec 7: FBI lacks 'technical ability' to crack most smartphone encryption
The FBI is struggling to decode private messages on phones and other mobile devices that could contain key criminal evidence, and the agency failed to access data more than half of the times it tried during the last fiscal year, FBI Director Christopher Wray told House lawmakers.
Wray will testify at the House Judiciary Committee Thursday morning on the wide range of issues the FBI faces. One of the issues hurting the FBI, he said, is the ability of criminals to "go dark," or hide evidence electronically from authorities.
Dec 7: Using GPS Technology to Investigate Crime Trends
Police Foundation: Law Enforcement Division worked with one of the leading GPS tracking companies, who agreed to test the product to address hot spot crime, with positive results.
Dec 7: Effects of SB1636 on Processing and Dispositions of Sexual Assault Cases in Texas
Police Foundation: The purpose of this study is to determine the impact of SB1636 upon reporting and processing of sexual assault cases in Texas.  Texas was one of the first states to enact legislation mandating universal DNA testing of sexual assault kits (SAKs).  In addition to requiring testing of SAKs in all cases going forward, the 2011 statute also required law enforcement agencies across the state to report how many SAKs remained untested in their custody by October 15, 2011, and to submit all such evidence connected to an active criminal case to the Department of Public Safety (DPS) or another accredited public laboratory.  DPS, in turn, was tasked with developing DNA profiles and uploading them to the state and federal DNA databases to determine if a link could be found to an offender or to another case.
For more Police Foundation Reports go to: https://www.policefoundation.org/publications/
Dec 7: The Revolution of Emergency Communications:
PERF decided to conduct a Critical Issues in Policing project on emergency communications because the world of emergency communications is about to undergo an upheaval, as a result of two new technologies: Next Generation 911 systems and the FirstNet wireless broadband network for police and other first responders. The implementation of NG911 and FirstNet will augment traditional mission-critical Land Mobile Radio (LMR) narrowband voice systems. This report explores NG911 and FirstNet and their impact on police agencies and the emergency communications centers that support the police.
Dec 6: Seattle Mayor Says Reform Efforts Must Be Top Priority In Search For New Police Chief
Knkx.com: Seattle Mayor Jenny Durkan says the Seattle Police Department will continue its reform efforts, even as a search is launched for a new Police Chief. Chief Kathleen O'Toole announced she's stepping down and will leave by the end of the month.
For more than five years, the Seattle Police Department has been under a federal court order, called a consent decree, to improve. The order followed a U.S. Justice Department investigation that showed a pattern of biased policing and excessive use of force.
Dec 6: New Albuquerque PD chief vows to make Albuquerque safe
KOB.com: ALBUQUERQUE, N.M. — With an interim police chief and two deputy chief, the Albuquerque Police Department is now under new leadership.
Their work to move the department forward will not be easy, but Police Chief Mike Geier said he feels like he's right where he's meant to be. It's not a job he said he'll take lightly considering the skyrocketing crime in the city.
Dec 6: Former Pinal (AZ) sheriff candidate Henry hired as Texas police chief
Pinal Central: Steve Henry, who served seven years as chief deputy under former Sheriff Paul Babeu, has been selected chief of the Midland Police Department in western Texas, as reported by the Midland Reporter-Telegram. His first day on the job is scheduled for Jan. 1, pending ratification from the city council on Dec. 12.
Dec 5: Seattle Police Chief Kathleen O'Toole to step down at end of year
Seattle Times: Kathleen O'Toole, who has served as Seattle chief of police since 2014 and has overseen extensive reforms in that time, called her decision to leave "more personal than professional."
Dec 5: Autopsy Doctor Resigns, Says San Joaquin (CA) Sheriff Overrode Death Findings to Protect Law Enforcement
KQED: San Joaquin County's Chief Forensic Pathologist resigned Tuesday, one day after the release of his memos blasting Sheriff-Coroner Steve Moore for interfering with death investigations to protect law enforcement officers.
In his resignation letter Tuesday, Dr. Bennet Omalu wrote that Moore is thwarting his efforts raise the standards of death investigations and overriding his authority as a physician
Dec 5: New Orleans Police Watchdog Warns of Dangers of Expanded Surveillance
EFF.org: In a stern warning to the New Orleans City Council, the city's top police watchdog has criticized a plan to expand surveillance without also expanding oversight. The Office of Independent Police Monitor (OIPM) warned that the city is on a path that may lead to abuse, racial discrimination, and fiscal waste.
Dec 5: Anaheim to boost civilian oversight of Police Department in the wake of officer-involved shootings
OC Register: The City Manager's Office intends to establish the panel, and the City Council will get updated about the proposal on Tuesday, Dec. 5.
The new board would replace the temporary Public Safety Board, created in 2014 in the wake of a series of officer-involved shootings and public protests.
Mayor Tom Tait said he pushed for civilian oversight to help rebuild public trust in the Police Department, but the pilot program wasn't as strong as he would have liked.
Dec 5: One in five Victoria (Australia) police say reporting corruption could cost their job
The Guardian: One in five Victoria police employees say they would not report corruption even if they witnessed it and another one in five said they feared losing their job if they reported corruption, according to a report released on Tuesday.
The report by the Independent Broad-based Anti-corruption Commission (Ibac) is based on a survey of 1,172 Victoria police employees, of which 80% were sworn police officers. It follows a series of investigations into corruption in the police force, including allegations of drug trafficking and abuse that were substantiated by an Ibac inquiry last year.
Eighty per cent of respondents said they would report corruption if they personally observed it, up from 71% in 2015.
Dec 5: ​​Audit in an Age of Intelligent Machines
Very interesting article: Lt. Dan
Already in use at many organizations, artificial intelligence is poised to transform the way business operates. "If you think AI is not coming your way, it's probably coming sooner than you think it is," says Yulia Gurman, director of internal audit and corporate security for the Packaging Corporation of America in Lake Forest, Ill. Fresh off of attending a chief audit executive roundtable about AI, Gurman says AI wouldn't have been on the agenda a year ago. Like most of her peers present, she hasn't had to address AI within her organization yet. Now it's on her risk assessment radar. "Internal auditors should be alerting the board about what's coming their way," she says.
Dec 5: Research on the Impact of Technology on Policing Strategy in the 21st Century, Final Report
Key Findings:
National Criminal Justice Reference Service: The following sections summarize key findings from the study and their implications.
Technology prevalence. Today's state and local LEAs are heavily involved in technology. Ninety-six percent had implemented one or more of the 18 core technologies of interest, most commonly car cameras (70% of agencies), information-sharing platforms (68%), and social media (68%). One-third of agencies had body-worn cameras (BWCs), geographic information system technology (GIS), cell phone tracking software, or investigative case management software. Notable among large agencies (250 or more sworn officers) was the prevalence of analytical and visual-based technology. About 81% of large agencies reported using GIS (compared with 31% overall) and 70% were using license plate readers (LPRs; compared with 20% overall). Use of predictive analytics software was reported by 28% of large agencies………..
Dec 5: New York's Attorney General Just Indicted a District Attorney for Covering Up a Police Shooting of an Unarmed Black Man
InJusticeToday: A New York State grand jury indicted Rensselaer County District Attorney Joel E. Abelove on charges of official misconduct and perjury on Friday afternoon. The indictment stems from Abelove's concealment of evidence about the shooting of an unarmed black man by a Troy police officer, and allegations that Abelove lied during a subsequent investigation. According to the indictment, Abelove repeatedly interfered with Attorney General Eric Schneiderman's efforts to investigate the killing of 37-year-old Edson Thevenin, who was shot eight times by police sergeant Randall French following a traffic stop gone awry.
Dec 5: Former Clackamas County detective sentenced to more than six years in prison
Oregon Live: A former Clackamas county detective convicted of a 2011 Wilsonville home robbery and money laundering was sentenced to six years and 10 months in prison.
A jury in August found Floyd William Marsh, Jr. guilty of taking part in the Oct. 1, 2011 home robbery where a woman was shot with a stun gun, tied up and trapped in a coat closet during a heist that targeted a safe with valuable coins. He was convicted of second-degree robbery, first-degree burglary, first-degree aggravated theft and money laundering.
Wiese, who had met Marsh in a karate training class while Marsh was still employed by the Clackamas County Sheriff's Office, told authorities that he and Marsh broke into the home of Arnold Kachlik on Oct. 1, 2011, then subdued the man's girlfriend, Zdenka Trnkova.
Marsh, 60, retired in June 2007 after 25 years with the Clackamas County Sheriff's Office. At the time, he was a detective in the agency's property crimes unit.
Dec 4: Sheriff stalls merit board firings, discipline amid lawsuits
Chicago Times: Cook County Sheriff Tom Dart has called off hearings for the board that handles discipline for sheriff's officers amid a flurry of litigation over firings and suspensions dating back more than five years.
The move comes months after the state supreme court declined to review a lower court ruling that found the sheriff's Merit Board had several members who were improperly appointed – a decision that has thrown into disarray hundreds of firing and suspension decisions.
Currently, several hundred disciplinary cases are on hold, as the sheriff waits for Gov. Bruce Rauner to sign off on legislation passed last month that would remedy the problem, said Cara Smith, Dart's chief of policy.
Since at least 2011, the board has had at least one member who was named to serve for a term shorter than the six-year appointment in state law — and a violation that the appeals court ruled invalidated the board's decisions. The ruling means that hundreds of sheriff's officers are entitled to get their jobs back, with back pay, lawyer Christopher Cooper said on Monday after a court hearing at the Daley Center.
Dec 4: Sheriff Changes Off-Duty Cruiser Policy to Deter Crime
CLEVELAND, Tenn. (AP) — A sheriff's office in Tennessee has amended a policy on patrol cruisers in an effort to deter crime.
News outlets reported Sunday that off-duty deputies with the Bradley County Sheriff's Office can now drive their patrol cruisers to church or events associated with civic and nonprofit organizations. Previously, deputies had to ask for permission to take their marked cars.
Dec 3: Study: Police Body-Worn Cameras Reduce Reports of Misconduct, Use of Force
Newswise: UNLV Center for Crime and Justice Policy, non-profit research organization CNA, and Las Vegas Metro Police participate in research funded by U.S. Dept. of Justice.
Link to report: https://www.cna.org/cna_files/pdf/IRM-2017-U-016112-Final.pdf
Dec 3: Ex-State Police commander lived life of luxury on taxpayers' dime, audit claims
KLFY: Former State Police Superintendent Col. Mike Edmonson used his position to live a life of luxury on the taxpayers' dime, living rent-free at a Department of Public Safety compound, regularly using troopers to drive his wife around the state and using his LSP credit card to pay for thousands of dollars in questionable meals — all possibly in violation of state law.
Those claims, among others, are documented in a draft investigative audit from the Louisiana Legislative Auditor obtained by The New Orleans Advocate.
Dec 3: Former Leadville police chief pleads guilty to weapons theft
Denver Post: A former Leadville police chief pleaded guilty Friday to felony weapons charges for illegally selling guns, seized as evidence, to Denver area pawn shops.
Michael Robert Leake, 52, of Aurora, who was chief in Leadville from 2009 until resigning in December 2015, pleaded guilty in Lake County District Court to theft and providing false information to a pawnbroker, both felonies, according to a district attorney's office news release.
Leake, who maintained exclusive control over the evidence room, removed several firearms and sold them to pawn shops, falsely representing that he had lawful ownership of the guns, prosecutors said. Leake also sold firearms, which had been used by his officers, illegally to pawn brokers and he deposited a check for $2,262.
When an interim chief took over the police department, she began auditing weapons and evidence only to find a number of missing items.
In all, 19 department firearms, including seven AR-15 rifles, four Remington shotguns and six Glock pistols, were unaccounted for.
Related article with additional information: http://www.denverpost.com/2016/04/04/affidavit-leadville-police-chief-pawned-department-guns-despite-concerns/
Dec 3: LAPD cadet scandal: Joyrides in cruisers went on for weeks before anyone caught on
LATimes: If the group of young Los Angeles police cadets accused of stealing department vehicles had any fear of getting caught, they certainly didn't show it.
For weeks, according to documents, the teens used police cars to drive to and from LAPD-related events and on joyrides that took the vehicles as far away as Corona and Santa Clarita. Some of the cadets used the vehicles to perform "doughnuts" behind an Inglewood store and one drove a stolen LAPD vehicle to his job at a Ross Dress for Less store in Hawthorne. Still, it took Los Angeles police nearly two months to discover the cadets' alleged misbehavior and take action.
Dec 3: Audit: Over 2,500 sexual assault kits sitting untested in Indiana
Fox: INDIANAPOLIS, Ind. – A state-mandated audit of sexual assault kits statewide is the first of its kind, according to a state legislator.
State Sen. Michael Crider, R-Greenfield, joined by police, prosecutors and advocates, released the findings of the audit on Friday. A bill passed by legislators mandated Indiana State Police to complete the audit by December 1.
Dec 2: Charlottesville response to white supremacist rally sharply criticized in new report
Washington Post: The Charlottesville Police Department was ill-prepared, lacked proper training and devised a flawed plan for responding to the white supremacist rally that rocked the city in August, according to an independent report commissioned by the city that was released Friday.
The report, prepared by Timothy Heaphy, a former U.S. attorney for the Western District of Virginia hired by Charlottesville to assess the city's response, also criticized the response by the Virginia State Police and the lack of coordination between the two agencies.
Link to report: http://apps.washingtonpost.com/g/documents/local/report-reviewing-protest-related-events-in-charlottesville/2654/
Dec 2: Sheriff's officer admits stealing cocaine used for canine training
NJ.com: A lieutenant who was heading the Ocean County Sheriff's Department canine unit has pleaded guilty to misusing more than a kilogram of cocaine designated for canine training.
Prosecutors said they believe that between May 15, 2015, and Feb. 11, 2017, Lt. Adams used the cocaine himself and falsely reported that it had been accidentally thrown away with other canine training supplies. He blamed other members of the canine unit for the cocaine's disappearance, prosecutors said.
Dec 2: Dallas chief's decision to demote top brass shocks rank-and-file police
Dallas News: Dallas Police Chief U. Renee Hall has demoted several high-ranking officials, including two popular chiefs who were finalists this year for the job she now holds.
The chief's decision to pare down her leadership staff  — from several assistant chiefs to three and an executive assistant and more than a dozen deputy chiefs to seven — is an about-face from Chief David Brown's expansion of the command staff during his tenure.
Dec 1: Sexual Assault Cases: Exploring the Importance of Non-DNA Forensic Evidence
NIJ: Investigating and prosecuting sexual assault crimes is much more complicated than simply performing DNA testing.
Dec 1: The Impact of Body-Worn Cameras: Perceptions and Reality
OJP: As the move toward body-worn cameras (BWCs) increases, a growing body of research tells us a lot about the impact and consequences of the technology. We examine several popular conceptions (or misconceptions) about BWCs in light of what research evidence reveals.
Dec 1: Amid Budget Crisis, Oklahoma Governor Bans 'Swag' Spending
Governing: OK Gov. office estimates state agencies spend up to $58 million a year on monogrammed giveaways like key chains, pens and stress balls.
Nov 30: Why Every Mayor Should Consider Launching a Policy Lab
Gov Tech: You might have heard recently about a large study of body-worn police cameras in Washington, D.C,. that shed new light on the cameras' effects. The findings — that the cameras had little impact on police or civilian behavior — were important, but there's a broader, equally valuable insight for mayors wanting to improve city services: The study was conducted by a group of scientists embedded within the mayor's office, called The Lab @ DC. We think every mayor should consider building a similar type of applied scientific team.
The Lab's mission is to embed the scientific method into the heart of city operations to provide decision-makers with high-quality evidence that they can use to achieve better outcomes for D.C . residents. It currently has 15 experts on the team, many with PhDs in fields such as economics, mathematics and sociology. It also works with a network of researchers at nearby universities who expand the Lab's analytical capabilities.
Nov 30: From Police Shootings to Playground Injuries, Lawsuits Drain Cities' Budgets
Municipalities spend more than a billion dollars a year on settlements and claims from citizens. Some are trying hard to rein in those costs.
Related: City Lawsuit Costs Report: http://www.governing.com/gov-data/finance/city-lawsuit-legal-costs-financial-data.html
Buckeye (AZ) police chief's side business raises ethical, legal concerns
ABC: The Buckeye police chief is being accused of unethical conduct for running a side private security business with at least one subordinate officer.
Nov 30: Philando Castile's Girlfriend, Who Witnessed His Shooting by Police, Gets $800,000 From Cities
Time: (ST. ANTHONY, Minn.) — The Minnesota city that employed a police officer who fatally shot black motorist Philando Castile during a traffic stop last year has reached a settlement with Castile's (Reynolds) girlfriend and her daughter, who were in the car with him when he was killed. Reynolds streamed the shooting's aftermath live on Facebook.
The St. Anthony City Council voted Tuesday night to pay $675,000 to Diamond Reynolds and her daughter, who was 4 years old when her father was killed. Reynolds also will receive $125,000 from the League of Minnesota Cities Insurance Trust and the city of Roseville, where Reynolds was detained by police and questioned by the state Bureau of Criminal Apprehension after the shooting.
Nov 29: Western Minnesota police chief sentenced for helping friend avoid DUI
Twin Cities: DETROIT LAKES, Minn. — A small town police chief in western Minnesota has been sentenced on a misdemeanor obstruction of justice charge, for an incident in which he helped a friend avoid a DWI after she crashed her car into a guardrail on U.S. 59.
Nov 29: Attorney General Sessions and Acting DEA Administrator Patterson announce new tools to address opioid crisis
DEA: Joined by Acting DEA Administrator Robert Patterson, Attorney General Sessions announced the following efforts during a press conference at the Department of Justice: over $12 million in grant funding to assist law enforcement in combating illegal manufacturing and distribution of methamphetamine, heroin, and prescription opioids; the establishment of a new DEA Field Division in Louisville, Kentucky, which will include Kentucky, Tennessee, and West Virginia, a move meant to better align DEA enforcement efforts within the Appalachian mountain region; and a directive to all U.S. Attorneys to designate an Opioid Coordinator to work closely with prosecutors, and with other federal, state, tribal, and local law enforcement to coordinate and optimize federal opioid prosecutions in every district.
Nov 29: Former GBI Agent Indicted for Spending More Than $60k on Illegal Purchases
Georgia OIG: On September 21, 2017, a DeKalb County Grand Jury indicted a former high-ranking Georgia Bureau of Investigation agent for engaging in a scheme of "using GBI P-cards provided to herself and other GBI employees to make unauthorized purchases of goods and services for the personal benefit of herself or others."
Sandra Jean Putnam was indicted for one count of Racketeering (O.C.G.A. §16-14-4(a)) and one count of Violation of Oath by Public Officer (O.C.G.A. §16-10-1). The indictment alleges that Ms. Putnam acquired and maintained approximately $60,268.04 in goods and services between May 9, 2013, and August 17, 2016, through a pattern of racketeering activity contrary to the laws of the State of Georgia.  Ms. Putnam resigned as an inspector after a search warrant was conducted at her residence and surrendered last year after at least one arrest warrant was issued.
The case was referred to the Office of the Inspector General by the Department of Administrative Services and investigated by the Georgia Bureau of Investigation and the Office of the Inspector General.  Assistant Attorney General Blair McGowan is prosecuting the case on behalf of the State of Georgia.
Nov 28: Pa. justices weigh if rapper's words were a crime or protected by First Amendment
Philadelphia Inquirer: An attorney for prosecutors said Jamal Knox's choice to name two officers who arrested him and include the words, "Let's kill these cops, cause they don't do us no good…" went too far.
Nov 28: Seattle ex-cop pleads guilty to smuggling large quantities of pot cross-country
SEATTLE (KOMO)- A former Seattle police officer pleaded guilty Monday to taking part in a smuggling operation that moved hundreds of pounds of marijuana to the East Coast, court records show.
The officer, Alex Chapackdee, 44, of Seattle, is a 16-year veteran of the Seattle Police Department. He was arrested in May and accused of conspiracy to distribute marijuana and conspiracy to commit money laundering. He resigned from the police force shortly after his arrest.
Court documents say those accused would drive to the East Coast from Seattle with stops only for gas and food to deliver the marijuana, then make the same sort of trip back, presumably with cash.
Chapackdee is married to a sister of Tuan Van Le, who is also accused and is the alleged ring leader in the pot smuggling.
A confidential source told investigators that Le paid Chapackdee $10,000 to keep watch on his marijuana grow houses and to provide law enforcement information, court documents say. The source also told investigators that Chapackdee was paid $15,000 for every trip he made to the East Coast. His trips were allegedly made in an RV.
Related story: http://komonews.com/news/local/seattle-police-accused-of-being-part-of-pot-smuggling-ring
Nov 28: Sheriff's deputy resigns during internal review
Abuse of overtime, falsification of time records cited; DA, Regional Highway Safety Office involved in investigation.
Charleston Public Safety Committee agrees to start over on police audit
Charleston City Paper: Activists walked out of City Hall feeling vindicated on Monday morning after the Public Safety Committee voted unanimously to remove a police department audit from Novak Consulting's task list.
Novak Consulting was hired in February to conduct a performance audit of all city operations, as reported in February. The city-wide audit was a key vow of Mayor John Tecklenburg's campaign. But civil rights and social justice advocates have repeatedly painted the firm as too inexperienced to gauge the intricacies of racial bias.
Nov 27: Missouri rape kit audit set to be done in early 2018
JEFFERSON CITY, Mo. (AP) _ The Missouri Attorney General's Office says it hopes to determine by early next year how many untested rape kits are on shelves in Missouri.
Attorney General Josh Hawley's Deputy Chief of Staff, Loree Anne Paradise, says the office is now working with advocacy groups and others interested in the issue to find the best way to determine how many kits haven't yet been tested.
Nov 25: Overruling top cop, Chicago Police Board to review officer's fatal shooting of teen
Chicago Tribune: A veteran Chicago police officer who was cleared of wrongdoing by Superintendent Eddie Johnson in the fatal shooting of a 15-year-old boy still must face a disciplinary hearing that could cost him his job.
Last summer, Chicago's police review agency had found Officer Brandon Ternand used excessive force, calling the shooting of Dakota Bright "unprovoked and unwarranted" and recommending his firing.
But Johnson disagreed that Ternand should be fired, finding that his actions in the November 2012 shooting were clearly justified, according to records.
However, last week, a Chicago Police Board member selected to review the matter rejected Johnson's recommendation and ordered an evidentiary hearing be held to decide if Ternand should be disciplined. Possible punishment ranges up to his dismissal.
Nov 25; Media distortion of FBI crime statistics contributes to our national divide
The Hill: Funny how this works. We breathlessly await release of data, desperately hoping it supports our hypothesis. When it doesn't, we simply dismiss the findings, or "spin" them to promote a false narrative.
The FBI has historically followed the evidence and applied resources where demanded by the threat.
And the facts simply don't support the mythology.
And that's where some in the media needs to do a better job of promoting the truth.
NOV 25: Sheriff: Brevard corrections deputy stole money from inmate, arrested
 Florida Today: A corrections deputy was arrested and charged with  fraud Friday after an investigation found that she had stolen money from an inmate, according to the Brevard County Sheriff's Office.
Felicia Brown, 29, is suspected of stealing less than $100 from a recently released inmate and spending it on small purchases at several Titusville-area businesses.
The issue came to the attention of BCSO when internal auditors and the inmate reported the discrepancy almost simultaneously, Sheriff Wayne Ivey said.
The inmate was released by another officer, who Ivey said made an "honest oversight" in not returning the money, which Brown then noticed and exploited. He does not believe anybody else was involved.
Nov 24: NOPD will use real-time crime monitoring to keep people safe this holiday weekend
NEW ORLEANS, LA (WVUE) – Tens of thousands of tourists are expected in the city to celebrate the holiday weekend and the Bayou Classic. But the NOPD has a warning for criminals: You're being watched on camera.
"Everything that you can possibly do on Bourbon Street, in and around the French Quarter and on Canal Street this year can be captured on video because we have enhanced our security package," said NOPD Chief Michael Harrison.
All of that live video will be fed into the city's new real-time crime monitoring center. City leaders believe the cutting-edge technology will not only help them catch criminals but it could also prevent crime.
Nov 24: Supreme Court to determine whether police can track you with your cellphone
NBC: WASHINGTON — Thousands of times a year, the nation's police departments get phone company records allowing them to plot the movements of individual customers. On Wednesday, the U.S. Supreme Court will consider whether access to that data should require a search warrant issued by a judge.
The question comes at a time when cellphones are nearly ubiquitous: 95 percent of Americans now own one.
Nov 24: Federal judge asks for more information on clearing of Seattle police in Charleena Lyles shooting
Seattle Times: U.S. District Judge James Robart is seeking the information before he decides whether to find the Seattle Police Department in compliance with a 2012 consent decree requiring reforms to address excessive force and biased policing.
Nov 23: Baldwin County Deputy Facing Internal Investigation
BALDWIN COUNTY, Ala. (WKRG) — Baldwin County Sheriff Hoss Mack has confirmed to News 5 that one of his deputies is facing an internal investigation.
The sheriff's office is looking into reports that the deputy falsified his time card over the past several weeks
Nov 23: South Carolina deputy arrested in chase crash death
ANDERSON, S.C. (AP) — A sheriff's deputy has been charged in a crash during a chase in South Carolina that killed a college student.
Local media report that 26-year-old Anderson County Sheriff's Deputy Timothy Ryan Chapman of Williamston has been charged with reckless homicide.
Twenty-two-year-old Joshua Martin died in the July 23 crash when his car was struck by Chapman's cruiser, as he chased a stolen vehicle suspect. Martin was a Greenville Technical College student and was not the person being chased.
Two men were later arrested in the theft.
Sheriff's department policy states a chase is justified only when an officer has thinks a person has committed a serious crime and the need for an arrest outweighs the risk of the pursuit.
Nov 22: Attorney General Jeff Sessions Directs FBI and ATF to Conduct a Comprehensive Review of the National Instant Criminal Background Check System
DOJ: Today, Attorney General Jeff Sessions issued a memo to the FBI and ATF directing them to look at several issues as it relates to reporting information to the National Instant Criminal Background Check System. The memo directs the FBI and ATF to take the following steps:
Nov 22: New Mexico Sheriff Says Body Cam Video Unfair to Officers
US News: The sheriff of New Mexico's most populous county will not require his deputies to use body cameras because he says the media would use the video to unfairly criticize the officers.
Nov 22: Judge to Cleveland: 'More intrusive' measures possible if complaints against police aren't properly handled
Clevland.com: CLEVELAND, Ohio — A federal judge on Tuesday ordered the city of Cleveland to take the lead in clearing its backlog of unfinished investigations into citizen complaints against police officers.
Despite an impassioned statement from the monitor tracking the city's reform efforts, U.S. District Judge Solomon Oliver Jr. only told the city to meet with the monitor and the Justice Department to come up with a plan so investigators with the Office of Professional Standards can close the 383 cases pending as of Tuesday.
Nov 22: Council Approves Audit of Court-Appointed Police Monitor
ALBUQUERQUE, N.M. (AP) — The Albuquerque City Council has authorized an audit of the court-appointed monitor overseeing reform efforts for the city's police department.
The council on Monday approved a resolution to appropriate $25,000 to the city's Office of the Internal Audit to review the work by James Ginger.
Nov 22: Baltimore Police consent monitors keeping an eye on Harlem Park complaints
Baltimore Sun: The independent monitoring team overseeing the Baltimore police consent decree said Tuesday night that it is keeping an eye on complaints from a Harlem Park neighborhood after it was shut down last week for an investigation into the killing of a police detective.
Gwent Police (UK) is the first force to trial Capita's 999eye emergency smartphone solution
Capita News: The two-month pilot will allow the public to live stream video and images of an incident during a 999 call directly to a police control room.
999eye was originally developed by Capita Page One and West Midlands Fire Service so that West Midlands Fire Service control room could have an accurate picture of the situation at hand and dispatch the relevant type of response. Gwent Police is the first police force in the UK to use the app, focusing first on emergency 999 calls, with 101 calls to be included at the end of November.
Nov 22: Boynton Beach Officers Convicted of Using Excessive Force Against Arrestee and Obstruction of Justice
A federal jury on Friday convicted Boynton Beach Police Sergeant Philip Antico for obstruction of justice during a federal investigation into the excessive use of force by officers after an August 2014 traffic stop, announced Acting Assistant Attorney General John M. Gore of the Justice Department's Civil Rights Division and Acting U.S. Attorney Benjamin G. Greenberg of the Southern District of Florida.  Last week a federal jury convicted Officer Michael Brown of using excessive force and using a firearm during a crime of violence for repeatedly striking an arrestee multiple times while holding his firearm after that traffic stop.
Evidence presented at both trials established that after Brown used excessive force, he wrote a report omitting that he had kicked the arrestee and struck the arrestee while holding a gun in his hand. At trial, the government presented evidence that Brown's report changed significantly over the course of a week. In February 2015, after the Federal Bureau of Investigation began a criminal investigation into the officers' use of force, Antico, Brown's supervisor, misled a federal agent who was conducting the investigation. Specifically, Antico falsely claimed that Brown's report of the arrest and his use of force never changed, when in fact Antico approved the report knowing that Brown had made material changes to his report about his use of force after a video recording of the arrest came to light.
Nov 22: Misconduct by a DEA Special Agent-in-Charge
(DOJ) for Engaging in an Unprofessional Personal Relationship with, and Showing Favoritism Toward, a Subordinate and Participating in a Wasteful Travel Assignment
Nov 21: Detective investigated for off-duty work, allegedly guarding rap artists
Sun Sentinel: A Fort Lauderdale police detective has been on two years of leave with pay as his department investigates allegations that he violated policy by working as a bodyguard for rap artists Meek Mill and Rick Ross at concerts around the country.
Detective Dimitri Jacques, 35, is the subject of two investigations into his off-duty work: A criminal probe by the state attorney's office, which closed in August, found he did not steal time from the department and an on-going internal affairs review by the police department that began in December 2015.
Nov 21: Anaheim police excessive use-of-force rate outpaces many cities, ACLU report alleges
Another ACLU report: Lt. Dan
Anaheim Police officers use excessive force at a rate that far outpaces law enforcement agencies in most similar-sized or larger cities, according to a report released Monday by the American Civil Liberties Union of Southern California.
Link to Report: https://www.aclusocal.org/en/publications/anaheim-police-department-use-force-report-2017
November 21:  Albuquerque mayor looking outside for interim police chief
ALBUQUERQUE, N.M. (AP) — Mayor-elect Tim Keller is looking outside the Albuquerque Police Department for a temporary police chief.
Keller said at a news conference Monday that he and his transition team are looking for an interim chief who knows the police officers but does not currently work there.
The Albuquerque Journal reports that Keller wants to have someone picked by next week. But the search for a full-time police chief will span nationwide. Police Chief Gorden Eden is retiring Dec. 1.
Nov 21: Austin police union OKs contract terms; pact needs city council approval
Statesman: The votes are in, and the union for Austin's police officers has decided to approve a proposed five-year employment contract with the city.
The proposed deal, approved by 85 percent of the union members, now goes to the Austin City Council, which will decide whether to implement it or scrap it.
Counting stipends, officers will receive a 12 percent raise through this contract, said Larry Watts of the city's Labor Relations Department.
In exchange, officers agreed to a few disciplinary changes in the contract, including allowing people to make anonymous complaints against one or more officers and adjusting the way the state's 180-day window into officer misconduct is implemented.
Nov 21: California DOJ Releases First Police Use of Force Data
Medium.com: The California Department of Justice (DOJ) has released its first ever dataset for police use of force reporting. For the first time in US history, we now have reliable primary data about violent encounters between police and citizens. Having data-driven reporting embedded within law enforcement is an incredibly important milestone that will help our society achieve better understanding and justice in a country long-plagued by police brutality issues.
Last year, Bayes Impact built a digital tool for the California DOJ that allows law enforcement agencies in California to digitally collect, track and report use of force that results in serious bodily injury or death. The tool is named URSUS, after the bear on the California flag. URSUS is the digital replacement for a system that was entirely paper-based. Going digital allows for intelligent error checking and review capabilities that help to ensure data reliability and integrity. The digital system also allows analysis and minimizes cost for law enforcement.
Nov 21: To Reduce Recidivism, New York City Tries a Bold New Approach
Governing: The city is eliminating short-term jail sentences for low-level misdemeanors. Other cities will undoubtedly be watching the impact.
Like many other cities, New York wants to reduce its jail population and repeated lock-ups of low-level offenders. The city's latest attempt to address that goal centers around a bold idea that could be modeled nationwide: Do away with all jail sentences of less than a month.
That's the idea behind newSTART, a jail diversion program launched in New York last month. It keeps defendants who have committed low-level misdemeanors — things like petty larceny or possession of small amounts of illegal drugs — from entering jail. It would also apply to people convicted of thefts of service, such as jumping a subway turnstile or exiting a taxi without paying.
Instead, in exchange for a guilty plea, misdemeanor defendants can opt for one or more social service programs, including drug treatment, job training and mental health counseling.
Nov 21: POLICE & FIRE Lucas County sheriff's deputy charged with stealing wallet from inmate
Toledo Blade: A Lucas County (Ohio?) grand jury indicted a sheriff's deputy accused of stealing an inmate's wallet during booking.
Deputy Gerald Crawford, a 23-year veteran, was indicted Tuesday on one count of theft from office, a fifth-degree felony. Detectives in court records said Deputy Crawford on Oct. 30 took a wallet with credit cards from Ray Lampley, 55, in the Lucas County jail.
Surveillance video captured the incident, according to court records.
He is on administrative leave with pay, Lt. Dave Carter said.
Nov 21: NATIONAL INSTITUTE OF JUSTICE EXAMINES INCREASE IN HOMICIDES 
DOJ: WASHINGTON – The Office of Justice Programs' National Institute of Justice today published an article online that explores potential explanations for the rapid increase of homicide rates in some U.S. cities. The document considers two possibilities: the expansion in illicit drug markets brought about by the heroin and synthetic opioid epidemic, and de-policing, the intentional reduction in policing by officers.
TITLE:       "Assessing and Responding to the Recent Homicide Rise in the United States"
AUTHORS:        National Institute of Justice
WHERE:     https://www.ncjrs.gov/pdffiles1/nij/251067.pdf
Nov 21: FBI, Justice Department investigating St. Louis police conduct during protests
LOUIS Today: The FBI and federal prosecutors are investigating police conduct during protests after September's acquittal of the St. Louis officer for a fatal 2011 shooting.
The investigation centers on "allegations of potential civil rights violations by law enforcement officers in the St. Louis area on Sept. 15, 2017, and in the weeks that followed," said Jeffrey B. Jensen, U.S. attorney for the Eastern District of Missouri.
"The FBI will collect all available facts and evidence and ensure that the investigation is conducted in a fair, thorough and impartial manner. As this is an ongoing investigation, we are not able to comment further at this time," he said.
Nov 21: Chicago cop given 5 years in prison for shooting at car, wounding two teens (Video of OIS)
Chicago Tribune: Proano, 42, who was convicted of excessive force for firing 16 times into a moving vehicle filled with teens in December 2013, became the first Chicago police officer in decades, if not ever, to be sentenced to federal prison for an on-duty shooting.
Nov 21: NATIONAL INSTITUTE OF JUSTICE EXAMINES USE OF
3D PRINTERS IN CRIME-SOLVING
DOJ: WASHINGTON – The Office of Justice Programs' National Institute of Justice today published an article online that provides an overview of how 3D printing technology is being used by criminal justice practitioners in firearm identification. The NIJ-funded research determines best practices and provides credibility for use of the technology in a forensic science capacity.
TITLE:       "The Next Generation of Crime Tools and Challenges: 3D Printing"
AUTHORS:  National Institute of Justice
WHERE: https://nij.gov/topics/forensics/evidence/impression/Pages/establishing-scientific-criteria-for-3d-analysis-of-cartridges.aspx
Nov 20: Attorney General Sessions Announces $98 Million To Hire Community Policing Officers
DOJ: WASHINGTON — Attorney General Jeff Sessions today announced $98,495,397 in grant funding through the Department of Justice's Office of Community Oriented Policing Services (COPS Office) COPS Hiring Program (CHP). The Attorney General announced funding awards to 179 law enforcement agencies across the nation, which allows those agencies to hire 802 additional full-time law enforcement officers.
Nov 20:  LEIAC Certificates Awarded
On Friday November 17, we concluded another Law Enforcement Inspections and Auditing Certification (LEIAC) Course in Phoenix.  Attendees from Maricopa County (AZ) Sheriffs Office, Multnomah County (OR) Sheriffs Office, San Luis (AZ) PD, Goodyear (AZ) PD, San Diego Sheriffs Office, Huntington Beach (CA) PD, and Glendale (AZ) PD. earned their LEAIC designation.  Congratulations!
Nov 20: Videos Reveal A Close, Gory View Of Police Dog Bites
Watch this video and consider how your agency is managing UOF dog bites.  Polices in place, and how they align with best practices.  This is a growing area of liability with increasing costs, due in some cases to Body Cam videos documenting the bites in a more graphic way.  Lt. Dan
NPR: Donald W. Cook is a Los Angeles attorney with decades of experience bringing lawsuits over police dog bites — and mostly losing. He blames what he calls "The Rin Tin Tin Effect" — juries think of police dogs as noble, and have trouble visualizing how violent they can be during an arrest.
"[Police] use terms like 'apprehend' and 'restrain,' to try to portray it as a very antiseptic event," Cook says. "But you look at the video and the dog is chewing away on his leg and mutilating him."
Cook says the proliferation of smart phones and body cameras is capturing a reality that used to be lost on juries. "If it's a good video, it makes a case much easier to prevail on," he says.
Nov 20: The Murky World of 'Official Time' in Government
Allowing municipal employees to conduct union business while on the clock is widespread. It could use a dose of transparency.
Governing: "Official time," or union business leave (UBL), is widely practiced at all levels of government. A traditional justification for allowing public-sector employees to perform functions on behalf of a labor group in lieu of their regular job duties has been that it serves an essential role in improving labor-management relations and ultimately can create a tangible value for the public. But while the practice has been studied at the federal and state level, little has been done to examine its implementation and impact on the local level.
Nov 20: Some Police Departments Are Adding Staff for the First Time in Years
Many local police departments across the country have also been staffing up for the first time in several years, according to the latest FBI statistics. Among big-city departments, Detroit, Newark, N.J., and Philadelphia all experienced particularly large increases in total personnel between 2015 and 2016. Of larger departments with at least 500 personnel, the top 10 reported year-over-year increases between 6 and 37 percent.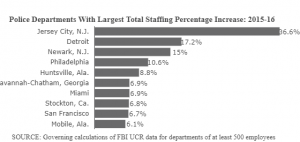 Nov 19: Do Fresno cops shoot most often at blacks and Latinos? ACLU says yes in new reportACLU: Fresno police officers fire their guns most often at black or Latino people, according to a report issued Tuesday by the American Civil Liberties Union of Northern California.ACLU Report: Reducing Officer Involved Shootings in Fresno, link to report. http://www.aclunc.org/docs/Reducing_Officer-Involved_Shootings_in_Fresno_CA.pdf Nov 19: CA. Locks in Police Racial Profiling RulesVoice of San Diego: Law enforcement agencies across California now have clear rules about what racial and other identifying information must be reported to the state Department of Justice about those stopped by police, and the outcome of those stops.This month, the state's Office of Administrative Law approved new regulations for data reporting required by the Racial and Identity Profiling Act of 2015, written by San Diego Assemblywoman Shirley Weber. Weber has said the law is "aimed at ensuring that all Californians are treated fairly by law enforcement."California's eight largest law enforcement agencies – a group that includes the San Diego County Sheriff's Department and San Diego Police Department – must begin collecting stop data on Jan. 1, 2018, and submit their first stop report by April 2019. Other agencies will follow, with full implementation by April 2023.Nov 19: Oversight Groups Have Repeatedly Identified Flaws In Military Crime ReportingNPR:: The inspector general's office at the Department of Defense has occasionally examined the military's general crime-reporting practices and found them wanting.In 2015, the inspector general issued a report looking at convictions within the Navy, Air Force and Marine Corps. Out of 1,102 convictions, 28 percent of them did not have fingerprints submitted to the FBI.Link to DOD Report: Evaluation of Department of Defense Compliance with Criminal History Data Reporting Requirements.https://media.defense.gov/2015/Feb/12/2001713470/-1/-1/1/DODIG-2015-081.pdfNov 18: CA Governor Jerry Brown signs AB 562 into law, criminalizing audit interference See related story below regarding UC President. Lt. DanCA Aggie: Bill follows investigations into UCOP's role in campus-wide auditsOn Oct. 2, California Governor Jerry Brown signed AB 562 into law. The bill adds wording to an existing section of California Code as well as adds a new section meant to prohibit the interference of state audits by any individual, making the act punishable by fine. A new section, 8545.6, was written into law."Any officer or person who fails or refuses to permit access and examination and reproduction, as required by this section, is guilty of a misdemeanor," states Section 8545.2 of the Government Code.Section 8545.2 also states that "any officer, employee, or person who, with intent to deceive or defraud, commits obstruction of the California State Auditor in the performance of his or her official duties relating to an audit" will be "subject to a fine" up to $5,000.Nov 17: Attorney General Jeff Sessions Ends the Department's Practice of Regulation by GuidanceDOJ: Today, in an action to further uphold the rule of law in the executive branch, Attorney General Jeff Sessions issued a memo prohibiting the Department of Justice from issuing guidance documents that have the effect of adopting new regulatory requirements or amending the law. The memo prevents the Department of Justice from evading required rulemaking processes by using guidance memos to create de facto regulations.In the past, the Department of Justice and other agencies have blurred the distinction between regulations and guidance documents.  Under the Attorney General's memo, the Department may no longer issue guidance documents that purport to create rights or obligations binding on persons or entities outside the Executive Branch.Nov 17: Federal judge replaces lead New Orleans jail monitor in personnel switch during grim periodThe Advocate: In the midst of a troubled time for the New Orleans jail, a federal judge has replaced the lead monitor overseeing reforms at the Orleans Parish Sheriff's Office.U.S. District Judge Lance Africk said in a one-paragraph order issued Thursday that he is replacing lead monitor Susan McCampbell with another member of the jail's monitoring team, Margo Frasier, a former sheriff of Travis County, Texas.McCampbell will remain on the monitoring team in Frasier's former job as a correctional practice and administrative monitor.Nov 17; UC regents admonish UC President Janet Napolitano for approval of interference in state audit

LA Times: University of California regents meeting on Thursday admonished UC President Janet Napolitano for agreeing to a plan that led to interference in a state audit on the operation of her office.

Nov 17: Consultant's initial recommendations for Madison police includes independent auditor

Madison: A consultant is recommending Madison hire an independent auditor for the city's Police Department.

A citizen-led police ad hoc committee on Wednesday heard the first results of a much-anticipated study being conducted by OIR Group on Madison Police Department practices, policies and procedures.

Nov 17: Police accountability activists sound alarms about state of Collaborative Agreement

CityBeat: Police accountability activists say efforts to reinvigorate Cincinnati's historic Collaborative Agreement are in an "emergency" state following dustups between the union that represents police officers and the city over the role of the Citizen Complaint Authority, an independent board created to investigate allegations of police misconduct.

Nov 17: NYPD cops 'express fear' of carrying out stop-and-frisks in testing phase of new training, monitor reports

NY Daily News: Before testing out the NYPD's new stop-and-frisk training program, focus groups of cops said they had no problem using the controversial tactic — but they feared their bosses wouldn't have their backs if members of the public complained.

Nov 17: Should police get to view bodycam footage immediately?

Washington Post: A new report by the Leadership Conference on Civil and Human Rights and Upturn Research to be released Tuesday shows that the vast majority of the nation's largest police departments allow officers to view the footage before writing a police report or being questioned by investigators during use-of-force cases. The group believes that policy undermines police credibility and runs the risk of influencing how the officer describes what happened.

Nov 17: Detroit police open new real-time crime center inside DPD Headquarters

DETROIT (WXYZ) – Deep inside the Detroit Public Safety Headquarters, 229 live high definition camera feeds are coming in to the new Real Time Crime Center.

It allows police to witness and record crime in progress. The feeds are coming in 24/7/365 even when businesses are closed.

Since the Green Light program started at 8 Detroit gas stations in January of 2016, city officials say carjackings are down 44%.

Nov 17: KC Police Chief Says Bigger Budget, More Cops Would Help Kansas City 'Grow Together'

KCUR: After three months on the job, Kansas City Police Chief Rick Smith has laid out a set of changes he would like to make within his department. Most of them would involve hiring more personnel, both uniformed and civilian.

Nov 17: Another cheating scandal: Atlanta Public Schools police chief disciplines 17 officers, dispatcher

WSBTV: APS acknowledges that a quarter of its officers cheated on an important state test.

Nov 17: In Rare Mass Exoneration, Chicago Throws Out 15 Cases Linked to Corrupt Ex-Cop

Governing: Cook County prosecutors dropped all charges Thursday against 15 men who alleged they were framed by corrupt former Chicago police Sgt. Ronald Watts and his crew.

Ten of the men were in court as Judge LeRoy Martin Jr., presiding judge of the criminal division, threw out the convictions en masse — believed to the first mass exoneration in county history.
Nov 16: Wichita police chief wants review of body camera policies
Kansas.com: Wichita Police Chief Gordon Ramsay said he would like to share more with the public — both in terms of information and footage from body cameras — but policies in place limit what he can do.
Nov 16; UC President Janet Napolitano's aides interfered in audit of her office, investigation finds
LA Times: Top aides to University of California President Janet Napolitano interfered with a state audit of her office's finances, suppressing campus criticism of its services and operations, according to findings of an investigation ordered by the UC Board of Regents.
Nov 16: U.S. Army sees 'significant' gaps in reporting criminal activities to law enforcement
WASHINGTON (Reuters) – The U.S. Army's chief of staff said on Wednesday there were "significant" gaps in reporting soldiers' criminal activities to law enforcement, an omission the Air Force acknowledged in the case of a Texas gunmen who killed 26 people.
Milley said that probably about 10 to 20 percent of all cases had not been reported to law enforcement agencies such as the FBI. He added that the Army had already reported some service members' criminal activity since it had found those gaps.
U.S. Secretary of Defense Jim Mattis has ordered the Defense Department inspector general to review the handling of Kelley's information and a broader review into the procedures for the military sending information to law enforcement
Nov 16: Monitor reports Albuquerque PD reform progress is slowing down
The Albuquerque Police Department's progress in dealing with the Department of Justice reform effort has slowed during the past year and a half, according to the latest report by the independent monitor assigned to the case.
In the sixth report by independent monitor James Ginger, released this month, smaller percentage gains were noted in the three categories of compliance – primary, secondary and operational – compared with some of his earlier reports.
City officials counter that the deceleration of progress with reforms has mirrored a deteriorating relationship between the city and Ginger, adding that a lack of feedback from the monitor has slowed the reform effort.
Claim of monitor bias
City officials filed a motion last week arguing that Ginger is biased against them and asking Brack to conduct a hearing on the issue. The DOJ in a response this week said it didn't object to holding the hearing.
Nov 15; Body searches of 900 Georgia students by sheriff's office leads to $3 million settlement
This is a follow up on an incident previously posted on our site. Lt. Dan.
Washington Post: In April, law enforcement from Georgia's Worth County descended on a high school and, without a warrant, conducted body searches on an estimated 900 students, touching some students' genitals and breasts. They said they were searching for drugs. They found none.
A class-action federal lawsuit soon followed, and the sheriff and two deputies were indicted in October in the raid on Worth High School in Sylvester, which is about 170 miles south of Atlanta. On Tuesday, a legal advocacy group, the Southern Center for Human Rights, said a proposed $3 million settlement had been reached in the lawsuit, pending a judge's approval.
Earlier this week, Gov. Nathan Deal suspended Sheriff Jeff Hobby by executive order pending the outcome of his legal case or until the expiration of his term of office, whichever comes first. Hobby faces charges of sexual battery, false imprisonment and violation of oath of office, the Atlanta Journal-Constitution reported.
Nov 15: Jury finds Chicago police officer shot friend in head, orders city to pay $44.7 million for leaving officer on the street
Washington Post: The morning of Jan. 12, 2010, when the off-duty Kelly dialed 911 from his home to report that his longtime friend Mike LaPorta had just committed suicide. Except LaPorta, with a gunshot through his brain, lived. He spent months in a coma and now uses a wheelchair, unable to read and speaking only with difficulty. Kelly was arrested at the scene for drunkenly assaulting one of the responding officers, though that case was later dismissed, according to court records. LaPorta and his family would later contend it was Kelly who fired the gun.
Although no criminal charges were ever filed against Kelly in the LaPorta case, a federal jury in Chicago found last month that he shot LaPorta, that Chicago police failed to implement an early warning system for its officers, and that the city should pay LaPorta $44.7 million. Then on Friday, the lawyers who represented LaPorta sued Chicago and Kelly again, for an on-duty shooting in 2014 in which Kelly and another officer shot a man eight times in the back and buttocks, killing him, according to the lawsuit.
Kelly, 36, remains a Chicago police officer. He was on the street until last month, when his decision on the witness stand to invoke the Fifth Amendment right not to incriminate himself convinced the Chicago police to investigate him for possible truthfulness violations, a police spokesman said.
Nov 15: The Importance of Audit Documentation
Wiss.com: A competent auditor always believes the work papers he or she is preparing are prepared for the use of those who have no understanding of what is going on. In short, audit work papers must contain sufficient written documentation to enable another auditor, having no previous connection with the engagement, to understand the work that was performed and the conclusions reached.
Nov 15: Nashville Metro detective arrested after allegedly stealing $5K in cash during sting operation
NASHVILLE, TN (WSMV) –
A Metro police narcotics investigator has been arrested after allegedly stealing more than $5,000.
Police said Sgt. James Landon Dunaway, 42, pocketed the cash during in a sting operation conducted at a local motel at the authorization of Chief Steve Anderson.
Nov 15: Cook County Board approves nearly $12 million in sheriff, hospital settlements
Chicago Tribune: "Every month, our Finance Committee is presented with thousands if not millions of dollars in claims for civil rights violations that take place in the jail," Preckwinkle added, saying cases against the sheriff for jail and police operations have cost the county $25 million since the start of 2015. "The sheriff and his team need to do a better job to put systems in place, so that there are clear operational and managerial guidelines for their staff. This is disgraceful."
Nov 15; Video: Why Is There an Evidence Backlog?
NIJ: An influx of funding and improvements in efficiency can help reduce backlogs for forensic evidence, but if the capacity of labs does not continue to increase to keep up with demand, evidence will continue to pile up.
Nov 14: The Forward-Looking Inspector General
Partnership for Public Service: Traditionally, any agency program that complies with federal law would receive a stamp of approval from an inspector general—even if it wasn't effective.
But what if, in addition to inspecting for legal compliance, the IG also inspected to see if a program was working as intended and serving the American public?
In "The Forward-Looking Inspector General," the Partnership for Public Service and Grant Thornton examine how IGs can contribute to agencies accomplishing their mission. By focusing as much on impact as they do on process, IGs can play a crucial role in helping government meet the needs of Americans. The new issue brief includes four key strategies IGs can use to move toward a more forward looking role.
Nov 14: Philly police officer arrested in alleged drug conspiracy with Baltimore detective
PhillyVoice: A Philadelphia police officer was arrested at his home Tuesday morning on charges he allegedly conspired with a Baltimore detective to sell cocaine and heroin lifted from crime scenes, federal prosecutors announced.
Nov 14: Sergeant who blew whistle on detective plans to sue Clackamas County
OregonLive: The Clackamas County sheriff's sergeant who blew the whistle on a detective's history of ignoring rape and child sex abuse allegations has indicated that he plans to sue the county for alleged retaliation.
Nov 14: Former Toronto police chief Julian Fantino heads marijuana company after change of heart
The Star: Former Toronto police chief Julian Fantino, left, is executive chair of the medical marijuana company Aleafia, while ex-RCMP deputy commissioner Raf Souccar, is the company's president and CEO.
Once an outspoken critic of legalizing pot, Julian Fantino says he changed his mind after veterans convinced him of the benefits of medical marijuana in treating post-traumatic stress disorder and managing pain.
The former Toronto police chief was recently named executive chair of a GTA medical marijuana company.
Nov 14: Video: Body cam footage of fight between 2 groups of Detroit police officers in drug raid is leaked
Does your department have a central clearinghouse or notification procedure for drug raids / search warrants  for your agency and neighboring agencies, that may have prevented this incident, which could have been much more serious if shots had been fired. Lt. Dan.
Fox2Detroit: Sources say it started when two special ops officers from the 12th Precinct were operating a "push off" on Andover near Seven Mile. That is when two undercover officers pretend to be dope dealers, waiting for eager customers to approach, and then arrest potential buyers and seize their vehicles.
But this time, instead of customers, special ops officers from the 11th Precinct showed up. Not realizing they were fellow officers, they ordered the other undercover officers to the ground.
FOX 2 is told the rest of the special ops team from the 12th Precinct showed up, and officers began raiding a house in the 19300 block of Andover. But instead of fighting crime, officers from both precincts began fighting with each other.
Nov 14: GROUP INVESTIGATING POLICE CONDUCT ON INAUGURATION DAY HAS HISTORY OF SIDING WITH POLICE
TheIntercept: A CONSULTANT PAID by the Washington, D.C., City Council to investigate the Metropolitan Police Department's crackdown on Inauguration Day protesters is coming under scrutiny for what activists and experts say is a bias in favor of police. The Police Foundation, the purportedly independent group conducting the investigation for the city, is poring over charges of police abuses from January 20.
Nov 14: Woman shot by PBSO deputy who killed self sues condo complex
Palm Beach Post: The complaint, filed Thursday in Palm Beach Circuit Court on behalf of Solano, 41, and her 18-year-old daughter, Aryana Nicole Baluja, names DeMarco's estate, the Inlet Harbor Condominium Association and Benchmark Property Management, which oversees Inlet Harbor.
Nov 13: Sheriff's office to pay two gun owners for destroyed weapons
What is your destruction process? Do you have internal controls to prevent an incident such as this in your agency?   Lt. Dan
Beaumontenterprise.com: The Newton County Sheriff's Office will pay $400 in restitution to owners of guns whose weapons were destroyed while their cases were still pending.
Nov 13: Georgia sheriff facing charges over school search suspended
AP: ATLANTA, Georgia's governor on Monday suspended a sheriff who faces charges including sexual battery after a drug search at a high school earlier this year.
In an executive order, Gov. Nathan Deal suspended Worth County Sheriff Jeff Hobby pending the final outcome of his case or the expiration of his term of office, whichever comes first.
Nov 13: Denver sheriff's deputy charged with felony menacing, accused of threatening with weapon
DENVER – A deputy with the Denver Sheriff's Department faces felony menacing charges after he allegedly pointed a gun at someone serving him legal documents last week.
Nov 12: Pueblo CO. Police chief foresees more officers, quicker response times
Chieftan: Police Chief Troy Davenport said Puebloans can expect to see a dramatic improvement in the department's response times with the additional officers voters afforded the department by approving ballot measure 2B this week.
But citizens will need to have some patience as the department works to fill those positions.
The measure, which passed by a wide margin, will increase the local sales and use tax rate by one-fifth of one cent for five years. The money from the tax hike will be used to hire 24 police officers and pay operational costs associated with their employment.
Nov 12: Spokane police chief, ombudsman say they want to rewrite use-of-force policy
Spokesman: Spokane, unlike other municipalities, is vague in its application of less-than-lethal tactics as laid out in the police department's use-of-force policy, Logue said. Specifically, there's little clarity in the department's treatment of what Logue calls the "sanctity of life."
In looking at other department's policies and best practices nationwide, Logue discovered that, whereas other cities' agencies will provide specifics on how to deescalate a situation and enforce less-lethal alternatives, Spokane does not.
Instead, the policy refers to "deadly force" as something an officer can do "to protect themselves or others from what the officer reasonably believes would be an imminent threat of serious bodily injury or death." Opportunities for de-escalation are largely left to the discretion and training of officers
Nov 12: Two Richland Police Officers Fired for Sexual Misconduct
Richland Police Chief Russell James says two of his officers have been fired for sexual misconduct.
RICHLAND, Miss. (AP) — Richland Police Chief Russell James says two of his officers have been fired for sexual misconduct.
Neither of the officers faces charges at this time, and the police department is not releasing their names. Details of the alleged misconduct have not been disclosed
Nov 12: Marysville (CA) Police Chief Leaves Amid Sexual Assault Investigation
Capitol Public Radio: The City of Marysville says its police chief has stepped down amid an investigation of sexual assault.
A statement by the City says former chief, Aaron W. Easton "separated himself" from the department on Thursday.
The Appeal Democrat newspaper has reported that Sutter County detectives are investigating an allegation that Easton forced a female Yuba College police cadet to perform a sexual act in 2008 while he was an instructor.
Nov 12: Boynton Beach police officer guilty of using excessive force in 2014 beating
Local 10 News: WEST PALM BEACH, Fla. – A South Florida police officer has been found guilty of using excessive force in the beating of an unarmed man in 2014, but two former police officers have been cleared of all charges.
Boynton Beach police Officer Michael Brown was found guilty Thursday in federal court. Two other former police officers, Justin Harris and Ronald Ryan, were acquitted on all counts.
Nov 9: Baltimore Mayor Pugh says crime 'out of control,' orders agencies to meet with police every morning
Baltimore Sun: Calling violence in Baltimore "out of control," Mayor Catherine Pugh ordered 30 agency heads to meet every morning at police headquarters, and to make crime reduction the top mission not only of police, but also of health workers, housing officials and public works crews.
The mayor ordered the directors of more than half of the city's 55 departments to report to meetings daily at 8 a.m., when they will plan with Police Commissioner Kevin Davis where weeds should be cut, lead paint covered and drug houses boarded up and job applications can be handed out, among other tasks.
Nov 9: Chicago Police Skirt Punishment as Disciplinary System Fails Yet Again
Propublica: Even after reporters identified lost cases, only some officers served suspensions.
Nov 9: ACLU study blasts Bakersfield police, Kern County Sheriff's Office for 'disturbing pattern' of force
LA Times: The American Civil Liberties Union called for major reforms in the Bakersfield Police Department and the Kern County Sheriff's Office on Wednesday, releasing a scathing report that detailed repeated allegations of excessive force and the misuse of police dogs to injure and intimidate suspects. Both departments were already the subject of a civil rights investigation by the California attorney general's office, but the ACLU said Thursday that its study shows officers and deputies have been involved in "a disturbing pattern of shootings, beatings and canine attacks" in recent years, many of which involved unarmed suspects.
LINK to report: https://www.aclusocal.org/sites/default/files/patterns_practices_police_excessive_force_kern_county_aclu-ca_paper.pdf
Nov 9: KC police say new crime coordinator will use stats to prevent crime in the city
Proactive approach meant to keep you safe.
KSHB.com: KANSAS CITY, Mo. — Kansas City police said three midtown burglary suspects are in custody and a problem property in the Northland is in check thanks to the department's recommitment to analyzing crime data.
Thursday, the department introduced Sgt. Jonas Baughman as the city's first crime coordinator. Chief Rick Smith created the position shortly after taking office in mid-August.
Baughman's goal is to take a "laser sharp" look at crime data to identify trends. He'll then turn his analysis into information police can use to proactively prevent crime.
Nov 9: Aberdeen Maryland police lieutenant charged with misconduct, drug possession 
ANOTHER drug take back issue.  What is your process, do you have adequate internal controls?  Lt. Dan 
Baltimore Sun: Police Chief Henry Trabert gave a brief statement saying the department started its investigation immediately after officials learned of Gosnell's alleged crimes, which involved repeated thefts of drugs left in the public drop box outside police headquarters and in the police evidence room.