Upcoming training: Current event news articles listed below training section. 
Schedule
Date/Time
Event
08/15/2018 – 08/17/2018
08:00 -17:00
IA-101: Internal Affairs Investigations Course
National Law Enforcement Telecommunications System (NLETS), Phoenix Arizona
08/22/2018 – 08/24/2018
08:00 -17:00
IA-101: Internal Affairs Investigations Course – Golden Colorado
Colorado State Patrol Training Academy, Golden CO
09/18/2018 – 09/20/2018
08:00 -17:00
LEIA-101: Introduction to Law Enforcement Inspections and Auditing Course (Palm Beach)
Palm Beach Sheriff's Office Training Facility, West Palm Beach FL
09/19/2018 – 09/21/2018
08:00 -17:00
IA-101: Introduction to Internal Affairs Investigations Course
Fairfax County Criminal Justice Academy, Chantilly Virginia
09/26/2018 – 09/28/2018
08:00 -17:00
LEIA-101: Introduction to Law Enforcement Inspections and Auditing Course
National Law Enforcement Telecommunications Systems, Phoenix AZ
10/01/2018 – 10/04/2018
08:00 -17:00
IA-201: Professional Standards Investigations Certificate Course
Peoria Public Safety Administration Building, Peoria Arizona
10/16/2018 – 10/18/2018
08:00 -17:00
LEIA-101: Introduction to Law Enforcement Inspections and Auditing Course
Oklahoma City Police Training Center, Oklahoma City OK
10/23/2018 – 10/26/2018
08:00 -17:00
LEIA-201: Law Enforcement Inspections and Auditing Certificate (LEIAC)™ Course (Palm Beach)
Palm Beach Sheriff's Office Training Facility, West Palm Beach FL
10/30/2018 – 11/02/2018
08:00 -17:00
LEIA-201: Law Enforcement Inspections and Auditing Certificate (LEIAC)™ Course
National Law Enforcement Telecommunications Systems, Phoenix AZ
11/06/2018 – 11/09/2018
08:00 -17:00
IA-201: Professional Standards Investigations Certificate Course
Fairfax County Criminal Justice Academy, Chantilly Virginia
June 25: Girl in Texas pool party UOF incident reaches settlement
AP: Dajerria Becton has settled a federal lawsuit against an officer and the city of McKinney for almost $150,000
June 24: MPD officer indicted for evidence tampering, official misconduct
Interesting case: Lt. Dan
MEMPHIS, Tenn. – A Memphis police officer was indicted on charges of official misconduct and tampering with evidence Friday.
June 24: Ex-Deputy Attorney General to Lead Minnesota Sedation Probe
US News: Former Deputy US Attorney General Sally Yates to lead an independent investigation into a report that Minneapolis police officers have repeatedly asked medical responders to sedate people with the powerful tranquilizer ketamine.
June 24: Compliance audit complete on St. Paul police body cameras
Final audit report not out yet.  Interesting to note that activist take exception to the report, stating they feel the audit should have looked at what the cameras captured and any misconduct noted. We will post the audit when the final becomes available. Lt. Dan
PAUL, Minn. (AP) – St. Paul police have released the department's first audit of the use of body cameras.
The common mistake among officers is forgetting to turn on the cameras. The audit was focused only on policy and compliance, including any challenges with using the technology.
Public data activist Don Gemberling tells the Star Tribune the department should also have looked at what the cameras captured, including officer conduct. Axtell presents the audit to the City Council Wednesday.
June 24: St. Pete Police Chief says some lieutenants demoted for falsifying time cards
BayNews9: ST. PETERSBURG, Fla.– According to St. Petersburg Police Chief Anthony Holloway, some lieutenants were demoted following an investigation that showed they were falsifying their time cards.
Anonymous tip leads to investigation of three lieutenants
Chief says they falsifyed time cards
One retired, other two demoted to officers
June 23: Amazon workers ask Bezos to stop selling tech to law enforcement
NY Post: There was another social activism uprising in tech land this week — and this one got in Jeff Bezos' face.
An undisclosed number of Amazon employees penned an open letter to the e-commerce giant chief executive asking that the company stop selling facial recognition software to law enforcement agencies.
June 23: Audit finds problems with state of Florida purchasing cards
Tallahasse.com: A new audit is recommending that Florida's health department move faster to cancel former employees' access to state credit cards and to a statewide accounting system.
The state auditor general found that between March 2016 and January 2017, the Florida Department of Health failed to timely cancel so-called state purchasing cards for 119 former employees who worked at the agency or at county health departments.
Link to audit report: See Finding #3
https://flauditor.gov/pages/pdf_files/2018-213.pdf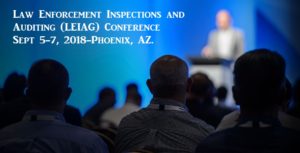 Go to LEIAG.org to learn more and register.
June 23: Concerns raised over new Seattle police chief selection process
KUOW: Seattle's Community Police Commission is asking the City Council to delay confirmation hearings for a new police chief until it can examine the selection process more closely.
June 23: Jury awards $2.8M to former Chicago Independent Police Review Authority supervisor who sued city
Chicago Tribune: Cook County jury on Thursday awarded $2.8 million to a former supervisor for Chicago's now-defunct police oversight agency, who alleged in a lawsuit against the city that he was fired for refusing to change his findings in police shootings he considered unjustified.
The federal lawsuit was eventually dismissed when a judge determined that Davis' refusal to change his finding was not protected free speech under the First Amendment. But his lawyers refiled the lawsuit in the Cook County Circuit Court, this time suing the city under the state's whistleblower law.
June 23: CO State Trooper Faces Charges Of Misconduct, Investigation Ongoing (News Video)
BOULDER, Colo. (CBS4) – A Colorado State Patrol trooper is facing criminal charges for alleged on-duty misconduct.  The Boulder County district attorney is charging Nathan Parks with invasion of privacy for sexual gratification and computer crime. Parks has been placed on administrative leave.  Details surrounding the allegations are not out. The DA's office says that because their investigation remains open.
June 23: Audit Faults University of California Sex Misconduct Process
CA State Auditor: State auditors on Thursday faulted the University of California for not addressing sexual misconduct complaints on time and not disciplining faculty swiftly.
Link to report:
https://www.auditor.ca.gov/pdfs/reports/2017-125.pdf
June 23: Notes from the Field: Opioid Crisis
Lessons Learned From the Front Lines of the Opioid Epidemic
NIJ: Dayton PD: Learning from years of experience trying to end this tragedy, I believe there are three key areas to consider as departments craft their opioid response strategy. First, law enforcement must recognize the importance of reliable and comprehensive data in understanding the extent of the problem and developing an effective response. Second, we need to engage in strategic partnerships with public health, people in recovery, and other key stakeholders. Third, police departments should use their on-the-ground knowledge to inform and advise policymakers on the importance of effective policies that will provide the legal framework for a successful response.
June 23: ODMAP: A Digital Tool to Track and Analyze Overdoses
NIJ: Washington/Baltimore HIDTA: ODMAP is an overdose mapping tool that allows first responders to log an overdose in real time into a centralized database. This tool allows us to capture all fatal and nonfatal overdose incidents on a shared data platform across agencies and across the country. As the overdose death toll across the country continues to rise, the ODMAP tool gives law enforcement agencies powerful and unprecedented real-time information about overdose occurrences and trends that allow them to shape a more effective opioid response.
June 23: Notes from the Field: Opioid Crisis Police and Population-Level Intervention
NIJ: The Burlington (Vermont) Police Department has focused on these system-level, data-driven interventions in our response. We've instituted no-arrest and no-prosecute policies for individuals who overdose, and instead help these individuals access treatment. We treat fatal overdose cases as crime scenes, investigating these deaths in an attempt to trace the high-level sources of the drugs that kill our residents. Several years ago we deployed Narcan to all of our officers, which has since become standard practice across the country.
June 22: Audit to Portland police: Use mock village more often for scenario training
Oregon Live: Portland police should consistently put officers through real-life simulations at their 4-year-old, $15 million training center that includes a large mock village, according to a city audit released Wednesday.
City Audit: The objective of this audit was to follow up on recommendations made to the
Police Bureau in the 2015 audit report: Police Training Division: Progress made,
but evaluating impacts on officer performance must be improved.
Link to audit report: https://www.portlandoregon.gov/auditservices/index.cfm?&a=688515
June 22: Juvenile Detention Overtime Audit
Columbian: Between 2013 and 2015, the Clark County Juvenile Detention Program did not maintain stable juvenile detention officer staffing levels causing it to exceed its adopted budget. The goal of this audit was to identify the major factors that caused the program to exceed its budget and determine if the core issues were adequately addressed
Link to audit report: Clark County WA Auditor:
https://www.clark.wa.gov/sites/default/files/dept/files/auditor/audit-reports/r_20%20Final%20Report%206-13-18%281%29.pdf
June 22: What it means: Q & A on new police search limits in Asheville NC
Citizen Times: Ashville NC: To require written consent before certain types of searches, to not allow officers to use criminal history or "nervous" behavior as a reason to attempt a search and to de-emphasize enforcement of non-dangerous regulatory and equipment-based vehicle violations.
June 22: Farah Muscadin named permanent Austin police monitor
My Statesman: In a memo to the Austin City Council on Wednesday, Cronk said Muscadin, who has held the post in an interim capacity since January, has demonstrated an ability to connect with the community, police and city leadership.
Muscadin has a degree in law from the University of Iowa, and came to Austin after holding a variety of government positions in the Chicago area for more than 15 years.
June 21: Thousands of Unfilled Jail Jobs, Millions in Overtime, 'Zero Room for Error'
Governing: States across the country are struggling to staff their prisons and jails. The shortages are costing them in overtime — and lives lost when inmates riot against conditions likely worsened by overworked guards.
June 21: Unprecedented Police Accountability Bill Advances in California
Governing: California would lead the U.S. in significantly changing the standard for when police can fire their weapons under legislation that cleared its first hurdle Tuesday after an emotionally charged debate over deadly shootings that have roiled the country.
It's time to change a "reasonable force" standard that hasn't been updated in California since 1872, making it the nation's oldest unchanged use-of-force law, said Assemblywoman Shirley Weber, a San Diego Democrat who introduced the measure.
"It must be guided by the goals of safeguarding human life," she said.
A state Senate committee advanced the legislation that would allow police to use deadly force only in situations where it is necessary to prevent imminent and serious injury or death to the officer or another person.
June 21: King County sheriff needs better way to fix wrong info given to media, watchdog says after deadly shooting
Seattle Times: The recommendation was a centerpiece of a 33-page report commissioned by the director of the county's Office of Law Enforcement Oversight (OLEO) and presented to the Metropolitan King County Council's Law and Justice Committee.
Link to redacted report: https://www.documentcloud.org/documents/4502696-Redacted-Report.html
June 20: LAPD Releases First Ever Body-Cam Footage Under New Transparency Policy (News Video)
Take a few minutes and watch this.  It gives details on LAPD's new process to release body-cam within 45 days.  Check out the proactive format as a "produced update" on a critical incident. This may raise the bar for other agencies. Lt. Dan.
CBS Local: The video's release marks the first time the nation's third-largest police department has voluntarily released body camera footage to the media
June 20: Judge 'likely' to allow city cops to sue to keep their NYPD disciplinary records secret
NY Daily News: Manhattan Supreme Court Justice Arthur Engoron heard arguments both from lawyers representing the Patrolmen's Benevolent Association and city regarding the police union's lawsuit.
June 20: Deputies accused of criminal misconduct and sexual assault
CATOOSA COUNTY, GA (CBS46) – Two Walker County deputies are facing charges of aggravated assault, criminal attempt to rape and false imprisonment as of Tuesday evening.
The GBI has been called in to assist with the sexual assault investigation of deputies Brandon England and Shawn Norris.
Norris, 36, and 40-year-old England were arrested Sunday at 3:30 a.m. following allegations of sexual assault and criminal misconduct.
Both men were booked into Catoosa County Jail.
June 20: Acting TBI Director placed on leave amid misconduct allegations (News Video)
WRCBTV: The Tennessee Bureau of Investigation will place Acting Director Jason Locke on administrative leave with pay on Wednesday after misconduct allegations were revealed earlier this week. Jason Locke is accused of using tax dollars over the course of having an affair with another state employee.
June 20: The Best Way to Fix a Troubled Police Department?
Governing: Put a Civilian in Charge.  Police commissioners who don't wear the uniform have the power and authority to institutionalize reforms.
The vast majority of these boards and commissions have failed to permanently change the culture of the troubled police departments that they were established to oversee, due in large part to a lack of authority over day-to-day police operations or of a mandate for police forces to implement their recommendations. One particular reform, however, holds the promise of institutionalizing reform throughout a police organization: civilian leadership at the top.
June 20: Police Misconduct Is Increasingly a Financial Issue
Governing: Lawsuits are costing governments millions, and, in some cases, forcing them to shut down departments.
June 20: City Lawsuit Costs Report
Governing: Each year, cities spend millions fighting and settling lawsuits involving alleged police misconduct, injuries on public property and a range of other legal challenges.
To approximate the fiscal impact that these cases have, we requested financial data from the 25 largest U.S. cities, 20 of which responded. Cases typically originate as claims, then turn into lawsuits if not resolved. Payments made to plaintiffs, legal costs associated with cases and liability insurance premiums were obtained to provide for a comprehensive picture of costs in each locality.
June 20: City Pays $20 Million So Far In 2018 For Police Misconduct Cases (News Video)
April 2018: CHICAGO (CBS) – On Monday, the city paid to settle more police misconduct cases—this time for  a total of $4.6 million—but that is just the tip of the iceberg.
CBS 2's Lauren Victory reports, an analysis of Chicago's settlements shows $20.3 million came out of city coffers for police-involved lawsuits in just the first eight weeks of 2018.
June 20: New York City Annual Claims Report
Comptroller: The number of tort claims filed against the NYPD declined in FY 2017, but cost the City $308.2 million, the highest in City history. It is important to note, however, that a small number of cases disproportionally accounted for the total amount. In FY 2017, eleven wrongful conviction claims, representing 0.27 percent of 4,014 police cases resolved during FY 2017, settled for a total of $78.6 million, which accounted for 26 percent of the total $308.2 million in NYPD payouts.
June 20: The Police Response to Homelessness
PERF: In January 2018, 72 percent of PERF members who replied to a questionnaire said that homelessness in their communities had increased in recent years; only 13 percent said it had declined. And more than half of the respondents reported increases in mental illness and substance abuse among the homeless population.
June 20: Carjackers Target Off-Duty Police Officer, Flee After Shootout
Police One: No one was injured.
June 20: Cost and Benefits Of Body-Worn Camera Deployments
PERF: The PERF research described in this report was designed to answer some of these questions about BWCs. With generous support from the Laura and John Arnold Foundation, we conducted one of the largest and most comprehensive surveys to date of law enforcement agencies regarding their deployments of body-worn cameras. This survey, which obtained data 5 from a rep
June 20: NYPD will start using summonses, not arrests, for marijuana
NEW YORK (AP) – Lighting up a joint in the Big Apple could lighten some wallets, but won't lead to handcuffs in most cases once New York City's revamped marijuana enforcement policy goes into effect on Labor Day weekend.
June 20: Apple's new iOS will relay location for 911 calls
NY Post: Apple's next iPhone operating system is throwing a lifeline to the antiquated 911 response system.
The Cupertino, Calif.-based company announced Monday that its forthcoming iOS 12 will automatically share a 911 caller's location with dispatchers, allowing for "faster and more accurate information to help reduce emergency response times."
June 20: Atlanta officer arrested in drug raid resigns, apologizes in handwritten note (News Video)
WSBTV.com: ATLANTA – An Atlanta police officer arrested in a raid in which $30,000 in drugs was seized resigned from the Atlanta Police Department Wednesday.
June 20: Davis (CA) City Council moves forward with police oversight plan
McNaughton.media: The Davis City Council this week voted 4-0 in favor of a two-pronged police oversight structure that includes an independent police auditor as well as a police-accountability commission. But details on the make-up of the police accountability commission — including who will serve and how they will be selected — remain to be worked out
June 19: Police Officer Convicted of Wrongful Arrest
DOJ: Officer illegally arrested citizen after the citizen attempted to file complaints against him
The Justice Department today announced that William Dukes, Jr., a former sergeant with the Providence, Kentucky, Police Department, was found guilty Friday in federal court on one count of willfully arresting a citizen without probable cause.
After five days of trial, the jury convicted Dukes of arresting the victim, knowing that he did not have probable cause to believe that the victim had committed a crime, in violation of his 4th Amendment rights. The jury heard testimony that Dukes arrested the victim because the victim had called several law enforcement agencies seeking to file a complaint against him. The defendant was acquitted of another civil rights charge for violating the victim's 1st Amendment rights and was also acquitted of an obstruction of justice charge.
June 19: New Charlottesville police chief to be sworn in
CHARLOTTESVILLE, Va. (AP) – Charlottesville's next police chief is set to officially step into her new post.
RaShall M. Brackney will be sworn in Monday afternoon in the City Council's chambers.
She will be the first permanent successor of Chief Al Thomas, who retired in December after the release of a scathing report about the law enforcement respond to last summer's white nationalist rally.
June 19: VIDEO: KCK police detective Danon Vaughn performs 'Amazing Grace' at vigil for deputies
KCTV Kansas City, Kansas City, KS Police Department Detective Danon Vaughn also sang 'Amazing Grace' at the funerals of KCKPD Detective Brad Lancaster and ..
June 19: City council vote to appoint Geier as permanent APD police chief
ALBUQUERQUE, N.M. (KRQE) – City council is expected to vote Monday on whether to make Michael Geier the Albuquerque Police Department's permanent police chief.
A five-member committee has spent the last several months searching for the best option.
Last week, Mayor Tim Keller selected current interim Chief Geier as the top candidate.
June 18: Video: Ohio police responding to fight shoot man; 2 LEOs injured
A reminder of how fast these incidents can go down.  Lt. Dan
A gun was recovered from the scene
June 18: Pennsylvania is the Only State That Bans Local Cops From Using Radar to Catch Speeders.
Governing: That Could Soon Change.
June 18: A Review of Various Actions by the Federal Bureau of Investigation and Department of Justice in Advance of the 2016 Election
DOJ-OIG: Report:
June 17: AZ DPS trooper dives over fence in pursuit of suspect (Video)
Check out this video, great Job by AZ DPS! Lt. Dan
June 17: Ketamine cases raise questions over boundaries between police and paramedics
Star Tribune: Concerns about ketamine use are drawing national attention to the response for emergencies that require split-second decision making.
Now the hospital's leadership is defending the drug after its paramedics and Minneapolis civil rights investigators independently expressed concern that Minneapolis police officers urged medical responders to use it to subdue members of the public when responding to difficult calls.
The 2017-2018 Medal Of Valor nomination period is now open.
BJA: Public Safety Officer Medal of Valor, Nomination for Extraordinary Valor Above and Beyond the Call of Duty
Nominations accepted until July 31, 2018
The Public Safety Officer Medal of Valor is awarded, by the President or Vice President of the United States, to a public safety officer who has exhibited exceptional courage, extraordinary decisiveness and presence of mind, and unusual swiftness of action, regardless of his or her own personal safety, in the attempt to save or protect human life.
June 14: Albuquerque announces permanent police chief
KRQE: ALBUQUERQUE, N.M. (KRQE) – Mayor Tim Keller has announced that Interim Police Chief Michael Geier will become the permanent Chief of Albuquerque Police Department.
The announcement was made Wednesday, June 13, in a press release from Mayor Keller which states that after a five-member committee poured over dozens of candidates, Mike Geier was selected as the top candidate.
June 14: Apple to Close iPhone Security Hole That Law Enforcement Uses to Crack Devices
SAN FRANCISCO — Apple has long positioned the iPhone as a secure device that only its owner can open. That has led to battles with law enforcement officials who want to get information off them, including a well-publicized showdown with the F.B.I. in 2016 after Apple refused to help open the locked iPhone of a mass killer.
The F.B.I. eventually paid a third party to get into the phone, circumventing the need for Apple's help. Since then, law enforcement agencies across the country have increasingly employed that strategy to get into locked iPhones they hope will hold the key to cracking cases.
Now Apple is closing the technological loophole that let authorities hack into iPhones, angering police and other officials and reigniting a debate over whether the government has a right to get into the personal devices that are at the center of modern life.
June 14: Denver police will launch program to collect racial data on people during stops
Project aligns with critics who demanded more transparency, community relations
June 14: No charges as FBI ends 'excessive force' probe
AGAWAM, Mass. (AP) — The FBI is ending its investigation into a group of western Massachusetts police officers for allegedly using excessive force against a prisoner.
The three Agawam police officers will not face charges following the end of the probe by the FBI into their methods of subduing a disorderly man in June 2016.
The officers had been terminated in October 2016 for their roles in the arrest of then 27-year-old David Desjardins at Six Flags New England in 2016. Desjardins was taken into custody and struggled with officers until he was struck with a baton.
Two of the officers are back at work, with one previously demoted officer back in his position as sergeant.
June 14: Law Enforcement Is Suffering From the Opioid Crisis
Inside Sources: While America's law enforcement agencies grapple with how best to fight the opioid epidemic, it may be alarming to know that more officers die by suicide each year than from shootings and traffic accidents combined. Still, too many police departments are reluctant to acknowledge such an extreme problem exists, let alone implement solutions to address it.
In 2017, 140 officers died by suicide, according to a study by the Ruderman Family Foundation. Similarly, in 2016 the American Psychological Association found that officers' exposure to stress was correlated with excessive drinking and post traumatic stress, an injury of the brain.
Typically, the rise of suicide among officers is a result of severe stress followed by addiction — a problem that has grown much worse in recent years with access to opiates.
June 14: New Mexico State Police chief accused of misconduct
ALBUQUERQUE, N.M. – KOB: According to our partners at the Santa Fe New Mexican, the lawsuit was filed Tuesday by former Deputy Chief Ryan Suggs, former Lt. Julia Armendariz and Sgt. Monica Martinez-Jones. Kassetas and the State Department of Public Safety are named as defendants.
The complaint alleges Chief Kassetas "mooned" staff members, sent a photo of a man's testicles to a female at the department of public safety and used his position to promote and protect women he was interested in having personal relationships with.
June 14: Family of LEO killed in blue-on-blue shooting files lawsuit
Philly.com: UPPER MARLBORO, Md. — The family of Jacai Colson, a Delaware County native and Maryland undercover detective who was fatally shot by another police officer, has filed a wrongful death lawsuit, the Washington Post reported on Tuesday.
Colson, 28, was responding to a shootout outside the Prince George's County police headquarters on March 16, 2016, when he was shot by Officer Taylor Krauss.
The lawsuit, filed Monday in Price George's County Circuit Court, alleges Colson was displaying his badge and shouting "Police! Police!" when he was killed.
June 13: The best way to use video in a presentation
Fast Company: Or, how to not be upstaged with video when you're onstage.
Follow these four steps to make yourself (and your message) the center of your audience's attention.
June 13: San Francisco POA again try to interfere with Taser policy and reforms
San Francisco POA still demanding the right to "meet and confer" on a critical use of force and weapons issue.
June 13: Phoenix police chief, city officials want study on spike of officer-involved shootings
ABC15: PHOENIX – Phoenix police chief Jeri Williams and other city officials want to commission a $149,000 study to analyze and make recommendations on the recent spike in officer-involved shootings.
The Public Safety and Veterans subcommittee will vote on the "emergency request" Wednesday morning, but some are already calling it a potential waste of taxpayer money.
"Before you know it, you can have a list of fifty variables that you're looking at," said Ken Crane, president of the Phoenix Law Enforcement Association, which represents around 2,100 officers.
June 13: Audit faults juvenile courts for not alerting schools to student crimes
Juvenile courts in Washington can prove only about half the time that they're alerting schools when one of their students has committed a crime, according to a performance audit from the Washington State Auditor's Office.
Link to audit report: http://www.sao.wa.gov/state/Documents/PA_School_Notification_ar1021306.pdf
June 13: Cops again try to interfere with Taser policy and reforms
San Francisco POA still demanding the right to "meet and confer" on a critical use of force and weapons issue. The Police Officers Association, which just lost overwhelmingly at the ballot box in its effort to equip all cops with Tasers, is still apparently trying to interfere with the city's existing policy on stun guns.
June 13: City reaches $16 million settlement over innocent bystander shot dead by cop
Chicago Tribune: City of Chicago lawyers have reached a proposed $16 million settlement with the family of an innocent bystander shot dead by an officer who fired at a teenager carrying a baseball bat in December 2015, according to multiple sources with knowledge of the agreement.
The tentative settlement with the family of 55-year-old Bettie Jones emerged late last week with the lawsuit's trial date looming at the Daley Center courthouse. The city remains scheduled to go to trial as soon as this week with the survivors of 19-year-old Quintonio LeGrier, who approached officers with a baseball bat as they responded to a domestic disturbance. Officer Robert Rialmo fired, hitting LeGrier and accidentally striking Jones, killing both.
June 13: NJ State Trooper admits illegally using FBI database
Courier Post on line: The suspended trooper's indictment was spurred by a State Police Office of Professional Standards investigation revealing Richardson repeatedly pulled over two women and harassed them about beginning an intimate relationship with him.
He deactivated his cruiser's dashboard camera during some of the stops, according to the state Attorney General's Office.
June 13: Pittsburgh has an independent board to review police misconduct.
Public Source.org: A newly formed group wants to pick up where that movement left off. The Committee for a Civilian Police Review Board of Allegheny County is calling for the creation of a board that would have jurisdiction to review alleged misconduct of all police officers in the county. However, there is skepticism about the group's efforts as several factors call into question the feasibility of creating such a board.
June 13: San Diego Sheriff's Deputy facing new misconduct allegations
SAN DIEGO (NEWS 8) – A San Diego Sheriff's Deputy who is heading to trial on charges of sexual misconduct while on duty on Monday faced new allegations.
Two women came forward with claims that Richard Timothy Fischer, 32, acted inappropriately. One of the women babysat his child and the other woman was college student.
June 13: Thefts rise after California reduces criminal penalties
SACRAMENTO, Calif. (AP) – California voters' decision to reduce penalties for drug and property crimes in 2014 contributed to a jump in car burglaries, shoplifting and other theft, researchers reported.
Larcenies increased about 9 percent by 2016, or about 135 more thefts per 100,000 residents than if tougher penalties had remained, according to results of a study by the nonpartisan Public Policy Institute of California released Tuesday.
Thefts from motor vehicles accounted for about three-quarters of the increase. San Francisco alone recorded more than 30,000 auto burglaries last year, which authorities largely blamed on gangs. Shoplifting may be leveling off, researchers found, but there is no sign of a decline in thefts from vehicles.
Proposition 47 lowered criminal sentences for drug possession, theft, shoplifting, identity theft, receiving stolen property, writing bad checks and check forgery from felonies that can bring prison terms to misdemeanors that often bring minimal jail sentences.
June 13: FBI agent whose gun went off while dancing taken into custody
MSN: An off-duty FBI agent who accidentally fired a gun that dropped out of its holster while he was doing a back-flip at a nightclub was booked into custody on Tuesday, jail records showed.
Chase Bishop, 29, was being held in a detention center in downtown Denver. He faces charges for second-degree assault but he has not been formally charged, according to NBC affiliate KUSA.
June 13: Ohio DOT Plans to Use Drones to Monitor Traffic Conditions
The drones will be part of a three-year project that will complement automated and connected vehicle testing along the 33 Smart Mobility Corridor.
June 13: Former Tuskegee Police Lieutenant Convicted Of Civil Rights Offense For Assaulting Arrestee
Former Tuskegee Police Department Lieutenant Alex Huntley, 54, was convicted late Friday for beating a handcuffed and compliant arrestee, announced Acting Assistant Attorney General John Gore of the Justice Department's Civil Rights Division, U.S. Attorney Louis V. Franklin, Sr., of the Middle District of Alabama, and FBI Special Agent in charge James Jewell.
June 13: Report: Sheriff's Office statements mislead public after 2017 police shooting (news video)
King5: A University of Florida report criticized the King County Sheriff's Department for not clarifying in early press releases that a man who died after a 2017 police shooting was carrying a pen and not a knife.
The report recommends proactive accountability measures for when the Sheriff's Office communicates with the press and the public following police shootings and other critical incidents.
Key recommendations include:
Rapidly acknowledging and correcting inaccurate or misleading information, and transparently explaining how the misinformation occurred.
Making special efforts to convey information to ethnic media serving non-English-speaking populations and other nontraditional community media.
Assuring that at least one officer who can brief the media is immediately reachable at all times to avoid breakdowns when a designated Public Information Officer is away.
Using social media and "open data" portals to affirmatively push out information to the public, instead of waiting for a journalist to file a request for records.
Link to Univ Florida Report: http://brechner.org/wp-content/uploads/2018/06/2018-06-07-UF-Brechner-report-and-recommendations-re-KCSO-Public-Information-Practices.pdf
June 13: Former Tuskegee Police Lieutenant Convicted Of Civil Rights Offense For Assaulting Arrestee
Former Tuskegee Police Department Lieutenant Alex Huntley, 54, was convicted late Friday for beating a handcuffed and compliant arrestee, announced Acting Assistant Attorney General John Gore of the Justice Department's Civil Rights Division, U.S. Attorney Louis V. Franklin, Sr., of the Middle District of Alabama, and FBI Special Agent in charge James Jewell.
June 13: Former Chicago detective takes the Fifth more than 200 times in wrongful conviction trial
Chicago Tribune: A former Chicago police detective invoked his Fifth Amendment right against self-incrimination more than 200 times Tuesday in a federal civil trial where he is accused of framing a man for a 1988 murder.
In a little more than an hour on the witness stand, Reynaldo Guevara refused to answer a barrage of questions about his policing practices, including whether he ever coerced witnesses into making identifications, falsified police reports or pinned bogus charges on suspects.
June 13: Sheriff's Office repeatedly ignored detective who bungled sex crime cases: audit
Oregon Live: The Clackamas County Sheriff's Office's brushed off a sergeant who complained that a detective had ignored sex crime reports and rejected a suggestion that an outside agency examine the role of supervisors in failing to deal with the detective's substandard work, a new consultant's report concludes.
The 59-page report offers an unsparing analysis of the agency's history of responding to problems involving its deputies.
The county commissioned the review after the sergeant, Matt Swanson, went to his supervisors with concerns about Detective Jeff Green's pattern of ignoring cases, including child sex abuse allegations.
Green pleaded guilty last year to two misdemeanors for failing to investigate reports of child abuse.
Link to Report: http://media.oregonlive.com/clackamascounty_impact/other/Clackamas%20Report%20Final%20-%206%205%2018%20(1)[1].pdf
June 13: Akron has one detective looking at 847 new leads on old sex crimes
Ohio.com: In 2012, the Akron Police Department heeded a call from the Ohio Attorney General's Office to empty its evidence rooms of 1,822 sexual assault kits, or rape kits.
At no charge, the Ohio Bureau of Criminal Investigation tested each kit, which contained DNA swabbed from victims or crime scenes in cold cases from 20 years earlier — before the development of reliable DNA technology.
The results, which started to return two months later, have since buried local law enforcement with new leads on old cases and not enough detectives to follow up on them. Testing this batch of 1,822 rape kits has given Akron police the names of suspects in 498 cold cases and genetic profiles in another 349, which might be cross-referenced with crimes elsewhere in America.
June 13: Police framed a teen for four burglaries so chief could tout perfect clearance rate, prosecutors say
Washington Post: Raimundo Atesiano had a statistic to tout at a town council meeting in Biscayne Park, a village of 3,000 in the middle of Florida's Miami-Dade County.
The Biscayne Park Police Department, where Atesiano was chief at the time, had a clearance rate of 100 percent for burglaries, he said at the July 2013 meeting, according to federal court documents.
But the statistics were a fictitious stunt to gain favor with elected officials, according to an indictment filed by Benjamin G. Greenberg, the U.S. attorney in South Florida.
Atesiano, with the help of two officers from his department, conspired to falsely arrest and charge a 16-year-old with four unsolved burglary cases that year, prosecutors said Monday.
June 13: North Carolina cops shoot armed suspect as pregnant hostage crawls to safety, body cam video shows (Fox News) 
June 13: Body-camera footage shows Baltimore police officer run toward gunfire, make arrest (Baltimore Sun)
June 13: Video shows police sergeant rescuing child from busy roadway (WTNH.com)
June 12: Video shows repeated Tasers failed to stop Wendy's intruder
Miami Herald: What started as a disturbed man yelling at employees inside a South Miami-Dade Wendy's restaurant this week escalated into a tense standoff with police officers, all of it caught on bystander video.
June 12: After Crowdfunding Law, Texans Raise Nearly $250,000 Toward Testing Rape Kits
Governing: A state law that crowdfunds money for rape kit testing has collected almost a quarter-million dollars in its first five months, according to the bill's author, state Rep. Victoria Neave.
The state has long been faced with a backlog of untested rape kits, which are gathered by police through invasive, hours-long exams of sexual assault victims and cost anywhere between $500 and $2,000 to test. The most recent data made available by the Texas Department of Public Safety shows a backlog of more than 3,500 untested rape kits statewide — meaning there may be even more untested kits in Texas today.
June 11: Identifying Law Enforcement Needs for Access to Digital Evidence in Remote Data Centers
NIJ: State and local law enforcement increasingly need to obtain data and digital evidence held extraterritorially or by transnational companies in their investigations of local crimes. The challenges associated with this need are multifaceted, involving legal, procedural, and technical difficulties. The intent of this report is to describe the scope of the challenges, summarize the discussion of the expert panel surrounding the issues, and provide a list of needs identified and prioritized by the expert panel that will help inform the concerned communities and stakeholders. Ultimately, the goal of this report is to improve legitimate law enforcement access and use of remotely held digital evidence in a manner that is legal, effective, timely, and understandable.
June 11: Mesa Arizona police chief hires former prosecutor to review use of force
Tucson.com: The beating of a 33-year-old man and the rough treatment of a teenager prompted the chief of the Mesa Police Department to enlist a former prosecutor Friday to investigate the videotaped encounters and report directly to him.
Police Chief Ramon Batista said the body camera footage of the two incidents last month left him "angry and deeply disappointed."
"We will work every day to make sure these situations don't happen again," Batista said at a news conference. "I will b
June 11: Kyle Plush death investigation: Cincinnati police chief releases details in initial probe
WOhio.com: Kyle Plush, the 16-year-old Cincinnati boy who died after he was pinned in the back seat of his minivan, was unable to communicate properly with dispatchers because his phone was in his back pocket, despite voice-dialing 911, according to an initial police investigation.
June 11: Police Executive Research Forum – Key Findings and an Action Plan to Reduce Gun Violence
PERF: The following recommendations reflect the thinking of leading law enforcement executives regarding principles and actions that would make a difference in reducing the numbers of deaths and injuries from gun violence.
June 11: The Cybersecurity 202: We surveyed 100 experts. A majority rejected the FBI's push for encryption back doors.
Washington Post: The FBI has said that its inability to access encrypted cellphones during investigations leaves the country less safe. But a strong 72 percent majority of digital security experts surveyed by The Cybersecurity 202 disagree.
June 11: Milwaukee Commission Calls For Audit Of Sterling Brown Arrest
One America News Network: In a letter to police chief Alonso Morales, the Milwaukee Fire and Police Commission requested an audit and for all body-camera video to be released from the January arrest of Milwaukee Bucks guard Sterling Brown.
June 11: In Newark, Police Cameras, and the Internet, Watch You
NY Times: Surveillance cameras monitored by the police have become a ubiquitous presence in many cities. In Newark, anyone with internet access is allowed to watch. In Newark, the police have taken an extraordinary step that few, if any, other departments in the country have pursued: They have opened up feeds from dozens of closed-circuit cameras to the public, asking viewers to assist the force by watching over the city and reporting anything suspicious.
But the advent of the program has provoked alarm among civil liberties groups and privacy advocates. They argue……
June 10: As many as 42 percent of Baltimore police officers on patrol last month were working overtime
Baltimore Sun: When Baltimore police officers patrolled the streets last month, there were days when as many as 40 percent were working overtime, according to new records that detail how the department is struggling to deploy the number of officers it says it needs to keep the public safe.
NPR: A handful of recently-released videos of police using their fists on suspects raises the question, When is it OK for a cop to punch someone? We explain the rules and the pressure to change them.
June 10: Minneapolis police halt low-level marijuana stings, citing racial disparities
Start Tribune: Minneapolis police ended the practice after revelations that nearly every person arrested in the stings was African-American
June 9: Former Troy (NY) detective indicted on grand larceny (News Video)
CBS 6 Albany: A former Troy detective stands accused of stealing funds when he was president of the Troy police union.
Aaron Collington has been indicted on charges of grand larceny.
June 9: A Pasco (FL) detective left a gun in a Burger King bathroom. Now it's gone. (w/video)
Tampa Bay Times; DEPUTIES SEARCH FOR MISSING GUN LEFT IN BK BATHROOM
The Pasco County Sheriff's Office said it is looking for a man that it claims stole the agency-issued handgun that a plainclothes detective left in a Burger King bathroom Friday.
When the detective went back into the bathroom to get the gun, it was gone, said sheriff's spokesman Kevin Doll. He did not identify the detective because of the ongoing investigation or release any other details about how the gun was left in the bathroom.
June 9: FBI Pushes Campaign to End Hoax Threats on Social Media
ALBUQUERQUE, N.M. (AP) — The FBI is urging people to "think before you post" a hoax on social media that purports to threaten a school.
At an Albuquerque news conference Thursday, local FBI officials said agents see a surge in threats intended as hoaxes or a joke after school shootings with a high-number of fatalities — such as in Parkland, Florida, and Santa Fe, Texas, this year.
June 9: Report Shows Decline in NYPD Investigations of Protected Activities With Civil Monitor in Place
New York Journal: The report was the first by former federal Judge Stephen Robinson, who was installed as civilian oversight following the settlement of two surveillance cases by the NYPD last year.
June 9: Crestview (FL) Police Chief Tony Taylor dismissed after investigation
CRESTVIEW, Fla. (WKRG) – Crestview Mayor David Cadle dismissed Police Chief Tony Taylor on Friday following an investigation into multiple allegations, the police department announced in a news release.
According to the release, the allegations came from more than 30 officers and staff members and included accusations of "favoritism, rule inconsistency and unfavorable shift scheduling, which combined to lead to a reported decrease in morale within the department."
June 9: Arvada's (CO) nationwide search for police chief circles back to internal candidate
 Denver Post: The city announced Friday that it has selected two finalists for the position: Ed Brady, the current interim chief; and Link Strate, current deputy chief.
A national search was conducted to fill the position previously held by Chief Don Wick, who retired in December after 32 years of service.
New chief will replace Don Wick, who retired in December
June 9: City Manager names Brian Manley his pick for Austin (TX) Police Chief (News Video)
Fox 7 Austin: Brian Manley has been with the Austin Police Department for nearly 3 decades. Since his appointment as interim chief, he was thrust into the national spotlight —receiving accolades for his leadership during Austin's bombing crisis.
June 9: Aliquippa (PA) Assistant Police Chief Charged With Sending Sexually Explicit Material To Minor (News Video)
ALIQUIPPA (KDKA) – The Aliquippa assistant police chief was arrested Friday morning.
According to a statement from the Beaver County district attorney, Joseph Perciavalle was arrested for the distribution of sexually explicit material to a minor.
June 9: Two former Baltimore Police Gun Trace Task Force detectives sentenced to seven years in prison each
Baltimore Sun: Two former detectives with the corrupt Baltimore Police Gun Trace Task force were sentenced Friday to seven years in prison each, with prosecutors asking for lesser sentences due to their extensive cooperation.
Federal prosecutors vouched for former Detectives Evodio Hendrix, 32, of Randallstown and Maurice Ward, 36, of Middle River and asked U.S. District Court Judge Catherine C. Blake to give them sentences below the recommended guidelines. The prosecutors also disclosed that information from the officers was being used in continuing investigations.
June 9: Video of teen's arrest prompts 2nd investigation of Mesa, Arizona, police
(CNN)Bodycam video of a teenage boy's arrest has resulted in another internal investigation of the Mesa, Arizona, Police Department. This comes just days after the department was criticized over surveillance footage showing the violent arrest of a man in a separate incident.
Mesa police released videos Thursday showing the arrest of the teenage robbery suspect, who at times screams in pain as officers search him for a gun.
June 9: Jury Convicts Former CIA Officer of Espionage
 Interesting.  Lt. Dan.
 Today, a federal jury convicted Kevin Patrick Mallory, 61, a former Central Intelligence Agency case officer of Leesburg, Virginia, on espionage charges related to his transmission of classified documents to an agent of the People's Republic of China.
June 9: Exclusive: Woman at center of false DPS trooper rape, kidnapping allegations speaks out
Interesting story and case for body cameras. Lt. Dan
WFAA: DALLAS — Just how exactly wrongful allegations of rape, assault and kidnapping targeting a DPS trooper surfaced publicly last month, remains murky, unclear and essentially bottoms down to who to believe.
June 9: California Today: 'This Is Not Your Grandfather's L.A.P.D.'
NY Times: Even as police shootings in the city remain stubbornly high, and many poor black and Latino residents, especially young men, still complain about heavy-handed tactics, the force has become gentler in recent times, and its demographics more reflective of the city.
Much of that change can be attributed to the work of Connie Rice, a prominent civil rights lawyer who began suing the L.A.P.D. in the late 1980s and in more recent years has worked closely with chiefs to push forward reforms.
June 8: Philly police get new trespass rules after Starbucks arrests
AP: Officers are now instructed to first attempt to de-escalate and mediate disturbances between property owners and accused offenders
June 8: Sheriff's commander who oversaw Parkland shooting response to be replaced
Sun-Sentinel: Broward sheriff's commander who has drawn scrutiny over her agency's response to the Parkland school shooting will be replaced, the city said Thursday.
Capt. Jan Jordan, who led the Parkland district since last year, was the sheriff's incident commander at Marjory Stoneman Douglas High on Feb. 14, the day a gunman killed 17 and wounded 17 others.
June 8: Suspect accused of burning Tennessee deputy's body after killing him
Canoe.com: CHARLOTTE, Tenn. — A man charged with killing a deputy in Tennessee, trying to impersonate him and burning his body now faces federal as well as state charges that could be punishable by death, authorities announced Friday.
​​​June 8: Executive Guidebook: Practical Approaches for Strengthening Law Enforcement's Response to Sexual Assault
PERF: Our larger goal was to identify best practices that all law enforcement agencies can adopt in order to
provide sexual assault victims with the help and the respect they need while improving investigations
and bringing more perpetrators to justice. The report you are holding is the result of that work.
June 8: Indictments accuse Scott County coroner, state trooper, retired officer of multiple crimes
The Scott County coroner, a Kentucky State Police trooper and retired state police colonel were indicted Thursday on charges involving the theft of $40,000 worth of ammunition and weapons.         
June 8: Park Ridge's Success Story on Going Beyond Crisis Intervention Team Training:
COPS: Building Whole-Community Responses to Mental Health
Abstract:  An ongoing concern of today's law enforcement agencies is how to manage officers' increasingly frequent contact with individuals experiencing a mental health crisis and how to do so safely, effectively, and with compassion. To identify best practices, the COPS Office provided funding to the Park Ridge (Illinois) Police Department to pilot a whole-community approach to mental health that extends efforts beyond crisis intervention team training. Together with a team comprising community stakeholders and members of the regional healthcare system, the department worked to expand community engagement and streamline responses to mental health crisis by identifying effective new strategies. This case study tells Park Ridge's story, highlighting lessons learned, sharing promising practices, and identifying opportunities for further exploration and collaboration.
June 7: SC Trooper makes lasting impression on Delaware family (Video)
Fox: CHEROKEE COUNTY, SC (FOX Carolina) –
Stranded on I-85 in Cherokee County, a Delaware family called 911 and Trooper Justin Gardner with SC Highway Patrol arrived.
The family's car had broken down and they needed a way to the airport to pick up a rental car.
June 7;  Former St. Louis officer Jason Stockley sues prosecutor, internal affairs detective over murder charge
St. Louis Today: ST. LOUIS • Former St. Louis police Officer Jason Stockley is suing the former prosecutor who charged him with murder for an on-duty shooting and the internal affairs detective who helped build the case against him.
The suit filed Wednesday claims defamation and malicious prosecution, and says they misrepresented and intentionally disregarded evidence in bringing him to trial.
June 7: Pulse nightclub shooting survivors sue Orlando, its police
CBS: Some of the surviving victims are filing a lawsuit in federal court, saying the city and police didn't do enough to try to stop the shooter
June 7: New Jersey Trooper pulls over driver who helped deliver him 27 years ago
Great story!  Nice to have something a little positive in the news regarding LE.  Lt. Dan.
Fox News:: "My name is Michael Patterson, sir. Thank you for delivering me." 
​June 7: Milwaukee police stepped on Sterling Brown's ankle, mocked him, bodycam footage shows
(CNN)A Milwaukee police officer stepped on NBA player Sterling Brown's ankle during his arrest and others mocked any potential civil rights complaint he might make, according to bodycam footage reviewed by CNN.
June 7: US Law Enforcement Seeks Authority Over Nonmilitary Drones
Voice of America: WASHINGTON — The proliferation of nonmilitary drones in the United States poses a growing national security threat, top U.S. security and aviation officials warned Wednesday as they pressed Congress to pass legislation that would allow agents to target and potentially take down suspicious drones.
June 7: Our 2 Kinds of Criminal Justice, and How to Reconcile Them
Governing: (Opinion)We need both micro justice and macro justice. But they aren't always in sync.
June 7: Is Government Corruption More Common, or Are We Just Better at Finding It?
Governing: Some of today's scandals would have gone unseen a couple decades ago.
June 7: An Alabama sheriff kept $750,000 meant to buy food for inmates. Voters just replaced him.
Washington Post: On Tuesday, Entrekin was effectively voted out of office after losing in the primary by a margin of nearly 2 to 1. The winning challenger, Jonathan Horton, who had pledged during his campaign not to keep any of the feeding funds, "rode a wave of anti-Entrekin sentiment," after the story made national news and followed Entrekin throughout the campaign, AL.com reported.
 June 6: Mesa officers placed on leave after video shows them repeatedly punching man
CBS News: MESA, Ariz. — Four Mesa police officers are on administrative leave following an incident captured on video last month in which a suspect was punched several times. Police Chief Ramon Batista tells Phoenix TV station ABC15 he wasn't notified of the May 23 incident until a week after it occurred and he then began an investigation.
June 6: Police backed taser policy defeated by San Francisco voters
SAN FRANCISCO (BCN) – A citywide proposition put forth by the San Francisco Police Officers Association that outlined a policy for when police officers could use Taser stun guns appears to have been defeated by voters.
Preliminary election results indicate that more than 60 percent of voters voted no on Proposition H.
Article with some good information for audit and inspections staff regarding sexual harassment.  Lt. Dan
IA Online: #MeToo is shining a light on the harassment women have faced in the workplace for decades and have been afraid to report.​
June 6: Soldier accused of stealing armored vehicle seemed to foreshadow plan with tweet (Video)
RICHMOND, Va. — A soldier accused of driving off a Virginia National Guard base in an armored personnel carrier while under the influence of drugs seemed to foreshadow what he planned to do on Twitter. Joshua Philip Yabut tweeted a Wikipedia entry Tuesday about the M113 armored personnel carrier, which is similar to the M577 vehicle driven away during a routine training exercise at Fort Pickett.
June 6: Law enforcement review board lacks accountability, staff and funding, grand jury report says
San Diego Union Tribune: The office charged with independently reviewing deputy misconduct and deaths in custody of San Diego County jails has a history of dismissing cases rather than finishing investigations before their one-year time limit expires, the grand jury said Thursday.
The Citizens Law Enforcement Review Board also has been chronically understaffed, failed to properly oversee its investigative unit and should revise the way members are selected, grand jurors found.
June 6: Voters Recall Judge in Brock Turner Rape Case
Governing: The California judge who prompted a national outcry after handing former Stanford University swimmer Brock Turner a six-month sentence for sexual assault has been recalled by voters in Santa Clara County.
With 43 percent of county precincts reporting, 59 percent of voters favored the recall of Superior Court Judge Aaron Persky, 41 percent opposed the recall, according to The Associated Press, who called the vote early Wednesday. Persky becomes the first California judge in 86 years to be recalled.
June 6: Four Texas prison guards fired, major resigns after allegedly planting evidence in inmate's cell
Chronicle: A Texas prison major has resigned amid an investigation into allegations he orchestrated the planting of two screwdrivers in an inmate's cell apparently as part of a disciplinary quota system at the Ramsey Unit.
Four other officers at the Brazoria County lock-up were fired in connection with the investigation into the planted evidence, according to Texas Department of Criminal Justice spokesman Jeremy Desel.
June 6: How to conduct a cost-benefit analysis of your body-worn camera program
Police One: When deciding to implement a BWC program, the first question a police chief should ask is: "What organizational problems are we attempting to solve?"
June 6: Fatal shootings by LAPD down but less lethal use of force is up, report says
LA Times: Despite adopting new policies to reduce police shootings, use of deadly force by Los Angeles police increased slightly in 2017 from the previous year, but the number of fatal shootings continued a downward trend, according to a report released Tuesday.
June 6: Wildwood police punch video: County clears officers
AP: CAPE MAY COURT HOUSE – The Wildwood police officers videotaped arresting a Philadelphia woman, one of whom was filmed punching her in the back of the head, will not face criminal charges, the Cape May County Prosecutor's Office announced Tuesday.
A video recording of the May 26 arrest, which only captured part of the encounter and included an officer apparently punching 20-year-old Emily Weinman, went viral shortly after the arrest. Body camera footage that city police later released appeared to show Weinman backing away from an officer who made to handcuff her, then shove him in the torso.
June 6: 67 people apply to be next Savannah Police Chief
SAVANNAH, GA (WTOC) – Sixty-seven people submitted applications to become the next chief of police for the Savannah Police Department.
The applicants are from 23 U.S. states and China. Thirteen candidates are from Georgia, and two are current SPD officers.
June 6: ALLEGATIONS OF ETHICAL VIOLATIONS AND MISCONDUCT BY National Park Service SUPERINTENDENT
OIG US Dept Interior: We investigated allegations that James Milestone, Superintendent of California's Whiskeytown National Recreation Area (WHIS), National Park Service (NPS), solicited donations and inappropriately collected funds for Friends of Whiskeytown (FOW), the park partner organization. We also investigated allegations that Milestone had park employees working on FOW projects while on duty, misused deferred maintenance project funds, disregarded cultural compliance process rules and other requirements for a trail project, engaged in gender discrimination and sexual harassment, and misused a Government-owned vehicle.
June 6: Four Texas prison guards fired, major resigns after allegedly planting evidence in inmate's cell
Chronicle: A Texas prison major has resigned amid an investigation into allegations he orchestrated the planting of two screwdrivers in an inmate's cell apparently as part of a disciplinary quota system at the Ramsey Unit.
Four other officers at the Brazoria County lock-up were fired in connection with the investigation into the planted evidence, according to Texas Department of Criminal Justice spokesman Jeremy Desel.
June 5; Garcetti Appoints LAPD Assistant Chief Michel Moore as New LAPD Police Chief
(KNX1070) – Mayor Eric Garcetti announced Monday that LAPD Assistant Chief Michel Moore will replace LAPD Chief Charlie Beck as he prepares to retire.
Moore, who has been with the LAPD since 1981, says he's not coming in as chief with an agenda, he needs the input of others in the department.
Chief Concerns: 3 Mass. Police Chiefs Calling for Change in Wake of Sgt. Gannon's Death
Necn: Three Massachusetts police chiefs are calling on state leaders to reexamine key parts of the state judicial system nearly two months after a violent criminal with a long record was accused of killing a Yarmouth police officer.
All three chiefs have lost officers to career criminals and are harnessing their frustration to push for changes, including increased penalties for repeat offenders, regular review of judges, and the death penalty for convicted cop killers.
Birmingham AL mayor selects Patrick Smith as new police chief
BIRMINGHAM, AL (WBRC) – Birmingham Mayor Randall Woodfin has chosen Tuscaloosa native Patrick Smith as the new chief of police for the city. The announcement was made Monday afternoon.
Smith comes to Birmingham from the Los Angeles Police Department where he has 28 years of law enforcement experience. He started working for the LAPD in 1990 as an officer and was promoted in 2007 to Lieutenant. In 2010, he was promoted to Captain and in 2015, Commander of the Police Sciences and Training Bureau.
Smith is a Tuscaloosa native and Alabama fan who served in the United States Marine Corps from 1982 to 1989.
June 5: Baltimore Police commander under investigation for theft from police-community relations nonprofit
Baltimore Sun: A high-ranking Baltimore police commander who founded a nonprofit to improve police-community relations after the city's 2015 unrest is under investigation for using the charity's funds to pay for a personal European vacation.
Maj. Kimberly Burrus admitted she was being investigated for theft by the department's internal affairs section during a December custody hearing for her son. Burrus oversaw robbery and non-fatal shooting investigations for the Baltimore Police Department before being selected for a national fellowship known for grooming the nation's next police chiefs.
June 5: Justice Department Reaches Agreements with the Ville Platte Police Department and the Evangeline Parish Sheriff's Office
DOJ: The Justice Department today announced that it reached an agreement with the City of Ville Platte and a separate agreement with the Evangeline Parish Sheriff's Office (Louisiana) to end the pattern or practice by the Ville Platte Police Department (VPPD) and the Evangeline Parish Sheriff's Office (EPSO) of conducting arrests in violation of the Fourth Amendment to the United States Constitution. After a thorough investigation, the United States concluded that it had reasonable cause to believe that these agencies had  arrested and held people in jail—sometimes without obtaining a warrant and without probable cause to believe that the detained individuals had committed a crime—in violation of the Fourth Amendment. VPPD and EPSO sometimes used these arrests, called "investigative holds," as a regular part of their criminal investigations, inducing people to provide information to officers under threat of continued wrongful incarceration.
June 5: High-speed police chase leaves four dead in KC crash. Who's at fault?
KansasCity.com: Independence Police Department policy allows an officer to initiate a vehicle pursuit for a number of offenses. But it may be time for the agency to revise its guidelines after a recent chase ended with four people dead.
June 4: Video of Oregon deputy repeatedly punching homeless man under review (Video)
A Marion County Sheriff's Office deputy can be seen repeatedly punching a local transient during an arrest Monday in Detroit, Oregon.
June 4: Armed suspect Bush-whacked by bean-wielding deputy [WITH VIDEO]
Improvised "less lethal" force option: Lt. Dan
YOUNGSTOWN — Thursday's standoff between Sheriff Tommy Ford, Deputy Chief Joel Heape and Maj. Jimmy Stanford and a hammer-wielding man — which began with a call of a gunman and one person down — ended after Stanford snuck behind the suspect in a grocery aisle and hit him in the back with two cans of beans, authorities said Friday.
June 4: California city fights poverty with guaranteed income
STOCKTON, Calif. (Reuters) – Michael Tubbs, the 27-year-old mayor of Stockton, California, has a radical plan to combat poverty in his cash-strapped city: a "no strings" guaranteed basic income of $500 a month for its residents.
June 4: Officer fired after intentionally hitting fleeing suspect with his police car (Video)
ABC News: The Athens-Clarke County Police Department has fired one of its officers after an investigation showed he intentionally ran down and hit a fleeing suspect with his police cruiser.
Officer Taylor Saulters, who was driving the car, was initially suspended, but he was fired by the police department on Saturday.
June 4: Mayor demotes police chief for disrespectfulness (News Video)
HARRISBURG, AR (KAIT) – Harrisburg Mayor Randy Mills has demoted longtime police chief Gary Hefner for "disrespectfulness."
Mills told Region 8 News that he demoted Chief Hefner because of insubordination.
Mills said that Hefner would be in open meetings and would be very disrespectful. "His demotion was because of that," Mills said.
June 4: FBI agent's gun accidentally discharges in Denver nightclub   (Video)
DENVER (AP) – An off-duty FBI agent dancing at a Denver nightclub accidentally discharged a firearm, wounding another patron in the leg, police said Saturday.
The victim, an adult male, was taken to a local hospital in good condition, said Denver police spokesman Sonny Jackson. Police refused to identify the hospital.
June 3: New York Police Department Is Retiring the Revolver
NY Times: About 50 officers still carry the storied six-shot revolver that became the standard department firearm in 1895, but the weapon is being phased out.
June 2: D.C. police commander removed amid rise in homicides
Washington Post: The city police commander in charge of the 7th District station was removed from his position this week and demoted in rank after a rash of homicides, prompting protests from some community leaders and a D.C. council member.
Regis Bryant, a veteran of more than 25 years, was made inspector and assigned to the information and technology bureau, an administrative office. Bryant could not be reached for comment Friday.
June 2: Cyberattack erased dashcam archive for Atlanta Police, chief says
ATLANTA (AP) – Atlanta's police chief says the department's archive of dashboard camera video was wiped out in a March cyberattack.
Chief Erika Shields tells the Atlanta Journal-Constitution and WSB-TV the loss might compromise a drunken driving case, but she's not greatly worried.
June 1: Traffic stop report shows racial disparities as officials downplay numbers
Black drivers were stopped by law enforcement in Boone County at a rate four times higher than that of white drivers in 2017, a new report shows.
The Missouri Attorney General's office collects data on demographics and traffic stops and is required by law to release the data in a report by June 1 each year.
June 1: Audit found additional cases of State Troopers involved in overtime abuse scandal
WESTFIELD, Mass. (WWLP) – An ongoing audit of overtime shifts worked by members of the former Troop E has resulted in the discovery of alleged discrepancies between hours worked and pay received for additional personnel, State Police Colonel Kerry A. Gilpin announced Friday.
June 1: Law enforcement officials push for broader access to social media data
ABC: In the wake of these latest shootings, authorities have raised the question of collecting information from content shared online, once again putting law enforcement officials and social media companies on opposite sides of the debate over the balance between security and privacy.
June 1: Mount Rainier Police Chief Retiring; Investigation Expands
NBC: Scott and six of his officers have been on administrative leave. A source told News4 in April they are under investigation for allegedly throwing out some parking tickets and lowering enforcement fees for some but not others.
June 1: Interim Baltimore Police Commissioner Gary Tuggle has told Mayor Pugh he wants the job permanently
Baltimore Sun: Interim Baltimore Police Commissioner Gary Tuggle has told Mayor Catherine Pugh that he wants the top job permanently, he confirmed Thursday.
Tuggle, 54, was elevated from deputy police commissioner to acting and then interim commissioner earlier this month after former Commissioner Darryl De Sousa was suspended by Pugh and then resigned after he was charged with three federal misdemeanors of failing to file federal tax returns.
June 1: Five New Jersey Police Officers Charged With Official Misconduct and Theft
NBC New York: An investigation revealed that between Nov. 14, 2016 and May 1, 2018 the police officers of the Edison Police Department allegedly were being paid for extra-duty jobs, which they were not present for. The extra-duty, or "side jobs," are in addition to the regular hours that a member of the police department is assigned to work.
June 1: Indianapolis MPD sergeant arrested on official misconduct charge for alleged auto fraud
The Indy Channel: According to IMPD, for more than a year Butler signed inspection forms at Mid America Auto Sales for salvaged or wrecked vehicles without inspecting the vehicle itself. In return, investigators allege Butler was compensated by the auto dealer as much as $100-$150 per title he signed.