Upcoming training: Current event news articles listed below training section. 
Schedule
Date/Time
Event
08/22/2018 - 08/24/2018
08:00 -17:00
IA-101: Internal Affairs Investigations Course - Golden Colorado
Colorado State Patrol Training Academy, Golden CO
09/18/2018 - 09/20/2018
08:00 -17:00
LEIA-101: Introduction to Law Enforcement Inspections and Auditing Course (Palm Beach)
Palm Beach Sheriff's Office Training Facility, West Palm Beach FL. SOLD OUT, Contact LT. Dan to get on waiting list!
09/19/2018 - 09/21/2018
08:00 -17:00
IA-101: Introduction to Internal Affairs Investigations Course
Fairfax County Criminal Justice Academy, Chantilly Virginia
09/26/2018 - 09/28/2018
08:00 -17:00
LEIA-101: Introduction to Law Enforcement Inspections and Auditing Course
National Law Enforcement Telecommunications Systems, Phoenix AZ
10/01/2018 - 10/04/2018
08:00 -17:00
IA-201: Professional Standards Investigations Certificate Course
Peoria Public Safety Administration Building, Peoria Arizona
10/16/2018 - 10/18/2018
08:00 -17:00
LEIA-101: Introduction to Law Enforcement Inspections and Auditing Course
Oklahoma City Police Training Center, Oklahoma City OK
10/23/2018 - 10/26/2018
08:00 -17:00
LEIA-201: Law Enforcement Inspections and Auditing Certificate (LEIAC)™ Course (Palm Beach)
Palm Beach Sheriff's Office Training Facility, West Palm Beach FL
10/30/2018 - 11/02/2018
08:00 -17:00
LEIA-201: Law Enforcement Inspections and Auditing Certificate (LEIAC)™ Course
National Law Enforcement Telecommunications Systems, Phoenix AZ
11/06/2018 - 11/09/2018
08:00 -17:00
IA-201: Professional Standards Investigations Certificate Course
Fairfax County Criminal Justice Academy, Chantilly Virginia
November 13-15, 2018: LD Consulting will be presenting at the IAPro Conference in San Diego.  See you there! 
August 20: Video Shows Sacramento Police Cruiser Strike Teen Being Pursued
Officer.com: Newly released Sacramento Police Department video shows a swerving police car striking a 16-year-old boy on the sidewalk.
https://www.officer.com/on-the-street/vehicles-equipment/in-car-video/news/21018738/video-shows-sacramento-police-cruiser-strike-teen-being-pursued
August 20: After another violent Chicago weekend, top cop says: 'We can only do so much. We cannot be on every street corner'
Even with 600 more officers on the street, nearly as many people were shot in Chicago over the weekend as earlier this month, when a spike in violence prompted the boost in deployment.
At least 58 people were shot in the city from late Friday afternoon through early Monday, and seven of them were killed.
http://www.chicagotribune.com/news/local/breaking/ct-met-chicago-weekend-violence-20180820-story.html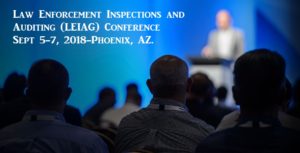 Go to LEIAG.org to learn more and register
August 20: Cops crack down on station house videos after 28th Precinct incident
NY Daily News: A "privileged and confidential" NYPD Legal Bureau memo dated August 15 instructs station house cops to bring criminal trespass charges against people who defy cops' orders to stop shooting video.
The Legal Bureau memo, however, doesn't give cops permission to stop everyone recording incidents on their mobile phones. The directive clearly states that recording in public places such as streets, parks and private property is protected by the First Amendment.
http://www.nydailynews.com/new-york/ny-metro-video-precinct-20180817-story.html
GAO presses OPM for better data on employee misconduct
FCW.com: Less than 1 percent of federal employees are disciplined for misconduct every year, according to data from the Office of Personnel Management. However, a new report from the Government Accountability Office flagged multiple holes in the way OPM collects that data and how it follows up with agencies for trainings to address underlying problems.
https://fcw.com/articles/2018/08/16/gao-federal-misconduct.aspx
Deputy accused of sexual misconduct re-arrested in wake of new allegations
San Diego Tribune: A sheriff's deputy who is already facing criminal charges of on-the-job sexual misconduct involving 13 women was re-arrested Thursday morning, this time on suspicion of five new felonies, including suspicion of sexual assault.
http://www.sandiegouniontribune.com/news/public-safety/sd-me-fischer-rearrest-20180816-story.html
August 19: BAD CHICAGO COPS SPREAD THEIR MISCONDUCT LIKE A DISEASE
The intercept: Many of the most egregious examples of police misconduct arise from tightly knit groups of officers like these. That's no accident. Recently released data from the Chicago police department shows that misconduct spreads from officer to officer like an infectious disease. And the same behavior that leads cops to violate the rules often predicts whether they will participate in a shooting.
https://theintercept.com/2018/08/16/chicago-police-misconduct-social-network/
August 19: Another trooper pleads guilty in overtime probe
Boston Herald: A sixth Massachusetts state trooper has been slapped with a federal embezzlement charge for making off with more than $11,000 from overtime traffic shifts he did not work, prosecutors said.
http://www.bostonherald.com/news/local_coverage/2018/08/another_trooper_pleads_guilty_in_overtime_probe
August 19: CA Law Enforcement Pushes To Preserve California Use Of Force Standard (news video)
SACRAMENTO (KPIX 5) — Law enforcement leaders want lawmakers to consider what it takes to pull the trigger before they vote on a bill to change the standard for police use-of-force from "reasonable" to "necessary."
Many California officers are against the proposal.
https://sanfrancisco.cbslocal.com/2018/08/15/law-enforcement-pushes-to-preserve-california-use-of-force-standard/
August 18: Deputy fires beanbag gun at car window to free trapped bear (Video)
Innovative use of bean bag rounds.  Lt. Dan
NY Post: SOUTH LAKE TAHOE, Calif. — A Northern California deputy fired several beanbag rounds into a back car window to free a trapped bear that had likely been searching for snacks.
https://nypost.com/2018/08/17/deputy-fires-beanbag-gun-at-car-window-to-free-trapped-bear/
August 17: Police, hospital records show warning signs of future firearm injury
I know you'll find this hard to believe. Once again, a study confirms what many of us knew already.  Lt. Dan
Washington EDU: An individual's history of substance use, mental disorder and arrest can indicate an elevated risk of getting shot, according to a new study from the University of Washington School of Public Health. These warning signs illustrate the growing challenges healthcare and police personnel face in recognizing someone at risk of firearm injury.
The study, published in the American Journal of Preventive Medicine on Aug. 16, 2018, is one of the first studies to examine how certain behaviors can be used as warning signs for individuals at risk of getting shot in a crime, by police, unintentionally or by means of suicide.
Link to Report: https://www.sciencedirect.com/science/article/pii/S0749379718318294?via%3Dihub
http://depts.washington.edu/hiprc/police-hospital-records-show-warning-signs-of-future-firearm-injury/
August 16: A Baltimore police officer brutally beat a black man. It's creating new problems for the department.
VOX: On Tuesday, Baltimore State's Attorney Marilyn Mosby announced that the former officer would be charged with assault.
https://www.vox.com/identities/2018/8/13/17684438/baltimore-police-department-violence-dashawn-mcgrier-arthur-williams-indictment-assault-video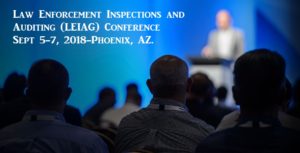 Go to LEIAG.org to learn more and register
August 16: Tracy (CA) police chief terminated, city officials say
TRACY, Calif. (KCRA) —
City of Tracy officials confirmed Wednesday that the Tracy police chief was terminated.
Chief Larry Esquivel was fired Tuesday, but no additional details about his termination were released.  City officials said they cannot give any additional details because it is a personnel matter. Before being hired with Tracy, Esquivel was the San Jose police chief and came to the department with 30 years of law enforcement experience in that city.
https://www.kcra.com/article/tracy-police-chief-terminated-city-officials-say/22738500
August 16: Fulton County Deputy Jailer Indicted for Assaulting Inmate
DOJ: A federal grand jury in Paducah, Kentucky, returned a one-count indictment today charging James Eakes, a deputy jailer at the Fulton County Detention Center, with violating the civil rights of an inmate by assaulting him with a dangerous weapon.
The indictment alleges that on Aug. 14, 2016, Eakes willfully deprived an inmate of the right to be free from cruel and unusual punishment. Specifically, the indictment alleges that Eakes assaulted the inmate with a dangerous weapon, resulting in bodily injury to the inmate.
https://www.justice.gov/opa/pr/fulton-county-deputy-jailer-indicted-assaulting-inmate
August 16: The system is failing the mentally ill — not the cops 
What happens when the police want to help, but the mental-health system won't let them?
NY Post: Last week, a 22-year-old Washington Heights woman said she called the police on her neighbor, Roy Rodriguez, after he threw a brick at her and lunged at her with a knife. Rodriguez reported that he is schizophrenic.
The police came and took him to the hospital for psychiatric treatment, successfully resolving the incident without further harm to anyone involved. Isn't this what we hope will happen when police interact with emotionally disturbed persons?
But the hospital released Rodriguez less than 24 hours after he was brought in. And police are now being blamed for supposedly letting him off easy when, in reality, the failure here is that of New York's mental-health system.
https://nypost.com/2018/08/14/the-system-is-failing-the-mentally-ill-not-the-cops/
August 16: Cleveland police reform will likely extend beyond 5 years
The News Tribune: CLEVELAND: Cleveland's agreement with the U.S. Department of Justice to complete scheduled reforms of the city's police department is expected to exceed the five-year period both sides anticipated.
Cleveland.com reports a semi-annual report released Wednesday by the independent monitoring team overseeing the agreement called a consent decree says "significant" work remains in completing reform measures a federal judge approved in June 2015.
https://www.thenewstribune.com/news/politics-government/national-politics/article216724895.html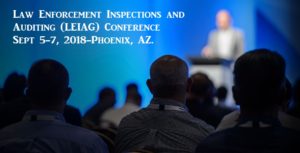 Go to LEIAG.org to learn more and register
August 16: Audit finds improvement at Ferguson municipal court
Star Tribune: ST. LOUIS — A new audit found that Ferguson, Missouri, has made significant progress in addressing problems in its municipal court, which drew scrutiny for its treatment of poor and minority people after the fatal police shooting of Michael Brown in 2014.
Democratic Missouri Auditor Nicole Galloway's report released Monday was a follow-up to an April 2017 audit that found the St. Louis suburb's court system in disarray. The 2017 audit found disorganized files, boxes moldy from a water leak, and cited the assessment of $26,000 in illegal fees and $1,400 in missing funds.
Link to audit: https://app.auditor.mo.gov/Repository/Press/2018050414102.pdf
http://www.startribune.com/audit-finds-improvement-at-ferguson-municipal-court/490728701/
August 16: FBI: Sheriff was bribed to shelter drug dealer for 15 years
ABC: Federal authorities say a Mississippi sheriff gave protection for years to a drug dealer who robbed other dealers and kicked back stolen money and drug profits to the lawman.
The illegal partnership began about 15 years ago when Tallahatchie County Sheriff William Brewer — who resigned Tuesday — began helping a then-teenage drug dealer, federal officials allege in a sworn statement .
https://abcnews.go.com/US/wireStory/fbi-sheriff-bribed-shelter-drug-dealer-15-years-57176998
State police relieve 4 troopers of duty in overtime scandal
BOSTON (AP) — Massachusetts State Police have temporarily relieved four troopers of duty in the ongoing scandal over overtime pay.
Colonel Kerry A. Gilpin, Superintendent of the state police, said Monday the decision is a result of the department's continued review of records and data indicative of whether members were "present and working overtime shifts for which they were paid."
There are scheduled internal hearings for the unidentified officers to determine their duty status will be during the investigation.
https://www.gazettenet.com/State-police-relieve-4-troopers-of-duty-in-overtime-scandal-19462366
August 14: Former L.A. sheriff's deputy pleads guilty in drug trafficking scheme
LA Times: A former Los Angeles County sheriff's deputy pleaded guilty Monday to taking part in a drug-trafficking scheme in which he charged up to $250,000 to protect large shipments of drugs being transported out of state, negotiating the payments with an undercover federal agent, court documents show.
http://www.latimes.com/local/lanow/la-me-ln-kenneth-collins-plea-20180813-story.html
August 14: New LAPD chief collected $1.27M payout before being rehired: report
Fox News: Michel Moore, the new chief of the Los Angeles Police Department, collected a one-time retirement payment of $1.27 million after he retired for a few weeks before being rehired for the same role and pay, The Los Angeles Times reported on Sunday.
Under the city's controversial Deferred Retirement Option Plan, known as DROP, a veteran police officer or firefighter can-- for the last five years of service-- receive their pensions plus salaries. The pension payment is transferred to a special account as long as they retire.
http://www.foxnews.com/us/2018/08/13/new-lapd-chief-collected-127m-payout-before-being-rehired-report.html
August 14: Carmen Best confirmed as Seattle police chief
Best is a 26-year veteran of the Seattle Police Department and the first African American to serve as its permanent chief.
https://www.seattletimes.com/seattle-news/politics/carmen-best-confirmed-as-seattle-police-chief/
August 14: One cop came forward to expose secrets in his own ranks. The revelation rocked the court system
This subject seems to be getting a lot of media coverage in CA.  Lt. Dan
LA Times: Internal records of police misconduct are confidential in California, but state law allows judges to order police agencies to bring personnel files to court if an officer's credibility is formally challenged.
This is not how much of the country operates. In 21 states, records of significant police discipline are public. In many others, prosecutors and defendants are able to access them, eliminating the need for a judge's private review.
http://www.latimes.com/local/lanow/la-me-contra-costa-brady-20180814-htmlstory.html
August 14: Camden's Turn: A Story of Police Reform in Progress; A Guide for Law Enforcement and Community Screenings
COPS: Abstract:  This guide is designed as a tool for law enforcement and community stakeholders to facilitate screenings and discussions of the 28-minute Not In Our Town film Camden's Turn: A Story of Police Reform in Progress. Produced in collaboration with the COPS Office, the film discusses how the entire Camden (New Jersey) Police Department was laid off in 2013 after years of mistrust, violent crime, high arrest rates, and devastating poverty in the city, and the Camden County Police Department took over policing in the city. Moreover….
https://ric-zai-inc.com/ric.php?page=detail&id=COPS-P366
August 13: Details emerge in matter of police belt, and gun found on Jersey City street
Whoops, that's more embarrassing than forgetting your gun in the gun locker.  Not that I've ever done that (the gun locker). Lt. Dan.
New Jersey.com: In Jersey City the officer had put his belt on a car, intending to place it around his waist, when a call came in and he jumped in the car, racing off before realizing his mistake, the sources said. The belt, including the officer's gun, fell off the car nearby at Linden and Princeton avenues, where it was found by a third party, they said.
The officer responsible for the snafu has been on the force for about 10 years and is a well-regarded U.S. Army Ranger, the sources said.
https://www.nj.com/hudson/index.ssf/2018/08/details_emerge_in_matter_of_police_belt_gun_found.html
August 13: Baltimore cop quits after video surfaces of him beating down suspect
We posted the video on this site on 8/11.  Lt Dan
NY Post: A Baltimore police officer quit Sunday after a video of him repeatedly slugging a suspect in the face went viral, cops said.
In the video posted online Saturday, an unidentified officer can be seen pushing and then wailing on a suspect who doesn't appear to fight back.
https://nypost.com/2018/08/13/baltimore-cop-quits-after-video-surfaces-of-him-beating-down-suspect/
August 13: POLICE BODYCAMS CAN BE HACKED TO DOCTOR FOOTAGE
 It will be interesting to see how this plays out. Lt. Dan
Wired: At the DefCon security conference in Las Vegas on Saturday, though, one researcher will present findings that many body cameras on the market today are vulnerable to remote digital attacks, including some that could result in the manipulation of footage.
Josh Mitchell, a consultant at the security firm Nuix, analyzed five body camera models from five different companies: Vievu, Patrol Eyes, Fire Cam, Digital Ally, and CeeSc. The companies all market their devices to law enforcement groups around the US. Mitchell's presentation does not include market leader Axon—although the company did acquire Vievu in May.
https://www.wired.com/story/police-body-camera-vulnerabilities/
August 13: Mississippi sheriff charged with committing drug crimes and extortion over a 15-year span
USA Today: JACKSON, Miss. – The sheriff of Tallahatchie County in Mississippi is behind bars, accused of 15 years of drug trafficking and bribery.
Sheriff William Brewer, 58, of Oakland, was arrested by FBI agents Friday morning and charged with conspiracy to distribute a controlled substance and extortion and bribery under color of official right in violation of the Hobbs Act. Brewer was charged by criminal complaint in U.S. District Court in the Northern District of Mississippi.
https://www.usatoday.com/story/news/nation-now/2018/08/10/tallahatchie-county-sheriff-arrested-federal-drug-extortion-charges/961851002/
August 13: Four women on a unicorn get stuck in the weeds. Deputy ropes them in (Video).
How about a positive LE encounter? Lt. Dan
https://www.twincities.com/2018/08/11/chisago-county-deputy-saves-women-in-lake-on-rainbow-unicorn/
August 13: BLACK COPS ARE JUST AS LIKELY AS WHITE COPS TO KILL BLACK SUSPECTS
New research suggests a culture of bias is a bigger problem than individual racist officers.
Link to research article: https://onlinelibrary.wiley.com/doi/abs/10.1111/puar.12956
https://psmag.com/social-justice/black-cops-are-just-as-likely-as-whites-to-kill-black-suspects
August 13: Dashcam video shows gun battle between 2 Pennsylvania State Police troopers and motorist on Route 33
Many non-LEO don't realize how difficult it is to take someone into custody if they are actively resisting.  This video drives that point home. Lt. Dan
(WARNING: Graphic content and language) This video, edited for length, shows portions of a police dashcam video that captured a traffic stop turned gun battle when Daniel K. Clary opened fire on two Pennsylvania state troopers, critically wounding one, on Route 33 in Northampton County in November 2017.
http://www.mcall.com/news/police/mc-nws-route-33-state-police-trooper-shooting-video-released-20180706-story.html
August 12: OPEN PAYMENTS DATA: REVIEW OF ACCURACY, PRECISION, AND CONSISTENCY IN REPORTING
DHHS-OIG:
Why OIG Did This Review:
The transparency of the Open Payments program reveals the nature and extent of these relationships and has the potential to discourage the development of inappropriate financial relationships. However, the program can benefit the public only if the data reported are complete and accurate.
How OIG Did This Review:
To determine the extent to which data reported were missing elements, or were inaccurate or inconsistent, we downloaded data for 2015 from the Open Payments website in June 2016. To determine the role of the Centers for Medicare & Medicaid Services (CMS) in validating Open Payments data received from manufacturers and group purchasing organizations, we reviewed policies and procedures and other information that CMS provided regarding its oversight
https://www.oig.hhs.gov/oei/reports/oei-03-15-00220.pdf
August 11: Baltimore police officer suspended after video shows him repeatedly punching man (Video)
USA Today: A Baltimore police officer has been suspended after a viral video showed him repeatedly punching and tackling to the ground a man who did not return the blows, authorities say.
Interim Police Commissioner Gary Tuggle said Saturday police were investigating the incident in the video and that it "deeply disturbed" him. The investigation will include a review of body camera footage, Tuggle added in his statement.
https://www.usatoday.com/story/news/nation/2018/08/11/baltimore-police-officer-suspended-after-video-shows-him-punching-man/968025002/
August 11: Suspended police chief accused of buying cocaine online
AP: HACKENSACK, N.J. — Authorities say a suspended police chief in New Jersey has been buying cocaine online.
Prosecutors say Palisades Interstate Parkway Police Chief Michael Coppola went to a post office box to retrieve the order on Thursday. However, detectives had placed a package containing imitation cocaine in the box. Coppola was arrested during a motor vehicle stop in Ridgefield Park.
http://www.startribune.com/suspended-police-chief-accused-of-buying-cocaine-online/490537711/
August 11: Interim police chief shuts down Atwater (CA) evidence storage room pending state audit
Mercedsunstar: The announcement comes on the heels of the revelation that evidence collected in criminal investigations, possibly including guns, cash and drugs, may have disappeared from the Atwater Police Department's evidence storage room.
https://www.mercedsunstar.com/news/local/community/atwater/article216458270.html
August 11: Veteran Chicago Police Officer 'More Afraid Of Media Reaction' Than Being Killed
Worth a watch. Lt. Dan
CHICAGO (CBS) — As many wonder what is causing violence in Chicago and how to solve the gun violence issue, one veteran Chicago Police officer is sharing his rare, first-hand perspective on what he believes to be the cause of crime in Chicago.
https://chicago.cbslocal.com/2018/08/08/veteran-chicago-officer-more-afraid-media-than-killed/
August 10: Baltimore aims to fill the most 'challenging police chief job in the country.' So who would want it?
Baltimore Sun: "I don't think there is a more challenging police chief job in the country right now," said Wexler, the longtime executive director of the nonprofit Police Executive Research Forum. "It's facing a number of challenges: A consent decree, significant crime and issues rebuilding trust."
http://www.baltimoresun.com/news/maryland/crime/bs-md-ci-police-commissioner-job-search-20180719-story.html
August 10: This L.A. sheriff's deputy was a pariah in federal court. But his secrets were safe with the state
Article touches on Brady and California's Pitchess laws.  Lt. Dan
LA Times: The different treatment of Peterson's past in state and federal courts wasn't happenstance. It was just one example of how special privacy protections granted to California's police officers prevent defendants, prosecutors and jurors from learning about information that could undermine an officer's credibility. Those special privacy protections don't apply in federal court.
http://www.latimes.com/local/lanow/la-me-police-misconduct-secrecy-federal-20180810-htmlstory.html
August 9: Footage of fatal police shooting released in Nashville
(CNN)Surveillance footage of a fatal shooting in Nashville last month appears to show a police officer shooting a man in the back as he ran away.
Daniel Hambrick, 25, was fatally shot by Officer Andrew Delke on July 26, the Metropolitan Nashville Police Department said.
https://www.cnn.com/2018/08/09/us/nashville-fatal-police-shooting/index.html
August 9:  Somerset (Ohio) police chief pleads guilty to theft in office
Zanesville Times Recorder: SOMERSET - A former Somerset police Jeremy VanDermark pleaded guilty to using the Perry County village's credit card to pay for purchases for his family's personal vehicles, testosterone supplement and other transactions. The total cost of his improper purchases was around $5,737.
https://www.zanesvilletimesrecorder.com/story/news/2018/08/09/somerset-police-chief-pleads-guilty-theft-office/946504002/
August 9: Denver police to begin "monumental task" of rolling out new use-of-force policy
 Denver Post: After 19 months of public debate, the Denver Police Department will begin training officers this fall on a new use-of-force policy that directs them to use the minimum amount of force necessary to ...
https://www.denverpost.com/2018/08/07/new-denver-police-use-force-policy/
August 9: Police officer told authorities he 'f—-d up' after fatal shooting
A rookie police officer who, according to authorities, said he had "f—-d up" and "didn't know what to do" when he fatally shot an unarmed man in Pennsylvania has been charged with voluntary manslaughter, prosecutors said Tuesday.
https://fox43.com/2018/08/09/police-officer-told-authorities-he-f-d-up-after-fatal-shooting/
August 9: Officer uses Taser on 11-year-old accused of stealing from Ohio supermarket
WTSP: Police say the off-duty Cincinnati officer was working security at the grocery store and was investigating whether several young girls were stealing from the store.
https://www.wtsp.com/article/news/nation-world/officer-uses-taser-on-11-year-old-accused-of-stealing-from-ohio-supermarket/507-581686962
August 9:City Reviews Policy After 11-Year-Old Shocked With Stun Gun
US News: Cincinnati officials calling for changes to police policy after officer used a stun gun on an 11-year-old girl he suspected of shoplifting.
https://www.usnews.com/news/us/articles/2018-08-09/city-reviews-policy-after-11-year-old-shocked-with-stun-gun
August 9:Protesters storm Portland City Hall, injuring guards; arrests made
Oregon Live: A protest against police brutality itself turned violent Wednesday when activists attempted to storm Portland City Hall, clobbered one security guard and scuffled with several others.
It was the biggest disruption to a Portland City Council meeting in more than a year, but the Council did not address the substance of protesters' ire: violent crowd control techniques used by police during a large counter-demonstration downtown Saturday.
https://www.oregonlive.com/portland/index.ssf/2018/08/protesters_storm_portland_city.html
August 9:OIG Office of Investigations' Records Demonstrate Compliance with Law Enforcement Availability Pay Requirements
The U.S. Environmental Protection Agency's Office of Inspector General (OIG) conducted this internal control review to determine whether criminal investigators in the OIG's Office of Investigations properly record Law Enforcement Availability Pay (LEAP) hours in compliance with federal requirements and OIG policies and procedures.
https://www.epa.gov/office-inspector-general/report-oig-office-investigations-records-demonstrate-compliance-law
August 9:Chicago police solve one in every 20 shootings. Here are some reasons why that's so low.
The Police Department's struggle to solve violent crime or earn the cooperation of residents is not a new problem — nor one that will be solved quickly, said experts, cops and law enforcement leaders alike on Tuesday.
http://www.chicagotribune.com/news/local/breaking/ct-met-chicago-violence-clearance-rate-20180807-story.html
Phoenix Police Chief Jeri Williams: Assaults against officers up 45% this year
ABC 15: In a memo to the community by Phoenix police chief Jeri Williams, she said there has been a 45% increase in the number of assaults against Phoenix officers, with one out of ten of those assaults involving a firearm.
Chief Williams said the officer-involved shootings don't follow a trend based on location, intersection or neighborhood and have happened throughout the city.
https://www.abc15.com/news/region-phoenix-metro/central-phoenix/phoenix-police-chief-jeri-williams-assaults-against-officers-up-45-this-year
August 9: In Oakland, More Data Hasn't Meant Less Racial Disparity During Police Stops
NPR: For more than 15 years, Oakland's police department has been under federal oversight following a police abuse and racial profiling scandal.
As part of a negotiated settlement in 2003, the city agreed to work toward sweeping police reforms. The Riders Settlement mandated ongoing monitoring of the department, including the collection of data on police stops and an end to discriminatory policing.
But there's mounting frustration that federal oversight and better data collection have not led to real change, despite a massive price tag.
https://www.npr.org/2018/08/08/636319870/in-oakland-more-data-hasnt-meant-less-racial-disparity-during-police-stops
August 9: City of Peoria (AZ) names Art Miller as new police chief
PEORIA, AZ - The City of Peoria has selected Art Miller as their new police chief.
Miller spent most of his career with the Los Angeles Police Department, from 1978 to 2012. For 20 years he held upper-level management roles within the department.
https://www.abc15.com/news/region-west-valley/peoria/peoria-police-names-art-miller-as-new-police-chief
Why West Virginia Lawmakers Are Trying to Impeach Almost Every Supreme Court Justice in Their State
Governing: The West Virginia House Judiciary Committee approved 14 articles of impeachment against the four sitting justices of the West Virginia Supreme Court of Appeals on Tuesday.
August 9: Chief Ranger Mismanaged Law Enforcement Program at a National Par
DOJ-OIG: We did find that the chief ranger mismanaged several aspects of the park's law enforcement program, including overtime pay for his staff, enforcement of the park's occupancy requirements for law enforcement personnel, and scheduling of staff to ensure there was adequate law enforcement coverage at the park.
August 9: Measure To Overhaul Police Oversight Dies At San Diego City Council
KPBS: A measure proposed for the November ballot to overhaul civilian oversight of San Diego police officers failed at the City Council on Monday, after council members deadlocked on whether to start talks about the issue with the police officers' union.
August 9: Dallas police detective under investigation after audit finds assault cases mishandled
Dallas News: The department wouldn't comment on how many cases went unworked or how far back they dated, but WFAA-TV (Channel 8) reported that more than 800 cases dating back to 2015 were never investigated.
August 9: Video Shows Nevada Trooper's Close Call
 Officer.com: A dashboard camera released by the The Nevada Highway Patrol shows a driver slam into a cruiser's door as a trooper was conducting a traffic stop along a freeway ramp Monday.
August 9: (Video): Man stomps all over police cars. Cops did nothing, and now they're suspended
On Saturday afternoon, the tightrope every cop walks between weakness and strength, and harassment and enforcing order got very slippery for two Newark officers, who today are suspended for failing to act when a young man began jumping on police cars.
August 8: Pensions Beat Expectations for 2nd Straight Year
Governing: It's been another good year for public pension investment returns. But the gains won't make a big difference in their overall fiscal health.
August 8: Policing the Connected World: Using Social Network Analysis in Police-Community Partnerships
COPS:  Law enforcement agencies are increasingly using social network analysis (SNA) to understand the organization of gangs and other criminal networks, to identify their relationships, and to analyze data that can be used to focus crime prevention efforts. This report details the implementation of a SNA program developed by the COPS Office in partnership with Yale University.
https://ric-zai-inc.com/ric.php?page=detail&id=COPS-W0859
August 8: Final rules announced for federal 911 upgrade grant program
Police One: The U.S. Department of Transportation and the U.S. Department of Commerce's grant program will help upgrade call centers to Next Generation 911 capabilities
https://www.policeone.com/police-products/police-technology/articles/478837006-Final-rules-announced-for-federal-911-upgrade-grant-program/
August 7: Missing Baytown police officer found dead from apparent suicide
Nearly a week after he walked out of his Chambers County home and vanished, search teams on Tuesday found the body of Baytown police officer John Stewart Beasley, obscured from view in remote field near Baytown.
https://www.chron.com/news/houston-texas/article/Missing-Baytown-police-officer-found-dead-in-13137882.php?ipid=amp-most-popular
August 7: Misconduct by an FBI Special Agent INVESTIGATIVE SUMMARY
DOJ-OIG: Findings of Misconduct by an FBI Special Agent for Receiving Gifts from a Former FBI Confidential Human Source, Using the Source After Deactivation, Protecting the Source and the Source's Illegal Business, Misusing FBI Assets for Personal Gain, Lack of Candor, and Computer Security Policy Violations
https://oig.justice.gov/reports/2018/f180806.pdf
August 7: Portland Police Chief Orders Review of Use of Force at Protest
VOA News: Chief Outlaw directed the professional standards division to begin gathering evidence to determine if the force used was within policy and training guidelines. The Office of Independent Police Review will be provided with the information for review and investigation.
August 7: Former deputy indicted on fraud charges involving non-profit
AP: The indictment says the former deputy used some of the police-dog nonprofit group's funds between 2010 and 2015 to make payments on his personal credit card, to pay cable and cellphone bills and make purchases at stores and restaurants.
August 7: Two Sheriff's Staffers Accused of Sexual Contact With Inmate
US News: Authorities say two Arkansas sheriff's office employees accused of having sexual contact with an inmate have been arrested and terminated.
August 6: Oregon Sergeant Who Took Discarded Drugs Is Guilty of Misconduct
US News: PORTLAND, Ore. (AP) — A Gresham police officer who stole discarded prescription medications from a drop-off box at station headquarters has pleaded guilty to official misconduct and been sentenced to probation. 
August 6: Ex-NYPD detective facing 5 years in jail after pleading guilty to perjury
NY Post: A former NYPD detective admitted Friday to falsifying evidence and then lying about it under oath during a federal court proceeding.
Michael Foder, 42, now faces up to five years behind bars and a $250,000 fine following his guilty plea to a single perjury count.
August 3: DoD OIG Releases 2018 Compendium of Open Recommendations
dvidshub : The 2018 Compendium identifies an increase in open recommendations – from 1,298 in 2017 to 1,558 as of March 31, 2018. The increase was the result of new OIG reports that were issued in the last year. 
August 3: Videos released that detail how fired NC trooper handled 2 previous traffic stop
News Observer: Newly released videos show a North Carolina state trooper who was fired in June aggressively handling drivers during two separate traffic stops.
Video footage from dash cameras show Michael Blake during traffic stops on Aug. 31, 2016, and on March 28 of this year.
August 3: Ohio police chief overdosed on drugs taken from evidence room, investigators say (News Video)
USA Today: REYNOLDSBURG, Ohio – An Ohio police chief who died of a fentanyl overdose allegedly took the drugs from his department's evidence room, authorities say.
Kirkersville Police Chief James Hughes Jr., 35, was found unresponsive in the bathroom of his Reynoldsburg home on May 25. He was pronounced dead a short time later.
August 3: How today's BWC footage will shape tomorrow's LEO training
Police One: Many police departments currently have the capability to use body-worn camera footage to improve training protocol. If the advancements don't require futuristic tech, what is available, and how can we deploy the fundamental changes?
August 2: LAPD Releases Video of Deadly Standoff 
Officer.com: On Tuesday, at a news conference unveiling dramatic video footage LAPD Chief Michel Moore described changes in tactics and weaponry that may lessen the odds of another hostage situation ending in the death of an innocent person.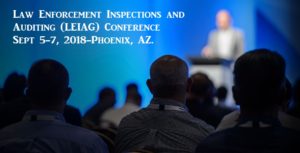 EARLY Registration discount expires on August 4th!  Go to LEIAG.org to learn more and register
August 2: Crime in uniform: Judge gives 8 years for ex-deputy in attempted rape
Sun Sentinel: A former Palm Beach County Sheriff's deputy convicted of attempted rape deserves an 8-year prison sentence because it happened in uniform, a judge ordered Wednesday.
"You used your authority during the commission of this crime," Palm Beach County Circuit Judge Cheryl Caracuzzo told Jason Nebergall, while also designating him as a sexual offender.
August 2: Deputy fired after inmate escaped, rode atop patrol car (Video)
NY Post: ABILENE, Texas — A West Texas sheriff's deputy has been fired after video showed him driving down a Texas highway with an inmate sitting on the roof.
The deputy had been transporting 31-year-old Martin Gregory Estrada when the man broke a patrol car window and climbed onto the vehicle's roof. The deputy summoned help and didn't stop until backup arrived.
August 2: Taylor County Sheriff explains why deputy was fired after inmate escaped patrol car
KTXS: TAYLOR COUNTY, Texas — On Wednesday afternoon, the Taylor County Sheriff's Office defended their decision to fire former deputy Ricky L. Wombles for reaching speeds of up to 115 miles per hour when a prisoner managed to escape from the back of his patrol unit and climb onto the rooftop of the car.
August 1: Buzzwords aside, new Denver police chief Paul Pazen wants the department to become more progressive
Denver Post: Basically, Pazen wants to use data analysis to figure out who and what is driving crime and then ask others to help the police combat problems that lead to crime — mental illness, addiction, unstable families.
August 1: Jury finds former Aurora officer guilty of official misconduct; he receives suspended sentence
ARAPAHOE COUNTY, Colo. – A former Aurora Police Department lieutenant pleaded guilty Friday to one count of official misconduct for trying to use the National Crime Information Center database to steal an identity his girlfriend could use to get a job.
August 1: Study: 'Cooling-off periods' don't help cops remember officer-involved shootings
Washington Post: The discrepancy arises from the unlikely but popular and persistent theory that while the memories of regular people tend to degrade over time, the memories of police officers somehow improve after they're given a few days to ruminate. A cynic might point out that this theory also gives the officers involved some time to collaborate on a story.
The study, was first previewed at a national police chiefs' conference and is being reviewed for publication.
August 1: Scottsdale PD Patrol Operations 2017
Found this one while researching the Scottsdale City Auditor's website.  Also entered in LEAIG web resource site.  LT. Dan
Objective: To evaluate the effect of the FY 2016/17 staffing reorganizations on previous CPSM study results on Patrol Operations, such as comparative workloads, response times and time spent on calls.
Link to report: https://www.scottsdaleaz.gov/Assets/ScottsdaleAZ/Auditor/Audit-Reports/2017+Reports/Patrol+Operations+-+Report+1703.pdf 
Link to report highlights: https://www.scottsdaleaz.gov/Assets/ScottsdaleAZ/Auditor/Audit-Reports/2017+Reports/Patrol+Operations+-+Report+1703.pdf
August 1: The larger problem behind Scottsdale's police body camera audit

AZ Central: Scottsdale's audit that found officers aren't appropriately handling some of the body-camera footage they are recording.
Link to audit report: https://www.scottsdaleaz.gov/Assets/ScottsdaleAZ/Auditor/Audit-Reports/2018+Reports/Police+On-Body+Cameras$!2c+Report+1808.pdf
Link to report highlights doc: https://www.scottsdaleaz.gov/Assets/ScottsdaleAZ/Auditor/Audit-Reports/2018+Reports/Police+On-Body+Cameras+-+HIGHLIGHTS+1808.pdf

August 1: Unified police board needs stronger oversight of sheriff, state audit says
KSL.com; Salt Lake City: According to the audit, the board and sheriff should find ways for management to be "fully accountable" to the cities the department serves and to ...
The purpose of these procedures was to assist Unified Police Department in evaluating its operations, reporting, and compliance, in accordance with Utah Code 67-3-1(4). We performed the following procedures at UPD:….
Link to audit report: https://reporting.auditor.utah.gov/servlet/servlet.FileDownload?file=015410000038jikAAA
August 1: Audit: Some Anchorage workers who drove city vehicles home were never called out on city business
Anchorage City Audit: The objective of this audit was to determine if there were sufficient controls over Municipal take-home vehicles. Specifically, we reviewed approvals of all Municipal take-home vehicles, monthly usage reports, emergency/call-out records, and the Central Payroll Office's reporting of take-home vehicles.
Link to Report: http://www.muni.org/Departments/internal_audit/2018%20Audit%20Reports/2018-04.pdf
August 1: Police Versus Teachers: Do You Know Who Earns More In Your State?
Forbes
Police officers and teachers. Two jobs that are so much more than the merely an occupation. They demand serious responsibility, integrity, patience, ...
August 1: Massachusetts Town Loses Its Entire Police Force as All 4 Members Quit
New York Times
BLANDFORD, Mass. — The police cruiser sat at the edge of the parking lot in front of the town offices, angled toward the road as if an officer inside ..
Aug 1: Police fatally shoot Colorado man in his own home, moments after he killed an intruder
USA Today: A Colorado man — who had just killed a home intruder moments before — was fatally shot by police after he was mistaken for a burglar.
July 29: Seattle's system for predicting bad cops doesn't work
This is an interesting article regarding some changes in philosophy regarding EIS, Lt. Dan.
Crosscut.com: A fix put into place in 2015 was intended to end that. But if the bar was too low back then, the department now has a different issue: The newly reformed system apparently lacks any predictive power at all. Where a head-in-the sand attitude once let high-risk officers slip through the cracks, the department has found that its current approach is at best random and at worst biased against certain officers.
Skipped, partially worked overtime shifts missed by Massachusetts State Police troopers reached as high as 116 shifts
MassLive: The number of specialized overtime shifts either completely skipped or partially worked by a number of Massachusetts State Police troopers reached as high as 116 shifts, sources confirmed to MassLive.
July 29: West Virginia sheriff's deputy goes viral after raw post about vicious fight with suspect
A reminder of how tough the job can be. Lt. Dan
July 29: Tech and law enforcement should deepen cooperation to fight crime
The Hill: Debate about law enforcement's ability to access encrypted devices and communications remains a stalemate. Law enforcement leaders continue to insist on the need for extraordinary access to encryption in criminal investigations; technology experts note that such an approach would bring untenable risks to the security and privacy of individuals, businesses, and critical infrastructure. While this stalemate persists, a range of other challenges hindering criminal investigations are left unaddressed. This outcome is bad for everyone involved and it is time for a new approach.
July 29: OKC police chief: reforms leading to fewer inmates in Oklahoma County jail
NewsOK: Fewer inmates are locked in the Oklahoma County jail on municipal charges, with a top cop attributing the decrease to reforms in policing and the court system.
July 28: Amazon's facial-recognition tool misidentified 28 lawmakers as people arrested for a crime, study finds
Washington Post: Amazon.com's facial recognition tools incorrectly identified Rep. John Lewis (D-Ga.) and 27 other members of Congress as people arrested for a crime during a test commissioned by the American Civil Liberties Union of Northern California, the watchdog said Thursday.
The ACLU said its findings show that Amazon's so-called Rekognition technology — already in use at law-enforcement agencies in Oregon and Orlando — is hampered by inaccuracies that disproportionately put people of color at risk and should prompt regulators to halt "law enforcement use of face surveillance."
July 28: Alamo executive secretary accused of leaking sensitive police information to drug traffickers
The Monitor: ALAMO — The executive secretary for the city of Alamo was arrested Thursday night for engaging in organized criminal activity after allegedly leaking sensitive police department information to a local drug trafficking organization.
July 27: LA County sheriff announces inquiry into secret societies of deputies and their matching tattoos
Los Angeles Times
Los Angeles County Sheriff Jim McDonnell has launched a comprehensive inquiry into secret deputy cliques and is looking into whether gangs that ...
July 27: Encryption? Law enforcement's biggest obstacle to digital evidence is more basic, study finds.
Washington Post: The major problem law enforcement faces in obtaining digital evidence is not the encryption of devices but figuring out which company holds the relevant data and how to get it, according to a study released Wednesday by the Center for Strategic and International Studies.
Link to report: https://csis-prod.s3.amazonaws.com/s3fs-public/publication/180725_Carter_DigitalEvidence.pdf?tAGR_DvxRdp0RspiGYNGcGKTUjrGY3rN
July 27: Allegheny County Sheriff's Office Employee Charged with Obstruction of Justice and Lying to the FBI
DOJ: According to the indictment, while employed as a clerk with the Allegheny County Sheriff's Office (ACSO), Romanowski had access to sensitive law enforcement information, including information related to ongoing federal investigations with which ACSO assisted. As alleged, between in and around February 2018 and in and around April 2018, Romanowski disclosed non-public, sensitive law enforcement information to two personal associates, identified as Person A and Person B, in an effort to protect Person B from investigation and prosecution by federal authorities. According to the indictment, Person A and Person B were targets of an ongoing, multi-agency federal grand jury investigation focused on the criminal activities of a large-scale, violent drug trafficking organization operating in the West End neighborhood of Pittsburgh. Person B allegedly was a senior member of the drug trafficking organization.
July 27: Georgia cops who arrested woman after appearing to use coin flip app are fired (news video)
July 27: Citizen police oversight did not create change at APD, audit finds
My statesman: The report, completed in June by the city auditor's office, looked into the effectiveness of the Citizen Review Panel and the police monitor's office.
The Citizen Review Panel was a volunteer board of community members charged with examining cases of police misconduct and complaints. It was established in 2001 under a labor contract between the city and the police labor union. After an updated version of that contract was nixed in late 2017, the panel was suspended by the former interim city manager.
Link to report: http://www.austintexas.gov/sites/default/files/files/Auditor/Audit_Reports/Effectiveness_of_Citizen_Police_Oversight_June_2018.pdf
July 27: 'This agreement will stand the test of time': Mayor Emanuel, AG Madigan unveil draft plan for Chicago Police Department reform
Chicago Tribune: Illinois Attorney General Lisa Madigan and Mayor Rahm Emanuel announced a proposed court agreement Friday that sets the stage for a federal judge to oversee reforms in the Chicago Police Department and kicks off what is certain to be months of debate over exactly how the troubled force will be overhauled in the years to come.
The 232-page draft is the first iteration of a planned consent decree that eventually would serve as a court-enforced mandate governing how officers use force, how they are trained and how they will be held accountable, among other areas. The proposal will be open to public scrutiny before it's filed in federal court for further consideration.
Chicago Fraternal Order of Police President Kevin Graham, however, blasted the proposed consent decree as "illegal and invalid," calling it "politically motivated" and vowing to fight it in court. Graham said the agreement would cost taxpayers hundreds of millions of dollars. The city and FOP are in negotiations over the union's next contract.
July 27: Misconduct, mismanagement and civil rights struggles: Baltimore Police have had a difficult July
Baltimore Sun: From a federal judge questioning whether officials have what it takes to implement to civil rights reforms, to a sergeant charged after an alleged drunken crash, the Baltimore Police department has had a difficult July.
The Baltimore Sun has published over 20 stories this month reporting on alleged misconduct by officers, budgetary mismanagement and questions over new efforts to hold the department accountable.
July 27: The City of Jacksonville Agrees to Pay $4.9 Million to Settle Employment Discrimination Lawsuit
DOJ: The Department of Justice today announced that it has reached a settlement agreement with the City of Jacksonville, Florida (the "City") to resolve allegations that the City's promotional practices for positions in the Jacksonville Fire and Rescue Department (JFRD) violated Title VII of the Civil Rights Act of 1964. Title VII is a federal law that prohibits employment discrimination on the basis of race, color, sex, national origin, or religion. The proposed settlement agreement, which must still be approved by a federal judge, finalizes an agreement in principle reached by the parties in January 2017.
July 26: VA whistleblowers say Denver OIG office did no work for a year
KDVR: The combined salaries of those employees during that time frame totaled more than $1.2 million.
"Long lunches, I mean watching movies, reading books. I mean I was doing school work. I`m not going to lie I did not have any work assigned. I spent the majority of my time doing school work," said whistblower No. one, who happened to be a paid intern making $47,214 a year to help conduct information technology audits.
July 25: Ex Fremont County detective sentenced to 15 days for mishandling evidence
Denver Post: Robert Dodd will be allowed to remain free pending an appeal of his conviction.  The records involved were discovered in December 2016 inside a storage unit that had been previously owned by Dodd. They were suspected to be evidence linking a suspect to the area where Candace Hiltz was brutally gunned down in 2006.
July 24: How Police Are Changing Lineups to Avoid False IDs
Governing: The new policies, which have been adopted by police in half the states, largely grew out of research showing that traditional police practices and cues often induced witnesses to identify the wrong suspect.
June 24: 2 Seattle police officers fired for shooting at fleeing car. 
PoliceOne: SEATTLE — Two Seattle police officers who unleashed a barrage of gunshots at a fleeing car in the Eastlake neighborhood last year, wounding the driver and a passenger, have been fired after a lengthy internal investigation.
June 24: LAPD officer fired bullet that killed Trader Joe's employee during weekend standoff, chief says
MSN: LOS ANGELES — The Los Angeles Police Department announced Tuesday that one of its officers fired the bullet that struck and killed a Trader Joe's employee in the frantic moments they exchanged gunfire with a suspect in an attempted murder case over the weekend.
June 24: Miami Beach crime scene technician accused of mishandling evidence
Local 10: Jason Bruder mishandled evidence in 9 cases, police say.  Some items were stored in a temporary storage locker that were exclusively controlled by Bruder rather than being properly checked into the Police Department's evidence storage facility.
July 23: Sexual misconduct reports spike in California prisons
SacBee: California prison inmates filed 1,150 complaints last year alleging they were mistreated sexually behind bars, a 29 percent increase over 2016.
The numbers are striking, but victim advocates and state prison officials say the trend might actually reflect greater confidence among inmates that their complaints will be taken seriously since the department adopted policies complying with a federal rape reporting rule
July 23: William Gross named Boston police commissioner as William Evans retires for Boston College post
July 22: Study Finds Aging Inmates Pushing Up Prison Health Care Costs
Pew Trusts: "Health care is consuming a growing share of state budgets, and corrections departments are not immune to this trend," said Maria Schiff, director of the State Health Care Spending Project, an initiative of Pew and the John D. and Catherine T. MacArthur Foundation.
July 22: New first responder stamp to be released by USPS
USPS; The stamp includes a firefighter carrying an axe, an EMS worker and a law enforcement officer shining a flashlight
With this stamp, the Postal Service recognizes the men and women — including firefighters, law enforcement officers, and emergency medical service professionals — who respond to critical situations with skill, dedication and uncommon bravery.
July 22: Albany (NY) appoints new police chief
ALBANY, N.Y. (NEWS10) - The city of Albany has named a new police chief.
Mayor Kathy Sheehan said the city picked the new top cop from a pool of more than 30 applicants. If confirmed, he will be the second African American police chief in Albany's history.
Eric Hawkins has more than 27 years of experience in law enforcement. Most recently, he led the Southfield, Mich. department since 2012 where he reduced crime by 45 percent.
July 22: What Seattle's new police-chief pick Carmen Best means for law enforcement
Seattle Times: Public-defense leader Lisa Daugaard, a longtime criminal-justice reform advocate, explains why community activists and the police union are happy about Mayor Jenny Durkan's police-chief choice.
July 22: Fired Texas police chief arrested for allegedly stealing cash from evidence
MSN: Chief Ortiz told investigators "he was having financial difficulties and took the currency with the intent to replace it," according to court documents viewed by Big Country Homepage.
July 21:Florida Mayor Orders Sex Harassment Training for Police Department
Officer.com: July 21: Palmetto Police Chief Scott Tyler and his department have been ordered to undergo sexual harassment and other sensitivity training following an investigation into complaints about inappropriate comments made by officers.
July 21: Police chief convicted of official oppression, tampering with government record
My Statesman: Llano TX: The offense report documenting that arrest — approved and presented by Ratliff —omitted the fact that Ratliff had entered the camper and misrepresented that the man had been arrested in public, according to the district attorney's office.
July 21: Galveston County deputy allegedly admits to picking up drugs for inmate
BC 13: Authorities say an inmate had arranged to have contraband delivered to an offsite location by a third party and deputy Sanchez.
On July 19, the sheriff's special crimes unit interviewed Sanchez, in which he admitted to being in possession of 3.6 grams of synthetic marijuana along with other items of contraband.
July 21: City settles sex misconduct suit involving ex-police chief
SALT LAKE CITY (AP) — The city of Provo, Utah, has reached a $750,000 settlement with five women who said in a lawsuit that it failed to take action to protect them from sexual harassment and assault by a former police chief.
July 20: Philadelphia Controller audit of city's sexual misconduct policies and procedures finds a broken system
Philly Tribune: A City Controller audit of Philadelphia's sexual misconduct policies and procedures found a broken system that failed to protect employees, while the city paid out more than $2 million in settlements over nearly six years.
Link to audit report: https://3og1cv1uvq3u3skase2jhb69-wpengine.netdna-ssl.com/wp-content/uploads/2018/07/Sexual-Misconduct-Audit-Report.pdf
July 20: DEPARTMENT OF VETERANS AFFAIRS: Actions Needed to Address Employee Misconduct Process and Ensure Accountability
If you're tasked with an engagement regarding misconduct processes, this report may give you some ideas. Lt. Dan
GAO: Employee misconduct at VA's medical facilities can have serious consequences for veterans. We looked at how VA deals with employee misconduct and found several opportunities for improvement.
Link to report: https://www.gao.gov/products/GAO-18-137
July 20: Three stripped of law enforcement certifications at Elba Police Dept. (News Video)Trust but Verify! Lt. DanMONTGOMERY, AL (WSFA) Gunter, who was the firearm training instructor, admitted to forging names and information on documents but said he acted under the directive of Lt. Lavoie who approached him saying they needed the documents because of an upcoming audit.Lavoie admitted to entering the false information into the computer system. He says he did so to keep the chief happy.July 20: Monitor: Baltimore police committed to reform; work remainsAP: BALTIMORE: The monitoring team overseeing Baltimore police reform says the police department's work so far has "demonstrated a genuine commitment to reform," but it's concerned about reaching future benchmarks.The team's first semiannual report was submitted to the court Wednesday. It emphasizes the extensive work needed in the coming years. The team is overseeing an agreement the city and Justice Department reached after a report outlined widespread police misconduct and abuse.July 19: The 2018 Yellow Book AvailableGreat News, the NEW YELLOW BOOK has arrived.  I'll be up late tonight reading this!  LT. Dan. U.S. GAO Yellow Book: Today we issued a new revision of the Generally Accepted Government Auditing Standards, also known as the "Yellow Book," which supersedes the 2011 revision of the standards.July 19: Audit of Clarke sheriff's department may expandOn Line Athens: Athens-Clarke County's Office of Operational Analysis plans to expand its audit of the Clarke County Sheriff's Department, and could undertake another audit after the current study of operations is complete.Athens-Clarke Internal Auditor Stephanie Maddox has submitted a revised work plan to the commission for approval, outlining the proposed additions to the scope of the sheriff's office audit. Preparations began earlier this year with interviews of employees, former staff and retirees from the sheriff's office, according to a report Maddox gave Athens-Clarke commissioners at the commission's agenda-setting meeting Tuesday.

July 19: Huntington Beach Police Headquarters Is Falling Apart While The City Weighs What To Do

Trending for today: "There's lots of buildings out there younger than this one that are heavily used that aren't in this condition," Peterson said. "I'm not pointing fingers, but something should've been done years ago, especially mechanically."

July 19: Scoring and Evaluation of Selected Procurements at the Health and Human Services Commission

Texas State Auditor: In response to an April 6, 2018, request from the Office of the Governor, the State Auditor's Office conducted a targeted audit of the evaluation tools used for selected procurements that the Health and Human Services Commission (Commission) reported. This audit is part of a continuing audit of the Commission's contract management processes.

July 19: NYPD's assistant inspector general chosen as Chicago's police watchdog

Chicago Sun Times: An assistant inspector general riding herd over the New York Police Department has been chosen to serve as Chicago's deputy inspector general for public safety.  Joseph Lipari replaces Laura Kunard, who resigned from the $137,052-a-year job in January after just six months on the job.

July 18: FLETC senior management dysfunctional

DHS-OIG: The U.S. Department of Homeland Security Office of Inspector General released a report Friday detailing a large number of allegations of impropriety at the Federal Law Enforcement Training Center at Glynco by personnel — allegations made both with the whistleblower's name attached and anonymously.

Link to Report: https://www.oig.dhs.gov/sites/default/files/assets/FOIA/OIG_FOIA_Report-Investigation-FLETC-Misconduct.pdf

July 18: Fatal Police Shooting In Chicago Highlights Tense Relationship In The City

NPR: Now to Chicago, where a fatal police shooting over the weekend has inflamed tensions between police and some people who live in mostly black and Latino neighborhoods of the city. Over the last few years, Chicago police have made a number of reforms that the city says has made it - have made a difference. Activists say the fatal encounters show otherwise. NPR's Cheryl Corley reports.

July 18: Number of Canadian government employees fired for misconduct, incompetence sees sharp increase

CBC: New management system, technology reportedly catching more bad apples

The number of public servants who lost their jobs for misconduct rose 67 per cent, from 55 in 2005-06 to 92 in 2015-16, the last year for which figures were available from Treasury Board.

The number of people fired for incompetence has also increased. In 2005-06 the government fired 49 people for incompetence or incapacity. In 2015-16 that number rose to 77 — a 57 per cent jump.

Union leaders say the number of people fired is just the tip of the iceberg. Most federal public servants who are disciplined face lesser sanctions, such as reprimands or suspensions.

July 17: Fort Worth detective fired for passing off cases, attempting cover-up, documents show

Star Telegram: A Fort Worth police detective was fired late last month for allegedly swapping difficult cases for easier ones, then trying to cover it up once he was caught, police documents state.

Cpl. Jason Gipson was indefinitely suspended from the department effective June 26, according to disciplinary records obtained by the Star-Telegram through an open records request.

He was the second officer fired by the department in recent months. In May, the department fired another officer, Deautric Sims, for falsifying time sheets and not turning over seized marijuana, according to Civil Service records.

July 17: NYPD to DOJ: We're Not Waiting Anymore for Justice for Eric Garner

Governing: The New York Police Department on Monday said that after four years it is done waiting and will place Officer Daniel Pantaleo on trial in the chokehold death of Eric Garner.

Deputy Commissioner Lawrence Byrne, the NYPD's top lawyer, said in a letter sent Monday that unless the feds publicly announce by Aug. 31 whether Pantaleo will be prosecuted, the NYPD will soon after serve him with departmental charges, with an eye on a trial at the beginning of 2019.

July 17: Officer Health and Organizational Wellness: Emerging Issues and Recommendations (Document)

COPS: In October 2017, the Officer Safety and Wellness Group met to address these concerns, focusing on three main topics: (1) emotional health and organizational wellness, (2) officer suicide, and (3) felonious assaults on officers. In addition to discussing current priorities, participants recommended a wide variety of steps to improve officer safety and wellness. Among them were changes in organizational culture to lessen the stigma surrounding emotional distress, event response protocols for suicides, strategies to strengthen emotional resilience, and improved data collection related to felonious assaults.

July 17: U.S. CUSTOMS AND BORDER PROTECTION:

GAO- OIG: Progress and Challenges in Recruiting, Hiring, and Retaining Law Enforcement Personnel

July 17: Dramatic video shows police pursuit, officer shooting through car windshield (VIDEO)

I don't post these too often, but if you haven't seen this one, it's worth a look.  Lt. Dan

LAS VEGAS – Dramatic body cam footage of a Las Vegas officer-involved shooting was released Monday, in which an officer appears to shoot at a suspect through a patrol car windshield.

July 17: 73 Law Enforcement Line-of-Duty Deaths in First Half of 2018

NLEOMF: Firearms-related fatalities increase 24 percent over same period last year. Washington —Today the National Law Enforcement Officers Memorial Fund issued a new 2018 Mid-Year Law Enforcement Officer Fatalities Report with preliminary data through June 30, 2018, revealing that 73 law enforcement officers have been killed in the line of duty in 2018—a 12 percent increase over the same period last year (65).

July 17: U.S. CUSTOMS AND BORDER PROTECTION:

GAO- OIG: Progress and Challenges in Recruiting, Hiring, and Retaining Law Enforcement Personnel

July 17: Dramatic video shows police pursuit, officer shooting through car windshield (VIDEO)

I don't post these too often, but if you haven't seen this one, it's worth a look.  Lt. Dan

LAS VEGAS – Dramatic body cam footage of a Las Vegas officer-involved shooting was released Monday, in which an officer appears to shoot at a suspect through a patrol car windshield.

July 17: 73 Law Enforcement Line-of-Duty Deaths in First Half of 2018

NLEOMF: Firearms-related fatalities increase 24 percent over same period last year. Washington —Today the National Law Enforcement Officers Memorial Fund issued a new 2018 Mid-Year Law Enforcement Officer Fatalities Report with preliminary data through June 30, 2018, revealing that 73 law enforcement officers have been killed in the line of duty in 2018—a 12 percent increase over the same period last year (65).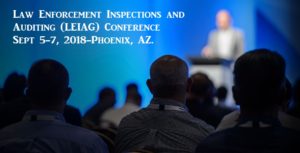 Go to LEIAG.org to learn more and register
July 16: Law Enforcement Availability Pay: Premium Pay Compensation Not Supported by Agency Need
Although published back in March, this may give you some good ideas if you are tasked with doing a similar engagement regarding overtime. Lt. Dan.
GAO-OIG: Objectives: This is a publication by GAO's Inspector General that concerns internal GAO operations. This report addresses (1) the extent to which agency need, as directed by management or self-identified by a criminal investigator, required Forensic Audits and Investigative Service's (FAIS) criminal investigators to work hours beyond their regularly scheduled 40-hour workweek; and (2) whether criminal investigators met the Law Enforcement Availability Pay (LEAP) Act substantial hours eligibility requirement for receiving LEAP premium pay.