Upcoming training: Current event news articles listed below training section. 
Schedule
November 13-15, 2018: LD Consulting will be presenting at the IAPro Conference in San Diego.  See you there!
Prince George's County police officer charged with rape of woman during traffic stop (New Video)
Oct 17: Detectives arrested Officer Ryan Macklin, a 6-year veteran of the department, on Monday evening, according to Prince George's County Police Chief Hank Stawinski. He is facing charges of first-degree rape, second-degree rape, second-degree assault, fourth-degree sex contact and perverted practice.
http://www.fox5dc.com/news/prince-georges-county-police-officer-accused-of-sexually-assaulting-women-during-traffic-stop
Oct 17: SENIOR FBI OFFICIAL LIED ABOUT ACCEPTING SPORTS TICKETS FROM REPORTERS
A senior FBI official accepted tickets to sporting events from reporters and initially lied about it to government investigators, according to a report released Tuesday.
The conduct of the FBI official, who has not been identified, violated federal regulations that prohibit federal employees from accepting gifts from journalists and other "prohibited sources."
https://dailycaller.com/2018/10/16/senior-fbi-official-lied-about-accepting-sports-tickets-from-reporters/
Oct 16: NY chief blames four-two schedule for increased OT
Police One: Chief Frank Fowler cites the schedule as one of the reasons why the department needs to hire more officers to fill shifts
https://www.policeone.com/staffing/articles/481758006-NY-chief-blames-four-two-schedule-for-increased-OT/
Video Shows Miami-Dade Police Detective Slapping Handcuffed Suspect
Oct 16:  CBS Miami: It happened back in March of this year, when Brayn Crespo, 18, was being led out of his Allapattah residence in handcuffs after he was arrested for allegedly stealing airbags from cars.
https://miami.cbslocal.com/2018/10/15/video-shows-miami-dade-police-detective-slapping-handcuffed-suspect/
Oct 15: As E-Scooters Roll Into American Cities, So Do Safety Concerns
A little obscure for audit news.  I had no idea this was happening, guess I live a sheltered life.  Lt. Dan
Over the past year, companies have been rolling out electric scooters by the thousands in cities across the country — from Milwaukee to Washington, D.C., to Lubbock, Texas. People download the app, find a nearby scooter and then just unlock and ride. But as these shared scooters have spread, so have concerns about safety.
https://www.npr.org/sections/health-shots/2018/10/15/656270365/as-e-scooters-roll-into-american-cities-so-do-safety-concerns
Oct 15: California sheriff's deputies use Doritos to round up loose pig (Video)
WDSU: Deputies knew who the pig belonged to due to previous calls and were able to lure the pig home thanks to Doritos one of the deputies had in their lunch bag, making a trail for the pig to follow.
https://www.wdsu.com/article/california-sheriffs-deputies-use-doritos-to-round-up-loose-pig/23764251
Ex-Ohio Highway Patrol trooper gets prison for drug charges
Oct 14: WKBN: The patrol fired Delcol when he was indicted in February
Prosecutors said Delcol sold illegal drugs, provided an accomplice with a bulletproof vest and lied to police to protect the accomplice. The drugs included testosterone, anabolic steroids, human growth hormone and oxycodone.
Delcol was one of six people arrested for being part of a central Ohio drug ring. The patrol fired Delcol when he was indicted in February.
https://www.wkbn.com/news/ohio/ex-ohio-highway-patrol-trooper-gets-prison-for-drug-charges/1520582844
Former Kansas sheriff's deputy sentenced for lying about gun
Oct 14: KOKH FOX25 (AP) — A former deputy with the Hamilton County Sheriff's Department was sentenced to a year and a day in federal prison for lying to investigators ...
Oct 14: Deputy public defender pleads guilty to giving gun to felon
San Diego Union Tribune: However, the father of two 39-year-old twins who were in court earlier in the day on related matters said Bayer is suspected of giving his sons a firearm.
Matthew and Michael Tellechea are in jail on charges ranging from attempted murder, arson, manufacturing hash oil, making threats, brandishing a firearm and vandalism.
http://www.sandiegouniontribune.com/news/courts/sd-me-lawyer-arraigned-20181012-story.html
Oct 13: CONTACT BETWEEN POLICE AND THE PUBLIC FELL
BJS: Presents data on the nature and frequency of contact between police and U.S. residents age 16 or older, including demographic characteristics of residents, the reason for and outcomes of the contact, police threats or use of nonfatal force, and residents' perceptions of police behavior during the contact.
Highlights:
The portion of U.S. residents age 16 or older who had contact with the police in the preceding 12 months declined from 26% in 2011 to 21% in 2015, a drop of more than 9 million people (from 62.9 million to 53.5 million).
The number of persons experiencing police-initiated contact fell by 8 million (down 23%), the number of persons who initiated contact with the police fell by 6 million (down 19%), and the number experiencing contact from traffic accidents did not change significantly.
Whites (23%) were more likely than blacks (20%) or Hispanics (17%) to have contact with police.
Police were equally likely to initiate contact with blacks and whites (11% each) but were less likely to initiate contact with Hispanics (9%).
Link to full report: https://www.bjs.gov/index.cfm?ty=pbdetail&iid=6406
Link to Summary: https://www.bjs.gov/content/pub/pdf/cpp15_sum.pdf
Naming Rights: Orlando's new police chief is named Orlando
Oct 13: WSBT-TV
Mayor Buddy Dyer announced Orlando's newest police chief during a ceremony ... Orlando Rolon will also be the city's first Hispanic police chief.
Oct 13: Clinton Mayor and police chief bond out of jail after Friday arrests
WBRZ: CLINTON – Video: The Clinton mayor as well as the town's Chief of Police have turned themselves in to authorities after arrest warrants were issued for both of them this week.
According to the arrest documents obtained by WBRZ Friday, the charges are related to the purchase of four SUV's for the town's police department which Mayor Lori Ann Bell and Chief Frederick Dunn signed off on in June. The warrant alleges the two orchestrated the purchase without approval from the town council nor correspondence with the town's attorney.
http://www.wbrz.com/news/clinton-mayor-wanted-police-chief-in-custody-over-controversial-suv-purchases/
FBI personnel recalled from Asia amid misconduct probe
Oct 13: Fox News
FBI personnel recalled from Asia amid misconduct probe. Oct. 12, 2018 - 3:36 - The Wall Street Journal reports the Justice Department's inspector .
https://video.foxnews.com/v/5848152771001/?#sp=show-clips
Oct 12: State Police Sought To Destroy Records Amid Payroll, Overtime Scandals
WBUR: In the months since the Massachusetts State Police has been rocked by overtime and payroll scandals, records show the agency sought to destroy more than 160 boxes of documents tracking payroll, detail assignments, attendance and personnel records — some dating back as far as 26 years.
The day after the Boston Globe published a story in March exposing an entire division of the state police had payroll records hidden from the public, the agency requested permission to destroy 115 bankers boxes worth of records.
In a statement, state police spokesman Dave Procopio said the requests in question "are in compliance with the Secretary [of State's] retention schedule and the records, due to their age, are not currently the subject of any outside investigation or audit."
"None of the records in question have been destroyed and in light of current ongoing investigations pertaining to similar records, the State Police will retain past payroll records until further notice," he continued.
http://www.wbur.org/news/2018/10/10/state-police-records-destruction-requests
Oct 12: National Law Enforcement Museum opens in Washington
Check this out on your next visit to DC.  Let me know what you think. I haven't been there yet, but it looks interesting. Lt. Dan
Fox Video: Absorbing interactive exhibits combine with history and light touches of controversy.
https://video.foxnews.com/v/5847512932001/?#sp=show-clips
Oct 12: Police: Man uses device to block Duluth cop's radio signals during robbery
AJC: A routine burglary arrest in Duluth became not-so routine when an officer tried to call for backup — and couldn't.
Duluth police said David Hannan, of Lithonia, had a device on his belt that was jamming radio signals, preventing the officer to use his radio, Channel 2 Action News reported.
https://www.ajc.com/news/crime--law/police-man-uses-device-block-duluth-cop-radio-signals-during-robbery/3ZX3gWZpC1cqCurwkNLeOM/
Oct 12: N.J. police officer arrested after brutal K-9 attack that cost city $3M
Video depicts incident: LT. Dan
An Atlantic City police officer has been arrested for his role in a June 2013 arrest that left a Linwood man with 200 stitches after a brutal attack by the officer's K-9.
Sterling Wheaten, an officer with the Atlantic City Police Department since 2007, was arrested by federal authorities Thursday, NJ Advance Media has confirmed.
https://www.nj.com/news/index.ssf/2018/10/atlantic_city_police_officer_arrested_castellani_c.html
Oct 12: Border Patrol misconduct stats point to Texas
WASHINGTON (AP) — The Border Patrol sector in Laredo, Texas — where two agents were accused this year of multiple murders in separate cases — disciplined employees more on average over two years than any other major sector, according to data released by U.S. Customs and Border Protection on Friday.
The findings were part of a comprehensive look at misconduct at the 60,000-employee law enforcement agency that includes the Border Patrol. The data showed overall there was a decline in substantiated complaints of misconduct and fewer arrests of agents between the budget years 2016 and 2017.
https://www.apnews.com/c0cba5f73b904f2fbac68ef376a8846b
Oct 12: U.S. Customs and Border Protection Discipline Overview Fiscal Years 2016-17
Format if you ever need to do a report such as this.  Lt. Dan
CBP: The release of the U.S. Customs and Border Protection (CBP) Discipline Overview for Fiscal.  Years (FY) 2016-17 supports CBP's goal to improve transparency by informing the public about the Agency's management of misconduct allegations. As the largest law enforcement agency in the Nation, CBP focuses on strategically recruiting, training, and retaining a wide range of personnel to meet the demands of its increasingly complex global mission. Regardless of rank, position or duty station, every employee is accountable for upholding the highest standards o professional conduct, to personify CBP's core values of Vigilance, Service to Country and Integrity.
Link to Report: https://www.cbp.gov/sites/default/files/assets/documents/2018-Oct/CBP-FY16-17-Public-Discipline-Report-508.pdf
Oct 12: Interior Dept. disciplined 1,500 employees for misconduct
Washington (CNN)The Interior Department disciplined 1,500 employees in 2017 and 2018 for misconduct, according to an internal email obtained by CNN.
The employees, both full-time staff and probationary appointees, have either been removed, reprimanded or suspended, according to the email sent by Interior Deputy Secretary David Bernhardt.
https://www.cnn.com/2018/10/11/politics/interior-department-employee-misconduct/index.html
Oct 12: Alaska suspect lit on fire after he sat on trooper chemical agent
Moral of the story:  Don't sit on chemical munitions! Lt. Dan
A witness said the man had a gun in his hand and a bottle of beer next to him. When he refused to get out, troopers launched a chemical agent inside.
Troopers say the man sat on the non-lethal munition and exited with his clothes on fire.
https://www.ktuu.com/content/news/Non-lethal-munition-ignites-clothing-of-suspect-in-pickup-497230301.html
Oct 12: Third Mass. State Trooper Pleads Guilty In Overtime Scandal, 2 Other Troopers Appear In Court
CBS: Boston: Federal prosecutors said 45-year-old Gary Herman, of Chester, pleaded guilty Thursday to embezzlement from an agency receiving federal funds. He is the third trooper to plead guilty. Under a plea deal, Herman faces six to 12 months in prison at sentencing on Jan. 17.
https://boston.cbslocal.com/2018/10/12/massachusetts-state-police-trooper-gary-herman-third-pleads-guilty-overtime-pay-scandal/
Oct 11: Video: Man flees, gets hit by truck after punching officer in face
The assault began when the officer was pulled into a car during a traffic stop and assaulted by three men
https://www.policeone.com/Officer-Safety/articles/481720006-Video-Man-flees-gets-hit-by-truck-after-punching-officer-in-face/
Oct 10: Trump Administration Will Oppose Chicago Police Reforms
Washington Examiner: U.S. Attorney General Jeff Sessions on Tuesday announced he would file a statement in federal court opposing the proposed court order that would force sweeping changes to the city's Police Department.
https://www.washingtonexaminer.com/news/white-house-to-oppose-pending-chicago-police-reform-agreement
Oct 9: Two Detroit cops charged with home invasion
Detroit News: "It is alleged that (the officers) were part of the burglary task force, and entered a home without a search warrant at 22550 block of Pembroke," Assistant Wayne County Prosecutor Maria Miller said in a statement. "They also did not have an arrest warrant for the person they were searching for, who was not in the house. They instead detained and arrested the homeowner."
https://www.detroitnews.com/story/news/local/detroit-city/2018/10/08/2-detroit-cops-charged-home-invasion/1566750002/
Oct 9: Florida Officer Accused Of Selling Drugs to Undercover Detective
Huffington Post: "Officer White was selling the drugs out of his marked patrol vehicle, while in uniform, and was using his personal cell phone to facilitate the drug deals," according to a Florida Department of Law Enforcement news release. (News Video)
https://www.huffingtonpost.com/entry/florida-officer-accused-of-selling-drugs-to-undercover-detective_us_5bbbfe11e4b01470d05464c7
Oct 9: This Sheriff Pocketed $750K in Jail Food Funds. He Also Bought a $740K Beach House. No Ethics Violation Here.
Governing: "It really is a county by county analysis [because] the law often varies by county (generally does) regarding the money in food accounts. The investigation revealed that there was no violation of our Act based on the applicable local and state laws."
Alabama Sheriff Entrekin has argued repeatedly that he did not break any laws by keeping the money, and it appears that he is permitted to do so under a Depression-era state law. But lawyers and experts have said that he may have run afoul of federal law by keeping money his office received from the federal government to feed Immigration and Customs Enforcement detainees housed in his jail.
http://www.governing.com/topics/public-justice-safety/tns-alabama-ethics-prison-food-sheriff-entrekin.html
Oct 8: Florida Deputy Accused of Sexually Battering Trainee
NBC Miami: The Polk County Sheriff's Office said that Scott Walker met the male trainee last Wednesday so he could help him write reports. At the time, Walker was armed and working an off-duty detail at a residence.
The affidavit says after Walker helped the trainee, he demanded a sex act and reached into the trainee's underwear and sexually battered him.
https://www.nbcmiami.com/news/local/Florida-Deputy-Accused-of-Sexually-Battering-Trainee-495365781.html
Oct 7: LA Deputy pushes stranded woman's wheelchair one mile home
(CBS) - A sheriff's deputy in California is being praised after he pushed an elderly woman in a wheelchair one mile to her home. Lancaster Sheriff's Deputies Chapman and Montanez got a call about a traffic hazard earlier this week. They were told it was a wheelchair in the middle of the road, but when they arrived on the scene, they realized it was much more.
https://www.wjhl.com/news/national/deputy-pushes-stranded-womans-wheelchair-one-mile-home/1498433178
Oct 7: Deputies: Viral video of altercation between deputy and woman doesn't show the full story
WESTMORELAND COUNTY, Va. -- What started as a traffic stop in a Northern Neck town has now gone viral on Facebook after a witness captured an altercation between a deputy and a woman.
The Facebook video, which has more than 15,000 views, showed a Westmoreland County deputy and a woman engaged in a physical struggle at a gas station.
Westmoreland County deputies said the video on Facebook only shows part of the story.
https://wtvr.com/2018/10/05/deputies-viral-facebook-altercation-doesnt-show-the-full-story/
Oct 6: A historic murder conviction of a Chicago cop — and a city's sigh of relief
This case was never about one cop.
Police scandals in Chicago have come and gone. But since the court-ordered release of a police dashboard camera video showing Van Dyke shooting McDonald as he walked down a Southwest Side street holding a knife, the city has faced a political and social reckoning unlike any in recent decades.
Police Superintendent Garry McCarthy was fired. Voters ousted Cook County State's Attorney Anita Alvarez. Mayor Rahm Emanuel opted not to run for re-election.
Three other Chicago police officers have been charged with conspiring to cover up what really happened on Pulaski Road on the night of Oct. 20, 2014, and are slated to go to trial late next month. In addition to that criminal case, the entire Police Department now faces federal oversight following a U.S. Department of Justice investigation into the shooting.
http://www.chicagotribune.com/news/local/breaking/ct-met-laquan-mcdonald-jason-van-dyke-guilty-20181005-story.html
Oct 6: Alabama police chief arrested for allegedly masturbating in front of women and children
PANAMA CITY BEACH, Fla. wric.com — According to Panama City Beach Police, on October 2, 2018, patrol officers responded to the Aqua Condominiums, in reference to a suspicious person.
Officers made contact with security staff and were advised guests of the resort observed a white male masturbating while watching females.
https://www.wric.com/news/national/alabama-police-chief-accused-of-masturbating-in-public-in-florida/1501282481
Oct 6: Investigation into former Sudbury police chief cost $811,000
The Sudbury Star: VICTORIA — The Victoria and Esquimalt Police Board says an external investigation into the conduct of a disgraced former chief constable cost $811,000.
Frank Elsner, a former deputy chief and chief with Greater Sudbury Police, resigned from the Victoria Police Department in 2017 amid an investigation into inappropriate social media messages sent to the wife of a subordinate officer.
The board also says Elsner was paid nearly $270,000 in salary and benefits after he was suspended in April 2016.
https://www.thesudburystar.com/news/national/investigation-into-former-sudbury-police-chief-cost-811000
Oct 6: Western New York police chief facing federal drug charges
WHEC: Chief Peter Breitnauer from Kenmore near Buffalo was arrested on federal drug charges for possessing Hydrocodone.
According to News10NBC's affiliate in Buffalo, WGRZ, Breitnauer was taking prescription pills from the medication drop box located at the police station.
https://www.whec.com/news/western-new-york-chief-drug-charges/5098243/
Oct 5: External Peer Review of the DoD OIG Inspections and Evaluations Components
The DoD OIG received the results of its first external peer review of its Inspections and Evaluations components. The CIGIE peer review team conducted the peer review for the period October 2 through November 17, 2017.  The CIGIE peer review team determined that the DoD OIG Inspections and Evaluations components' policies and procedures generally met the Blue Book standards addressed in the peer review.  They also concluded that the reports they reviewed also met the applicable Blue Book standards.
https://media.defense.gov/2018/Oct/05/2002048822/-1/-1/1/I&E%20EXTERNAL%20PEER%20REVIEW_MEMO.PDF
Oct 5: Undercover cops break Facebook rules to track protesters, ensnare criminals
NBC: Facebook is teeming with fake accounts created by undercover law enforcement officers. They're against the rules — but cops keep making them anyway.
https://www.nbcnews.com/news/us-news/undercover-cops-break-facebook-rules-track-protesters-ensnare-criminals-n916796
Oct 5: News outlets petition DOJ over list of officers with credibility issues
Several news outlets, including the Monitor and the Valley News in West Lebanon, have joined the American Civil Liberties Union of New Hampshire in petitioning the state's Department of Justice to release an unredacted list of police officers with credibility issues.
https://www.concordmonitor.com/ACLU-NH-multiple-newspapers-file-lawsuit-over-Laurie-List-20653849
Oct 5: Siri can now discreetly record if police pull you over
USA Today "Hey Siri, I'm getting pulled over." (video)
With that one phrase, drivers can get an added sense of security the next time they're pulled over.
With a new app called Shortcuts, iPhone users can create their own verbal commands to trigger their phones to perform a wide variety of actions – all without needing to press a button or touch the screen.
https://wtvr.com/2018/10/05/siri-can-now-discreetly-record-if-police-pull-you-over/
Oct 5: Monterey deputy caught having 'sexual encounter' with inmate, Sheriff's Office says
SALINAS, Calif. — A sheriff's deputy working in the Monterey County Jail was caught having a "sexual encounter" with a female inmate inside a supply closet, the Sheriff's Office announced Friday.
An inmate witnessed deputy Marlon Jay Alvarenga engaging in sexual activity with another inmate on Oct. 2, according to investigators.
https://www.ksbw.com/article/monterey-jail-deputy-caught-having-sexual-encounter-with-inmate-sheriffs-office-says/23623179
Oct 5: Colorado State Patrol fires Steamboat trooper after inappropriate actions with 3 women
STEAMBOAT Pilot Today: Steamboat SPRINGS — A Colorado State Patrol trooper working out of Steamboat Springs has been fired after allegations surfaced that he acted inappropriately with women he had arrested for driving under the influence.
https://www.steamboatpilot.com/news/colorado-state-patrol-fires-steamboat-trooper-after-inappropriate-actions-with-3-women/
Oct 5: Trooper suspected of using State Police computer to track down women
WTVR: A Louisiana state trooper used law-enforcement databases to get the names and addresses of women and then began contacting them with often unsettling advances, authorities said after the trooper's arrest.
https://wtvr.com/2018/10/05/trooper-suspected-of-using-state-police-computer-to-track-down-women/
Oct 5: L.A. County deputies stopped thousands of innocent Latinos on the 5 Freeway in hopes of their next drug bust
The team of Los Angeles County sheriff's deputies cruises the 5 Freeway, stopping motorists on the Grapevine in search of cars carrying drugs.
They've worked the mountain pass in Southern California since 2012 and boast a large haul: more than a ton of methamphetamine, 2 tons of marijuana, 600 pounds of cocaine, millions of dollars in suspected drug money and more than 1,000 arrests.
But behind those impressive numbers are some troubling ones.
http://www.latimes.com/local/lanow/la-me-sheriff-latino-drug-stops-grapevine-20181004-htmlstory.html
Oct 5: Building and Sustaining an Officer Wellness Program: Lessons from the San Diego Police Department
COPS-DOJ: Abstract:  Law enforcement agencies around the country are recognizing the importance of monitoring and tending to employees' physical and mental health and wellness. This publication discusses the establishment and operation of a dedicated unit at the San Diego Police Department with the goal of promoting a department-wide culture of wellness. Working toward this goal will also help the department better serve its community. The Police Executive Research Forum, working with the SDPD under a cooperative agreement from the COPS Office, identified lessons learned and recommendations that will help guide other local agencies that may be interested in setting up similar programs.
https://ric-zai-inc.com/ric.php?page=detail&id=COPS-W0864
Oct 5: Building and Sustaining an Officer Wellness Program: Lessons from the San Diego Police Department. Essentials for Leaders.
COPS-DOJ: Abstract:  In 2016, the Police Executive Research Forum (PERF) entered into a cooperative agreement with the Department of Justice's Office of Community Oriented Policing Services to conduct a case study of the San Diego (California) Police Department's wellness program. The goal of this case study was to identify recommendations and lessons that will help other law enforcement agencies across the country create their own successful wellness initiatives. This executive summary highlights the high-level overview of the PERF project Building and Sustaining an Officer Wellness Program: Lessons from the San Diego Police Department and outlines promising practices for other agencies to use in creating their own wellness initiatives that are tailored to their specific needs and resources.
https://ric-zai-inc.com/ric.php?page=detail&id=COPS-W0863
Oct 5: Cincinnati police chief to council: Hire cops or mandatory overtime will be needed to keep streets safe
Cincinatti.com: A wave of police officer retirements has Cincinnati Police Chief Eliot Isaac so worried he's telling City Council to hire new cops now or patrol officers could be forced to work overtime to keep the streets safe.
https://www.cincinnati.com/story/news/politics/2018/10/03/cincinnati-police-chief-eliot-isaac-told-council-he-needs-more-cops/1507797002/
Oct 5: Is police misconduct treated differently in the cellphone video age?
It depends whom you ask. Some point to a clear about-face by police chiefs who have to clean up after such incidents, while others say it's too soon to know if the reactions in these cases represent a permanent policy shift.
http://www.wmal.com/news/is-police-misconduct-treated-differently-in-the-cellphone-video-age/
Officer Down Memorial: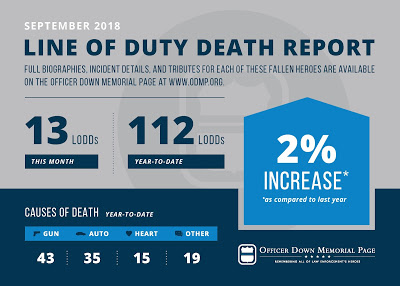 http://blog.odmp.org/2018/10/end-of-watch-report-september-2018.html?mc_cid=66c476ece8&mc_eid=273e2fe802
Oct 5: 911, what time is it? How smart watches are impacting 911 call centers
Have you ever tried to find a watch? If not, it is very time consuming. Dispatching these calls isn't what delays customer service, it is the process of calling back every smart watch-wearing citizen. Although policy varies between 911 call centers, it has the same impact overall, which is a call taker is temporarily unable to take an inbound emergency call due to calling a 911 hang-up back from a watch.
https://www.joinipsa.org/IPSA-Blog/6390549
Oct 4: Today we completed our  Professional Standards Investigations Certificate Course with 13 law enforcement professionals earning their certifications.  The following agencies attended Peoria, AZ. PD (hosting agency) San Luis PD, Yuma PD, Pinal County SO, Winslow, AZ. PD.   Thanks to Peoria PD for hosting
Oct 4: Westland (Michigan) police sergeant, two EMTs charged in death of jail inmate
Deadline Detroit: A Westland Police sergeant and two paramedics face involuntary manslaughter charges in connection with the 2017 jail death of a man who was convulsing for more than an hour and died from cocaine toxicity. They're accused of failing to provide proper medical care.
http://www.deadlinedetroit.com/articles/20727/westland_cop_2_paramedics_charged_in_jail_death#.W7W1ZmhKhPY
Oct 4: Deputy admits to groping teen girl in fast-food line
VISTA, Calif. — A San Diego County Sheriff's deputy who groped a teenage girl while standing behind her in a Vista fast-food restaurant line pleaded guilty Wednesday to committing a lewd act with a 14-year-old child and unlawfully taking computer data.
https://fox5sandiego.com/2018/10/03/sheriffs-deputy-admits-to-groping-teen-in-fast-food-line/
Oct 4: Former Tallassee, Alabama, Police Officer Indicted for Civil Rights Violations and Obstruction of Justice
DOJ: The indictment alleges that Smirnoff twice used unlawful force on arrestees and submitted a false report to cover up one of the incidents. In the first incident, on March 29, 2016, Smirnoff slammed a handcuffed man to the ground, then used unreasonable force while placing him into a police vehicle. In a second incident on July 5, 2015, Smirnoff tased a man who had already been placed in handcuffs and was not physically resisting. As a result of these unjustified uses of force, both victims sustained bodily injuries. The indictment further charges that Smirnoff obstructed justice by submitting a false report about the second incident.
https://www.justice.gov/opa/pr/former-tallassee-alabama-police-officer-indicted-civil-rights-violations-and-obstruction-0
Oct 3: Jury clears LAPD officer in 2016 fatal shooting of armed 18-year-old
LA Times: A Los Angeles police officer did not use excessive force when he fatally shot an armed 18-year-old man in the back, a jury decided Monday. The lawsuit, filed in Los Angeles Superior Court by Watkins' estate and his mother, Prescious Sasser, sought damages for wrongful death, negligence and other alleged violations.
http://www.latimes.com/local/lanow/la-me-kenney-watkins-lawsuit-20181001-story.html
Oct 3: Who you gonna call? Inspectors General.
The Hill: In 1984, Bill Murray and Dan Aykroyd popularized that line – "Who you gonna call?" – from the theme to "Ghostbusters." In 2018, however, "if there's something weird/and it don't look good," the safest call may be to an inspector general. From allegations of FBI skullduggery, to accusations of profligate spending by cabinet offices, to theft and corruption surrounding the $126 billion spent on Afghanistan's reconstruction, the inspector general community is increasingly in the news and relied upon for unvarnished, independent assessments on matters of grave national concern.
Oct 2: Police release video of deadly shootout in Baltimore alley
Policer One: Footage shows the suspect fired first, letting off 10 shots and that officers responded with 30 shots
https://www.policeone.com/body-camera/articles/481602006-Police-release-video-of-deadly-shootout-in-Baltimore-alley/
Oct 2: Md. man hit by brick during burglary dubbed 'Bad Luck Bandit' (Video)
Police One: Police say the man repeatedly tried to break the window protecting the front counter, and the brick bounced back on the third try
https://www.policeone.com/bizarre/articles/481601006-Md-man-hit-by-brick-during-burglary-dubbed-Bad-Luck-Bandit/
October 2: Audit finds state can't locate 1,300 sex offenders (Missouri)
Columbia Daily Tribune: ST. LOUIS — Police don't know the whereabouts of nearly 1,300 registered sex offenders in Missouri, including hundreds who fall into the most dangerous category, according to a state audit released Monday.
Missouri law requires convicted sex offenders to register their names, addresses and other information with their county law enforcement, most often the sheriff's department. The Missouri State Highway Patrol maintains a publicly available database. Offenders must keep their information up-to-date and notify law enforcement when they move.
The audit released by state auditor Nicole Galloway says 1,259 sex offenders are unaccounted for — about 8 percent of the nearly 16,000 registered sex offenders in Missouri — and it blames inadequate enforcement of the registration requirement at the local level. In 14 counties and the city of St. Louis, the whereabouts of more than 10 percent of sex offenders is unknown.
Link to State Audit report:
http://app.auditor.mo.gov/Repository/Press/2018106545581.pdf?_ga=2.35678819.258267503.1538500056-1174106941.1538500056
October 2: US Customs and Border Protection fails with drone surveillance privacy, security
An audit by the Office of Inspector General found US Customs and Border Protection failed to consider the privacy of drone surveillance data, as well as IT security controls.
Link to audit report: https://www.oig.dhs.gov/sites/default/files/assets/2018-09/OIG-18-79-Sep18.pdf
October 2: Ottawa cops to be allowed to use pot off duty
The Grow Hop.com: Off-duty Ottawa police officers will be permitted to use cannabis once it's legal in Canada later this month, Chief Charles Bordeleau said Monday, as long as they're "fit for duty" when they report for work.
The policy is similar to the one for drinking alcohol or even using prescription drugs, he said.
https://www.thegrowthop.com/news/local-news/ottawa-cops-to-be-allowed-to-use-pot-off-duty/wcm/2f3f621a-a2a2-4e3c-a7ad-b181045e3ea7
October 2: Mass. State Police force shrinks, while workload grows
Boston Glboe: Massachusetts State Police troopers are retiring at a record clip this year, pushing staff levels lower even as the department is trying to both expand its operations and rein in overtime costs.
The agency, mired in scandals and battling low morale, has no plan, or funding set aside, to start hiring replacements, who take months to vet and train.
https://www.bostonglobe.com/metro/2018/09/30/state-police-force-shrinks-while-workload-grows/BzDkc9D7sDsU3vn2bRqaDK/story.html
October 1: Gov. Jerry Brown signs landmark laws that unwind decades of secrecy surrounding police misconduct, use of force
LA Times: Legal experts also say SB 1421 could have a significant effect on the state's justice system by allowing broader access to records that could bear on the credibility of a police witness who has a history of discipline for dishonesty or other significant misconduct.
California is the only state in which even prosecutors cannot directly obtain officer personnel files. Under the current system, prosecutors and criminal defendants must navigate a labyrinthine process in court to glean information from those files. The procedure, which requires filing a so-called Pitchess motion, often yields only the name and contact information of a complainant against an officer.
http://www.latimes.com/politics/la-pol-ca-police-misconduct-rules-changed-20180930-story.html
Sept 27: Official: Red Springs police chief's rental units held drugs, firearms (Video)
LUMBERTON, N.C. -- An investigation found that a police chief in North Carolina had rental units holding images of nude women, narcotics, and firearms.
A Robeson County District Attorney's Office release says Red Springs Police Chief Ronnie Patterson's units were auctioned off for nonpayment and found to also have a file detailing a sexual harassment allegation against him.
Citing the release, news outlets report crime scene photos, investigative files, and ammunition also were in the unit.
https://abc11.com/official-red-springs-police-chiefs-rental-units-held-drugs-firearms/4341913/
Sept 27: Two Philly cops arrested, charged with illegally detaining man
hilly.com: Both officers were charged with obstructing administration of law, a felony; and with misdemeanor counts of false imprisonment, tampering with records, and official oppression. The charges were approved by the District Attorney's Office on Monday.
http://www2.philly.com/philly/news/crime/2-philly-cops-arrested-charged-with-illegally-detaining-male-20180926.html 
Sept 26: Former Victoria police chief committed eight acts of misconduct, review finds
The Globe and Mail: Lowe's report says Elsner lied to investigators, minimized an inappropriate relationship he had with the wife of one of his officers, attempted to convince another witness to provide a false statement, had unwanted physical contact with two female officers, made inappropriate sexual remarks towards an officer and misused the department's equipment.
https://www.theglobeandmail.com/canada/article-former-victoria-police-chief-committed-eight-acts-of-misconduct/
Sept 26: Ex-detective indicted on perjury, evidence tampering charges
LOUISVILLE, Ky. (AP) — A former Kentucky police officer involved in cases that wrongfully imprisoned several men has been indicted on perjury and evidence tampering charges.
News outlets report former Louisville police Detective Mark Handy was indicted by a grand jury in Jefferson County on Wednesday. He is accused of giving false testimony against Edwin Chandler and tampering with evidence in a murder case against Keith West.
https://waow.com/news/national-news-from-the-associated-press/2018/09/27/ex-detective-indicted-on-perjury-evidence-tampering-charges/
Sept 25: Arizona Deputy Uses Taser Gun to Escape Big Black Cow Attacking Him
An Arizona Navajo County deputy had to repeatedly Tase a big black cow after being attacked by the giant bovine.
https://www.insideedition.com/arizona-deputy-uses-taser-gun-escape-big-black-cow-attacking-him-47111